Adidas celebrates diversity and shows bare breasts
Adidas recently caused a stir with an ad campaign for sports bras. Why? Instead of using images of the new bras, the sports gear giant opted for bare breasts. Adidas's intention was to promote diversity and body positivity.
Adidas's new bra collection: support for breasts (and for diversity)
Diversity and body positivity have firmly found their way into the fashion world. Adidas is currently sparking a lot of controversy in this respect with an ad for sports bras. On Twitter, Instagram, and billboards, the company is campaigning with a photo collage of bare breasts – more precisely, 25 pairs of entirely different, but completely normal breasts.
Adidas is coming under a lot of criticism online for this.
"Maybe show the bras actually supporting the tits?"
is what one Twitter user wrote. Adidas responded with: "We want to celebrate bodies in all their glory and proudly showcase how different we all are." Another of the company's responses was: "Breasts are a natural part of the anatomy. It's time to remove the stigma to allow future generations to flourish." And that's why customers only get to see the new collection being advertised by the post when they click on the website.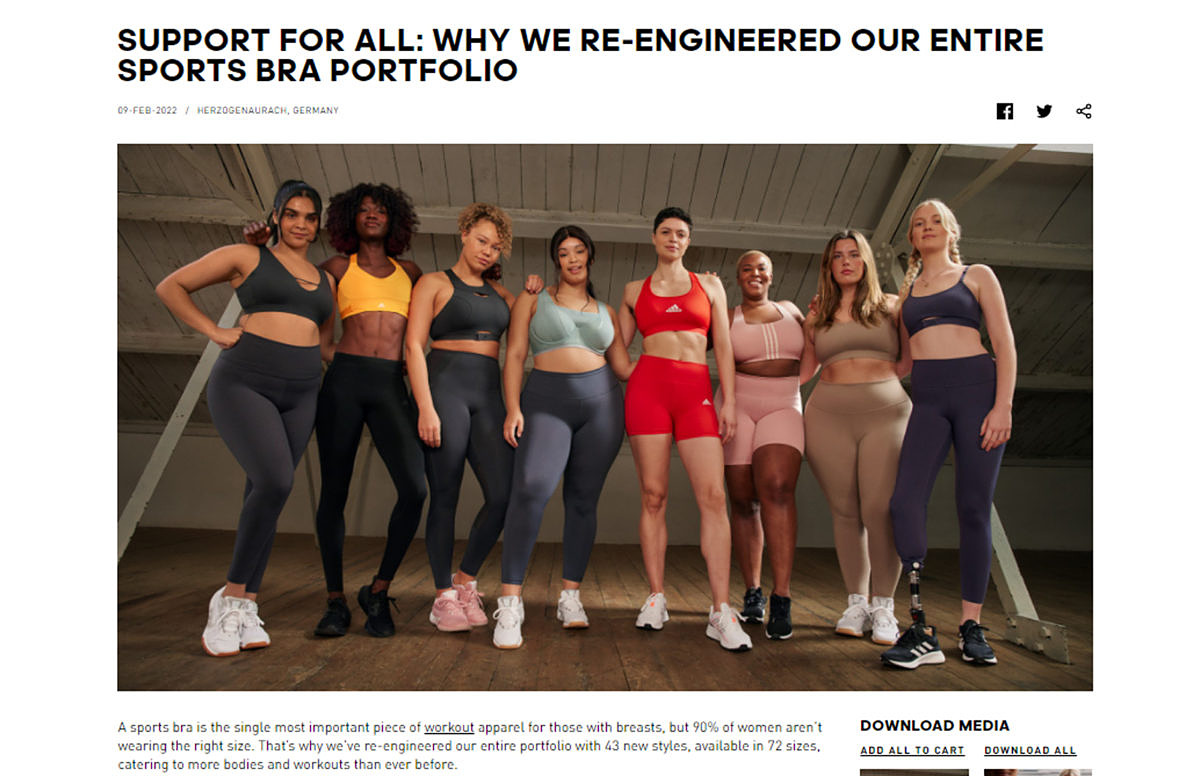 The message being promoted by Adidas for its new bra collection is clear: in the name of diversity and body positivity, the company's mission is to offer the right bra for every pair of breasts and challenge the ideal image of what a perfect bust should look like. That's all well and good. But is it appropriate for Adidas to advertise that using bare breasts?
Is Adidas allowed to do that?
The comments under Adidas's post show how much the campaign is splitting opinions. One user commented: "As a father of two daughters that played sports this is way overdue. Thank you. A lot of girls give up sports because they can't find the right fit to stay comfortable." He hasn't been the only one to praise the campaign, with other users echoing the sentiment. At the same time though, the brand has received criticism. Some users are worried that minors can see the content. Others are criticizing the fact that the diversity Adidas is claiming to promote is hardly reflected in its product range and are asking what the company is exactly wanting to sell with the campaign – and who it is targeting.
Is Adidas wanting to normalize the female chest? (Something that is well overdue.) Or are women's bodies being exploited for marketing purposes?
One thing's for sure: Adidas's campaign has succeeded in getting people talking about this question.
On a more general level, another question has resurfaced as a result: how much nudity is allowed on the Internet? At least on Instagram, the post is censored…
Adidas's diversity campaign – teetering between praise and criticism
Female empowerment or a distasteful step over the mark? That's the main question being tossed out by the sports gear manufacturer's new ad campaign. If, in its own words, the brand's intention is to celebrate the female bosom in all its naturalness, the post is, above all else, encouraging a lot of users to talk about the sexualization of breasts.
If you don't want to miss any other exciting topics, then subscribe to our content newsletter now and stay up to date.