The LinkedIn Social Selling Index (SSI): just a marketing ploy or a useful KPI?
With its SSI, LinkedIn wants to provide its own metric for making social selling success measurable. Is the LinkedIn Social Selling Index really a useful benchmark for measuring your success or merely an advertising gimmick?
What is the LinkedIn Social Selling Index?
The SSI, LinkedIn's Social Selling Index, is a standardized numerical value ranging from 0 to 100 that LinkedIn originally only created for sales professionals. According to the business network, it measures how effective and successful a user is at establishing their personal professional brand, networking, and building relationships. Any LinkedIn member can view their personal SSI by simply visiting the following URL:
https://www.linkedin.com/sales/ssi
The value is updated every day. The maximum achievable score of 100 points comprises four individual criteria worth 25 points each.
How does LinkedIn calculate the Social Selling Index?
Of course, LinkedIn doesn't fully disclose what criteria exactly make up its Social Selling Index and how they are weighted. However, it does reveal that the following factors influence the SSI score:
Profile – establishing a professional personal brand: a complete and informative profile including a cover photo and multimedia content, endorsements of listed skills and recommendations from other users (social proof), posts, and followers from posts

Search – finding the right people: using the people search and Lead Builder, how often you view profiles of target customers, inbound profile views, leads saved, how frequently you're active

Sharing – engaging with insights: Engaging with others' posts, writing your own posts and receiving engagements on them, sharing others' posts, active membership in relevant groups, sending messages, how high the response rate is to your sent InMail messages, how quickly you respond to others' messages yourself

Networking – building strong relationships: number of connections, quality of those connections (e.g. industry relevance and number of C-level connections as well as connections with decision-making power), acceptance rate for connection requests sent
Generally, if you present yourself well on the platform, are frequently active, post valuable content, share good content from other users, interact with prospective customers, and build yourself a network of relevant connections, you'll be rewarded with a high SSI. However, if you're not active on a regular basis, are passive, and don't create or share content, you'll be penalized with a low SSI. Low response rates to InMails and low acceptance rates for sent connection requests are also rated negatively.
Our free "Social selling on LinkedIn" checklist in our social selling e-book breaks down the key points to consider.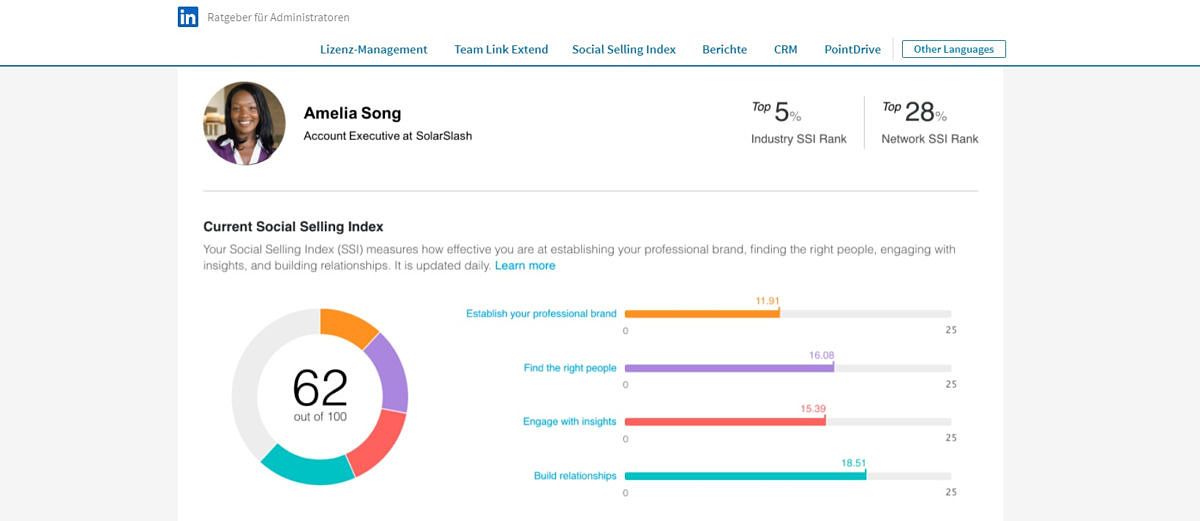 What impact does the Social Selling Index have?
The Social Selling Index directly influences the LinkedIn algorithm and thus the organic reach of your posts and how easy your profile is to find. A high SSI is desirable because it boosts interaction, reach, and awareness in terms of your personal status as a thought leader. More reach means a bigger platform for presenting yourself as a social seller with your content and thereby gaining the trust of both your followers and members who haven't connected with you yet, engaging with more people, and receiving more connection requests.
If you want to be seen and noticed, you can't get around optimizing your SSI score in every way possible.
Spammers, wannabe coaches, and "get rich quick" proclaimers, on the other hand, who just pester other LinkedIn members with meaningless networking attempts, should have their visibility, reach, and reputation diminished on this basis. However, since they are usually not interested in rational social selling and consequently also don't care about having a high Social Selling Index on LinkedIn and instead merely use the InMail feature, LinkedIn is unfortunately set to remain a stomping ground for the get-rich-quick scene for the time being.
Robin Heintze, CEO of morefire, is more than familiar with the problem that although social selling on LinkedIn has been massively boosted during the coronavirus crisis, the dark sides of the trend have become apparent just as quickly:
"LinkedIn has proven to be one of the most important platforms. In many business areas, it offers the best opportunities for quickly and easily interacting with the respective target group. However, the dark sides of social selling have also been highlighted in the process. Merely pitching your products and randomly messaging people on LinkedIn is usually not a successful strategy. You have to invest in the network and relationship building over the long term."
– Robin Heintze, Founder and Managing Partner of online marketing agency morefire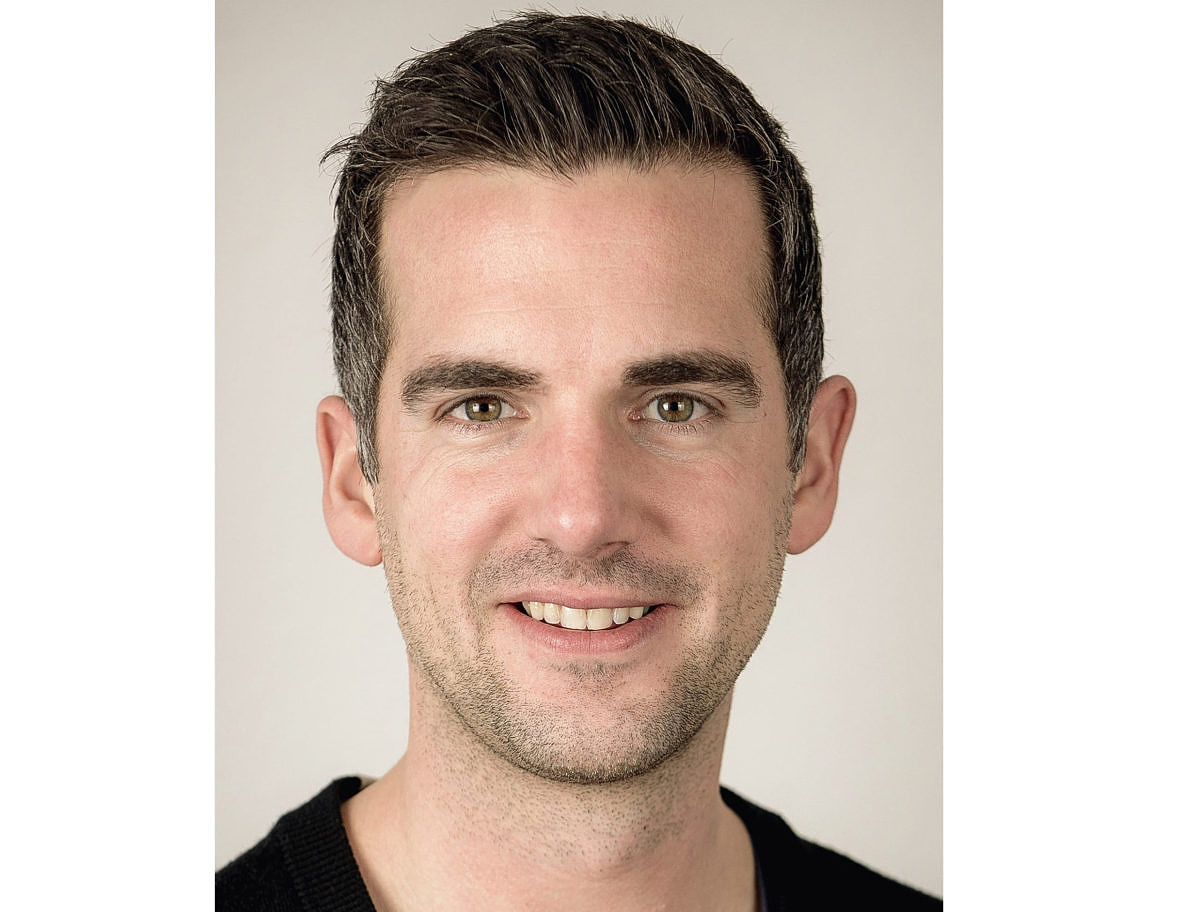 But how can a high SSI ultimately contribute to generating more sales?
To whose advantage? Visibility costs time and money
Of course, LinkedIn's homemade Social Selling Index revolves around an intention to sell. LinkedIn states that social selling leaders – without specifying how high the SSI score needs to be for someone to be regarded as one – generate 45 percent more sales opportunities than people with a low SSI score.
Since a high SSI score leads to more sales prospects, it should spur sales professionals and marketers to raise their SSI as high as possible. Essentially, that can be achieved in two ways (which both benefit LinkedIn):
The person intensively utilizes what the platform has to offer and invests a lot of time in networking and building relationships as well as creating content on it.

The person uses the fee-based Sales Navigator, which LinkedIn advertises as an SSI boost and is claimed to increase the score by up to 20 percent.
You're probably asking yourself how high the SSI should be. There is no one answer to that question because it depends on your goals and business field, but you should generally aim for an SSI score of 70 points or a value in the top 25 percent of your field if you want your social selling to have the desired effect on LinkedIn.
Our free checklist in the social selling e-book will enable you to effortlessly accomplish this objective.
No return on investment if you don't invest
Without a premium membership and paying for the Sales Navigator tool, achieving a top SSI would be an impossible feat. That becomes clear when we take a closer look at the criteria for establishing a professional personal brand:
You need to create a complete and informative profile including a cover photo and multimedia content. However, you can only integrate images and videos – i.e. the required multimedia content – into your profile's design if you're a paying member.

Use of the Lead Builder, a criterion for a full score in the "Finding the right people" pillar, is also only available to customers who utilize the LinkedIn Sales Navigator.

A good response rate to sent InMail messages can only be achieved by members who use InMail via a premium account and can thus also message members who are not in their list of connections.
Sales team reps wanting to benefit from the social selling possibilities offered by LinkedIn on a larger scale can hardly avoid using the fee-based Sales Navigator anyway. The tool not only suggests leads and comes with an InMail feature, but it can also be synchronized with a CRM system.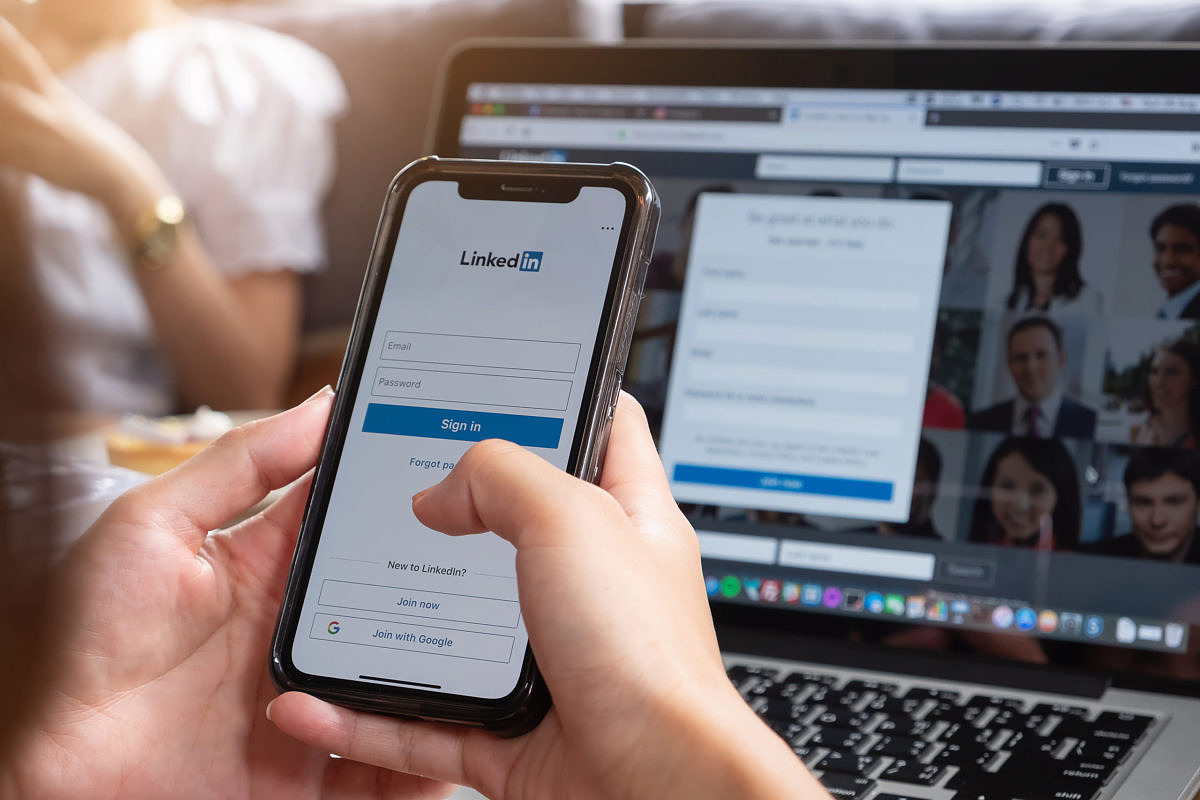 Gamification and CRM integration for professional use
Teams can compete with each other using the SSI. The Sales Navigator lets team leaders view all their team members' SSI scores along with the corresponding history and thereby compare their individual social selling performance. In this respect, the SSI can be used as a KPI for the social selling activities of sales and marketing teams because it makes it possible to measure success – only within the scope of LinkedIn, obviously.
Since few teams probably use LinkedIn as their only platform for acquiring customers, the uses and relevance of the Social Selling Index are relatively limited on this front. Teams that have chosen LinkedIn as the main channel in their social selling strategy, on the other hand, can only profit from the internal social selling tool and index.
Let's keep things in perspective: The SSI itself is a marketing gimmick on LinkedIn's part to encourage members to use the network's advanced, fee-based features. Originally, the SSI score was only available in the Sales Navigator. As such, the metric is still intended to promote LinkedIn Premium as a product. But if we benefit from this as users, that's a fair deal, right?
If you want to learn how to make social selling a success on LinkedIn without a premium account, check out our free social selling e-book.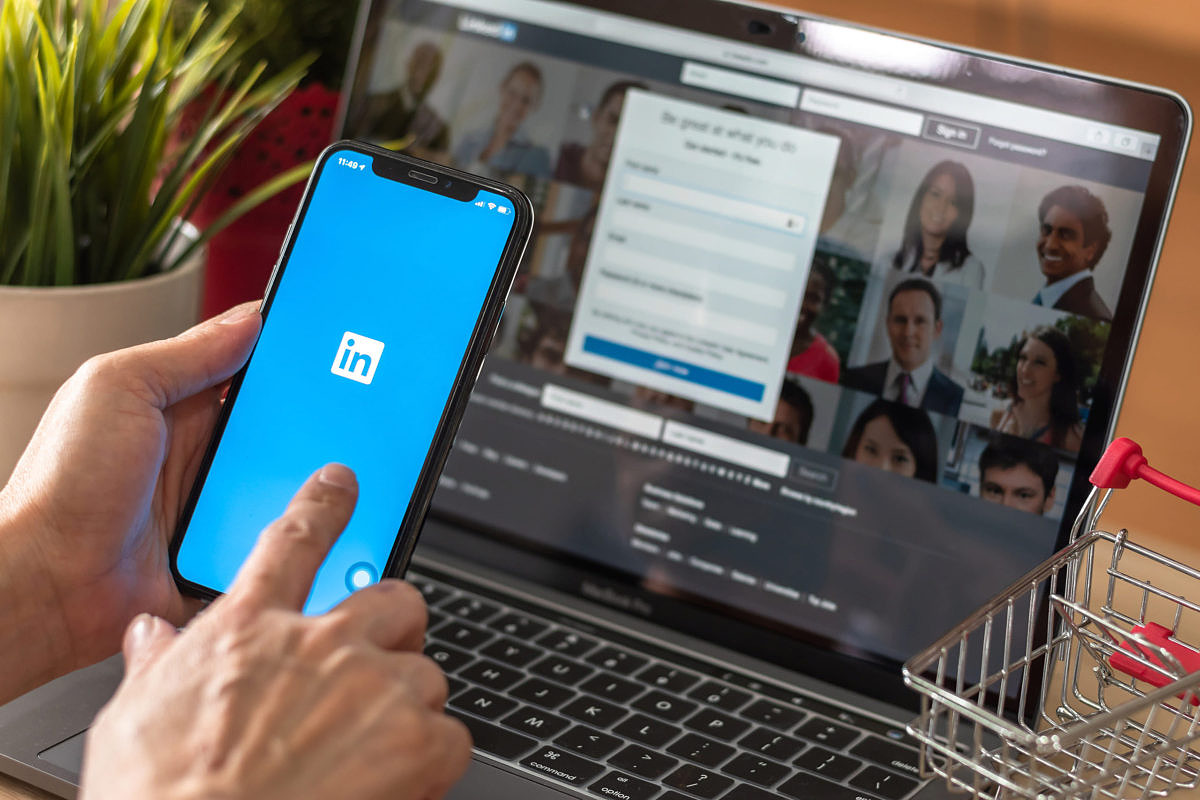 Is the SSI a useful indicator?
It's more than likely that you don't generate your leads via one platform alone, so you're probably asking yourself what the advantages of a high SSI score are outside LinkedIn. Of course, it's a monitoring tool and visibility booster that is exclusively confined to LinkedIn, where the SSI serves as an indicator or gauge of your reach inside and outside your network. It does not guarantee more deals itself, but it does give you an idea of how you can optimize your social selling activities on LinkedIn.
The components and criteria that LinkedIn uses to calculate the SSI score can also guide you in your social selling efforts on other platforms and in other networks:
Showcase yourself, be approachable, offer content that is of value to others, and help others using your expertise.

Consider yourself an ambassador of the mission of your company or brand, draw on your reach as a B2B influencer and thought leader for this, and put aside your personal interests.

Knock on the door softly instead of kicking it down: show a genuine interest and generate interest for your own topics rather than blatantly plugging services and products.

Present yourself as an expert in your field and as a problem-solver who understands your target group's needs.

The social etiquette you would observe when meeting someone in person also applies to digital networking.

Absolute authenticity on your part makes you approachable and credible.

Consistency and a high level of activity pay off in the long run.

Convince others with substance, content, and advice.

Offer others added value without expecting anything in return straight away. Stick to the mantra of give, give, give, ask!
The LinkedIn Social Selling Index is obviously a mechanism for LinkedIn to promote its fee-based marketing products – but it is done incredibly well with its gamification factor and an underlying philosophy that promotes high-quality social selling.
Do you want to know how to consistently increase your LinkedIn Social Selling Index and achieve your sales goals through social selling on LinkedIn? Then secure our free social selling e-book, which includes a checklist and much more!
If you don't want to miss any other exciting topics, then subscribe to our content newsletter now and stay up to date.