Should companies spend their advertising money on media and platforms that have a positive influence on society and democracy, thus demonstrating their attitude and setting a good example? Or should the advertising impact of media be the only factor that counts in the decision on which media to use? It turns out that the results of the online survey are unusually unequivocal for this target group: 60 percent of the marketers and communications specialists surveyed believe or tend to believe that the economy should spend its advertising money on media and platforms that have a positive influence on society and democracy. Just 23 percent say that businesses should not take this into consideration when allocating their advertising budgets. Those are the initial findings from a representative online survey commissioned by DMEXCO and conducted by market and opinion research company Civey.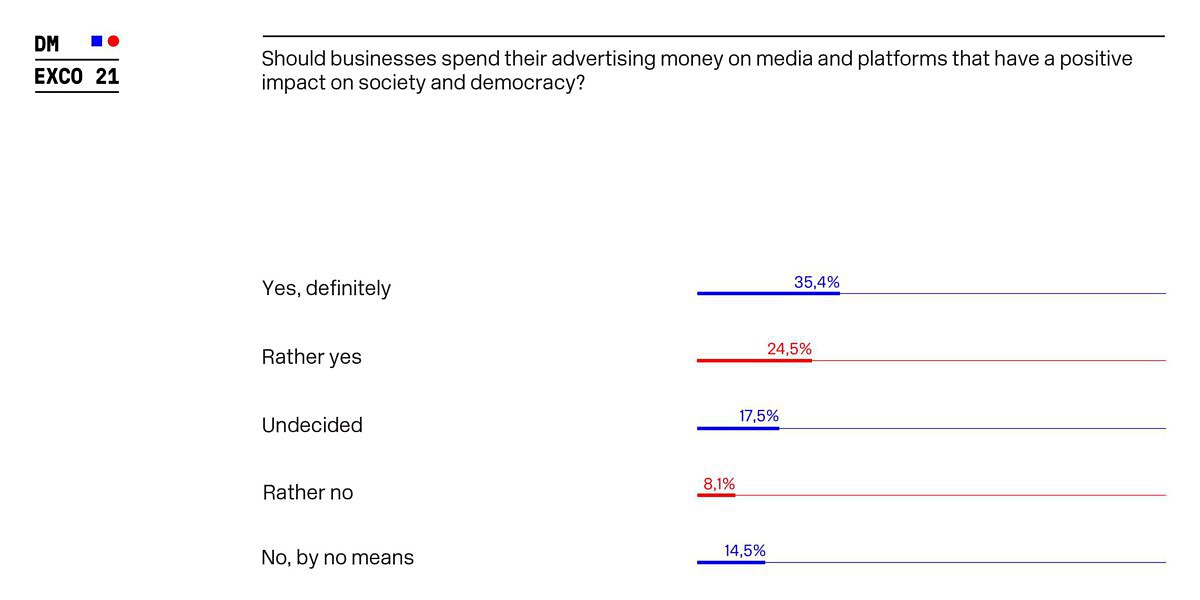 The sentiment is also unequivocal when it comes to fake news and lies posted online: rather than fake news being censored, marketers want it to be clearly indicated. For example, 64 percent of respondents say that platforms and social networks should identify verifiable lies and obvious false reports as such. Only 12 percent of respondents believe that operators should delete fake news and verifiable lies, while 17 percent think that no action should be taken here, as deleting information would amount to censorship. Just 6 percent believe that it is impossible to control fake news and lies online, so nothing can be done about it.
In the current trend survey, Civey also asked the opinion of German marketers on the chances of success for the current charges filed by the US government's anti-cartel authorities with regard to Google's misuse of its market power. Only a small minority of the respondents expect Google to face serious consequences, and only a mere 6 percent believe that the multinational will be broken up as a result of the suit. In contrast, 52 percent think that the company will simply face a fine, and 24 percent even assume that Google will be acquitted.
"Our current trend survey shows that attitude is a topic that will continue to play an important role over the next year. The coronavirus pandemic, the Facebook ad boycott, and the Black Lives Matter movement are just a few examples of the many issues on which companies have taken a stance in this year alone – including in the digital industry. The findings confirm that marketers have more of a moral compass than their reputation might lead you to think. They understand the responsibility that goes hand-in-hand with where they spend their advertising money", says Milko Malev, Director of Communications & Media at DMEXCO.
For the representative survey commissioned by DMEXCO, market and opinion research company Civey asked over 500 marketing, communication, and PR specialists for information online between November 6 and November 17.
All DMEXCO @home sessions are now available to ticketholders – and therefore also to all accredited journalists – as video-on-demand at https://home.dmexco.com/. All of the presentations, panels, and masterclasses that were held on September 23 and 24, 2020, can be viewed there until further notice.
If you didn't get accredited for DMEXCO@home and thus don't have a ticket, that's not a problem; simply email the DMEXCO press team at press@dmexco.com to receive your voucher code.
Image material for DMEXCO is available online at https://go.dmexco.com/press-downloads-dmexco.
About #DMEXCO
DMEXCO is Europe's leading digital marketing & tech event. We are the meeting place and a community for key players in digital business, marketing, and innovation. We bring together industry leaders, marketing and media professionals, and tech pioneers to set the digital agenda. Both globally informed and locally focused, DMEXCO offers an ecosystem with seminars, debates, and expositions outlining the future of the digital economy and driving market value.
In Cologne, we set the benchmark as a network and business platform for the digital economy. Decision-makers continue to educate themselves and be inspired, make contacts and conclude deals. DMEXCO — where tomorrow's digital business happens today. DMEXCO 2021 will take place on September 22 and 23, 2021.
The German Association for the Digital Economy [BVDW] – with the special participation of the Circle of Online Marketers (OVK) – is the ideational and professional partner of DMEXCO and owner of the DMEXCO brand. DMEXCO is organized by Koelnmesse.
Information, along with photos, videos, and original sounds and audio clips, can be found at https://dmexco.com, www.facebook.com/dmexco, www.twitter.com/dmexco and www.youtube.com/dmexcovideo.