The big winners from the latest DMEXCO survey on the trend of advertising budgets for 2021 are search engines and social networking sites. 37 percent of respondents said that their company will be investing more advertising funds in these areas in 2021 as compared to this year. 23 percent want to invest more in advertising on audio and video platforms, and 17 percent in ads on editorial websites. By far, the largest proportion of respondents (40 percent) will not be allocating any more money to advertising on any channel in 2021. Although the majority of respondents (45 percent) have not even planned their advertising spending for 2021 yet or have only planned part of it, the mood is pretty clear: for 29 percent, the budget is expected to remain stable next year (as compared to 2020), and 26 percent are anticipating a smaller budget. Just under 18 percent want to spend more. Overall, these results signal slightly lower advertising budgets for 2021, which is more than understandable in light of the current pandemic and the macroeconomic forecasts for 2021.
Print, radio, and TV draw the short straw
According to the survey, printed newspapers and magazines will still be the biggest losers next year: half of all respondents will be investing less money in print in 2021. Relatively smaller budgets are also predicted for radio and outdoor advertising. Traditional TV could also experience slight losses: 6 percent want to spend more money on TV advertising in their company next year; almost 12 percent want to invest less.
Market and opinion research company Civey surveyed over 500 specialists online between August 18 and September 8 for the representative study commissioned by DMEXCO.
"We will be welcoming over 800 national and international top speakers and advertisers to this year's DMEXCO @home. I'm really intrigued to find out what their thoughts are on the future trends in 2021's media mix. Our latest study delivers initial facts and figures for the German market as a basis for discussion," says Milko Malev, Director Communications & Media at DMEXCO.
"The digital economy is one of the winners when it comes to the coronavirus pandemic. During the crisis, digital technologies have made a lot of things possible that seemed unimaginable just a short time ago. Advertising budgets now seem to be following the trend and focusing on areas that are receiving the most attention. That's why it's all the more important to keep up to date on recent developments in digital marketing," explains Dr. Dominik Matyka, Chief Advisor of DMEXCO.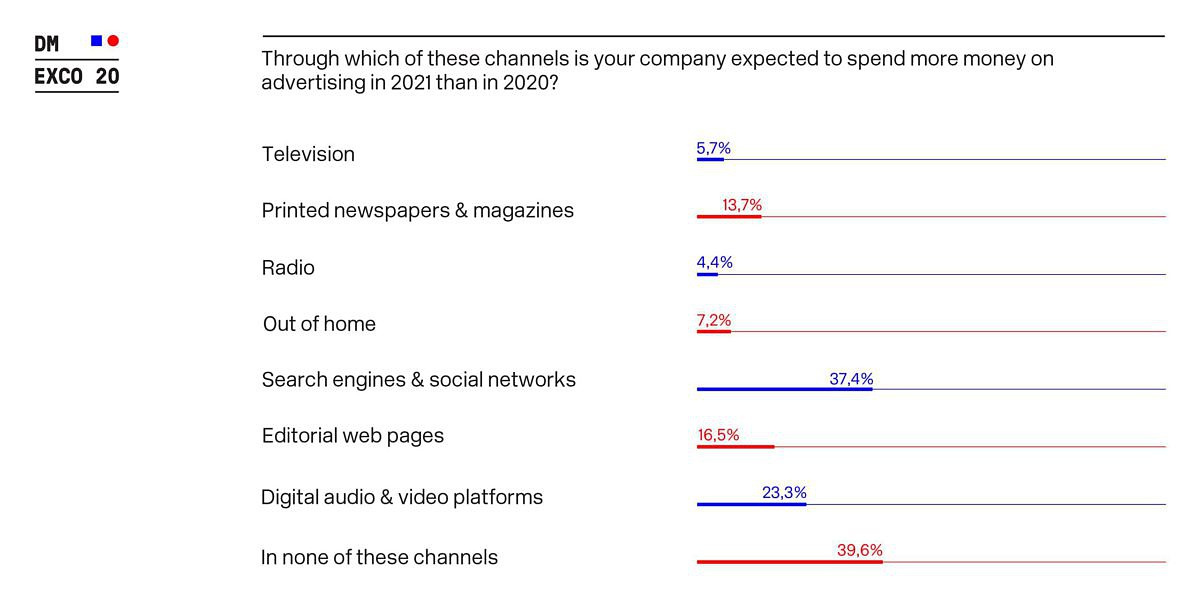 Tickets for DMEXCO @home cost 99 euros and are available from the online ticket shop at https://dmexco.com/tickets/.
Image material for DMEXCO is available online at https://go.dmexco.com/press-downloads-dmexco.
About #DMEXCO
DMEXCO is Europe's leading Digital Marketing & Tech Event. We bring together industry leaders, marketing and media professionals, and tech pioneers to set the digital agenda. Both globally informed and locally focused, DMEXCO offers an ecosystem with seminars, debates, expositions, and masterclasses outlining the future of the digital economy and driving market value.
DMEXCO 2020 will take place as DMEXCO @home on 23 and 24 September 2020. With over 500 speakers, the digital event platform offers exclusive live content and top speakers from the digital, media and marketing industry as well as innovative features for networking, live interaction and business.
In Cologne, we set the benchmark as a network and business platform for the digital economy. Decision-makers continue to educate themselves and be inspired, make contacts and conclude deals. DMEXCO is the place where the digital business of tomorrow can be experienced today.
The German Association for the Digital Economy (BVDW) – with the special participation of the Circle of Online Marketers (OVK) – is the ideational and professional partner of DMEXCO and the owner of the DMEXCO brand. DMEXCO is organized by Koelnmesse
Information, along with photos, videos and original audio clips from DMEXCO 2019, can all be found at https://dmexco.com/, https://www.facebook.com/DMEXCO/, https://twitter.com/dmexco, and https://www.youtube.com/dmexcovideo.