Pinterest Story Pins: a feature you should know as a marketer
Instagram, LinkedIn, and other platforms set the ball rolling, and now Pinterest has introduced new creator features, too – including the Pinterest Story Pins. Read on to discover what makes these so special and how you can leverage them.
What's new on Pinterest?
The Pinterest platform recently announced some enhancements. For content creators, these mainly entail lots of additional options for sharing content and optimizing their reach. A total of three features have been launched by Pinterest:
Analytics tools

New communication functions

Pinterest Story Pins
The focus is therefore clearly on the marketing side of things. The new analytics tools enable brands to view Pin statistics and help them understand how a given content is performing and how the target group is interacting with it. What's more, the new communication features let fans and followers send direct messages to brands and react to Pins in a way that reflects their exact feelings using special buttons, such as "wow" or "love". That gives companies the opportunity to get to know their target group even better and interact with them on a deeper level.
The particular appeal of Pinterest Story Pins
However, the Pinterest Story Pins take center stage. In contrast to social media platforms like Facebook, LinkedIn, and Instagram, Pinterest is more of a visual search engine and inspiration platform. As a result, a Pinterest story works a little differently from the usual story formats. The two key differences are:
Pinterest Story Pins have a high visibility.

The Pins don't disappear.
While the biggest social media platforms pioneered stories that are characterized by their "here today, gone tomorrow" nature and fun factor, Pinterest has broken new ground. Once a Pinterest story has been published, not only is it displayed in the creator's profile, but it also appears in the users' home feed, the search feature, and in areas such as the Today tab. A Pinterest story also stays permanently visible and doesn't disappear after 24 hours, making it ideal for brands to pep up their Pinterest board and bring variety to their presence with an enticing Story Pin.
Pinterest: a new take on storytelling
Like with its standard Pins, the platform sets equally high standards for its stories. After all, the individual pages of a story are displayed in full size on a desktop. With that in mind, the name of the game is professional images and stylish stories. Blurry smartphone pics are a no-go.
A Pinterest story should be regarded as a visual blog post.
Whether lists, instructions, or tips: a Pinterest story is especially relevant to brands as a storytelling medium. By compiling your stories according to a structure similar to a blog post, there will be nothing stopping your content from impressing Pinterest users.
Copywriter and voice actor Fifi Buchanan provides an excellent example here. She used a range of short videos for her Pinterest Story Pin on stress reduction, each of which covered a tip on the topic. That gave the story a structure and helped readers navigate within the post.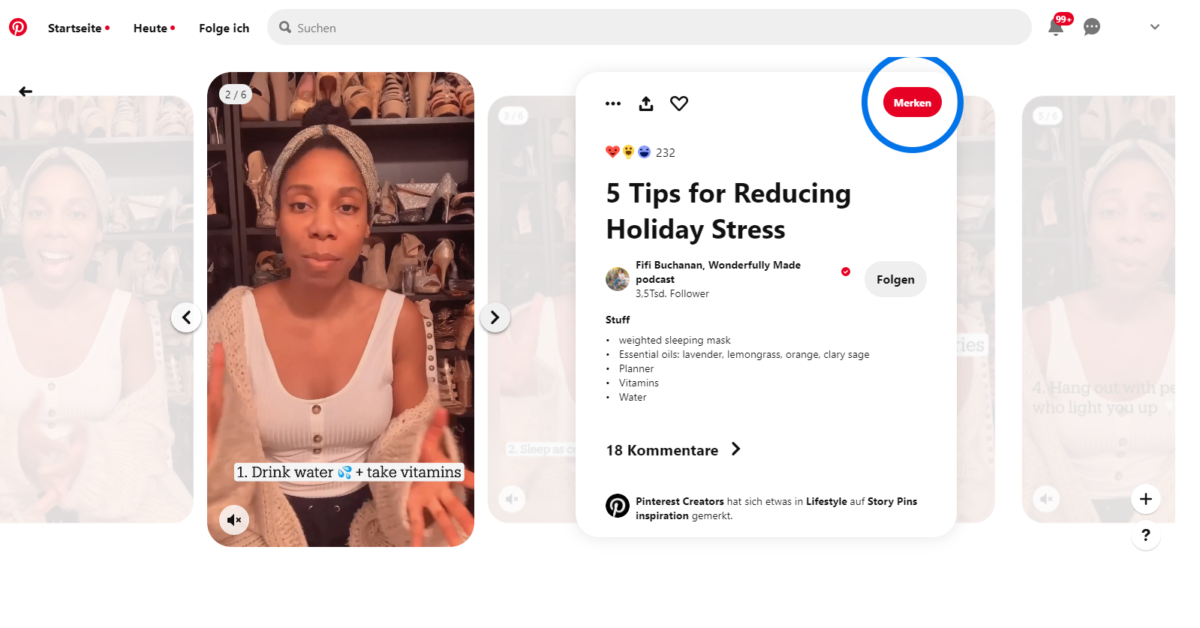 Pinterest Story Pins: tips for your business success
If you want to successfully market your brand on Pinterest, it is important to clearly define your goals first. What do you want to achieve on the platform?
Improve brand awareness

Boost online sales

Accelerate installations of your app via Pinterest

Increase conversions and traffic
Whatever you're hoping for from Pinterest, the clearer your goals, the better your chances of benefiting from Pinterest as a marketing channel. The content itself is also crucial because it needs to be inspiring both in terms of the topic and from a visual perspective. Fortunately, we have some tips to help you maximize the impact of your Pinterest story:
Tip 1: The devil is in the format
Compared to a standard Pin, the Pin format for a Pinterest story is slightly bigger at approximately 900 × 1,600 pixels with an aspect ratio of 9:16. You should keep this in mind from the start to avoid encountering problems when uploading your story. In addition to photos, you can also tell your stories using videos. These may cost a little more time and money to produce, but they significantly increase your chances of standing out and being seen by your target group.
Tip 2: SEO is the key to success
Your Pinterest story can contain up to 20 pages in total. Each one of these can include a description text – an excellent way of incorporating relevant (and well-thought-through) keywords to make it easier for your target users to find your story. The main keyword should also be integrated into the Story Pin title and page title where possible.
Tip 3: Be creative in your Pinterest Story Pin
Pinterest offers its users a huge selection of design elements, including:
Voice-overs

Traditional text elements

Background music
To optimally distribute your content, you should mix and match different features. The trick is to switch things up using the design options that are most likely to leave your target group wanting more.
Tip 4: Link it!
In your Pinterest story, you theoretically have the option of embedding links on every single page. That is practical for fashion store owners, for example. When posting a photo of clothes from the latest collection, the corresponding pages of the online store can be linked directly to the photo. Related links provided at the end of a story are also extremely popular. These keep the risk of link spamming to a minimum, but at the same time give users the option of switching to the content creator's official website, for example.
Tip 5: Last but not least – the proof is in the pudding
Pinterest stories are a brand-new Pinterest ad format. If you want to find out what content and design elements are especially effective or how to make your Pinterest advertising as powerful as possible, it pays off to experiment. Among others, a tried-and-tested method on Pinterest is posting short teasers of stories and content without giving too much away. You can run a simple test to determine how well that works for your channel and stories.
Make 2021 your Pinterest year!
Pinterest Story Pins open up enormous opportunities for brands to communicate with, inspire, and influence their target group. So make the most of the new functions and features and get the new year off to a flying start on Pinterest! Esthetically pleasing Pinterest Story Pins that offer users added value are the stepping stones to successful Pinterest marketing.