Pinterest as a marketing channel: is the network being wrongly neglected?
Social network and search engine for visual content: Pinterest mainly stands for inspiration, DIY, and recipes. Despite its versatility though, Pinterest is often not given enough attention in the social media strategy of companies.
As a platform, Pinterest focuses on visuality. Users are drawn in and emotionally influenced by attractively arranged image posts, known as "Pins". The visual journey through the different pinboards can inspire users to turn to solutions they weren't even looking for. This is a good opportunity for brands to tap into new target groups and attract more interest from existing ones using the right marketing tactic on Pinterest.
Sabine Jünger, Head of Retail/eCommerce & Emerging Industries for Northern Europe at Pinterest, reveals why Pinterest is one the marketing platforms of the future, what content strategies definitely have to be considered, and what role SEO plays:
Sabine Jünger on the future of Pinterest marketing
1) Why should brands consider Pinterest as a marketing channel? What unique features and opportunities does Pinterest offer for sales and marketing (especially in contrast to Instagram and Facebook)?
In essence it's two things that uniquely set us apart from other platforms. First it's the mindset of our Pinners, and second it's our visual search technology that allows users to discover things that they do not have the words to describe yet. It also allows brands to reach consumers very early in the funnel, and offers a unique shopping experience on Pinterest. It's not just about the purchase, it's about all the moments before that lead up to it.
More than ever, people come to Pinterest to discover ideas for their lives – healthy recipes, ideas for home decor, entertainment for their kids, camping, gifts, or bigger life moments. Brands can reach them when they are in a mindset that is positive, intentional, open-minded and future-oriented. When someone is redecorating their house or garden, you as a home retailer want to be there as they start planning and making decisions about which products and services to buy to bring their ideas to life.
Especially in times like these, where there's a lot of uncertainty, Pinterest is a place that lets people be optimistic and take back control of their lives. It's not about the news or the lives of others, it's about you. We hear from a lot of our partners that they want their brands to be seen in this kind of positive environment.
2) How has the coronavirus crisis affected the activities on Pinterest? Have you noticed a change in the quality and quantity of activities, especially with regard to the marketing activities of users?
The past months have made it clear that the need for inspiration and helpful ideas is more relevant than ever, and it's universal. Everywhere in the world people were looking for ideas and solutions to adapt to the new situation. This included searches for immediate needs at the beginning of the pandemic, like a home office setup, entertainment ideas for kids, or home workout routines. They were also looking for ideas for how to give back and support their community or how to upgrade their garden and spend the summer holidays at home. Interestingly, we have also seen searches for the holidays spike earlier than ever with people searching for Christmas decor and gift ideas in June. Our recent optimism report also showed that searches for gratitude, positivity and meditation have skyrocketed in the last months.
For brands, this means that it's more important than ever to inspire with helpful and positive content. An internal analysis at Pinterest showed that consumers are moving on quicker and starting to think about the future again. And they are looking for brands to help them.
Since the beginning of the pandemic, we have seen historic highs in sign-ups and activities on the platform. We recently announced 416 million monthly active users globally. Some of our fastest growing audiences are men (+48% YoY), millennials (+36% YoY), and Gen Z (+50% YoY).
3) Audience Insights evaluate, among other things, sociodemographic data and preferred categories of users. How do these evaluations come about and how can I use them in addition to the data drawn from Pinterest Analytics for my personal marketing strategy?
On Pinterest, people are in a planning mindset. So the things they search and save typically say something about the things they are planning in the near or far future. Audience Insights can help you define your audience by these plans and interests and the things they have recently interacted with. Audience Insights help you understand and measure Pinners' affinity with key interest categories and how they interact with your content and message. You have the opportunity to learn about what's relevant for Pinners early on and provide them with tailored solutions.
4) How important is an SEO strategy when creating Pinterest articles and what should companies consider for Pinterest SEO?
First and foremost, content on Pinterest should be useful. We have identified certain best practices that have proven to increase the performance of your content. The first step is to make sure your page has a Save button installed; that allows readers or customers to save an article on Pinterest that can then be discovered by more people. I also recommend following certain design best practices for your Pins, such as vertical formats, text overlays, and appealing images. Choosing specific keywords will also help surface your content. And while other platforms are more focused on the past or present, on Pinterest it's about the future. So make sure to consider seasonality as you create your content. Asparagus season, back to school, Carnival, Christmas holidays – Pinners could start looking for inspiration for these recurring events as early as three to six months ahead.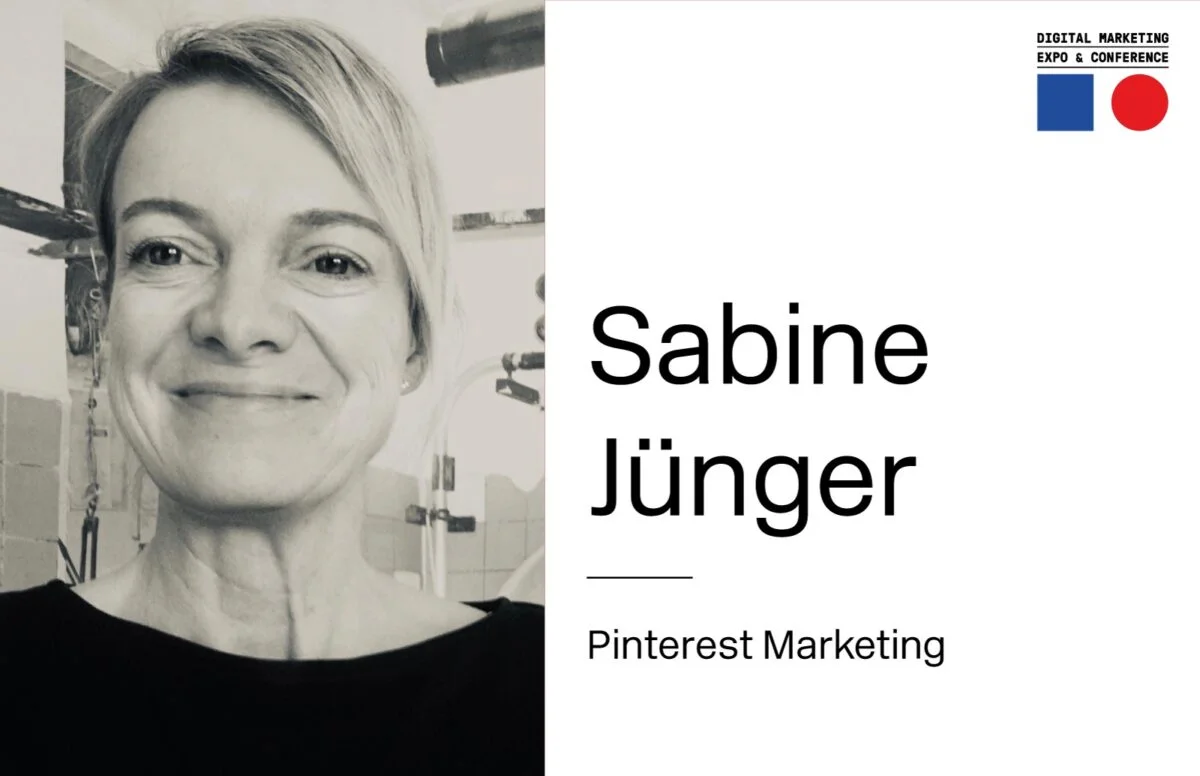 About
Sabine Jünger is Pinterest's Head of Retail/eCommerce & Emerging Industries for Northern Europe and oversees the sales business in the DACH region and the Nordics. She previously built and led the European media agency partnerships at Amazon. Before that, she held different leadership roles in the media, publishing and telecommunications industry for Spiegel, AOL, and Premiere. She also built a video tech startup.