Digital commerce trends of 2021: these changes are emerging
While 2020 hit in-store retail hard, e-commerce saw a massive boost as a result of the coronavirus pandemic. Here, we take a look at the key digital commerce trends that should be on marketers' radars now.
There's no better time to plan for the future of digital commerce than now
The share of online sales in retail is set to rise to 16.5 percent by 2026, as recently predicted by economic researchers from the University of Regensburg. But what does that mean for companies? If brands want to stay viable in the future, they inevitably have to be prepared for and respond to changes and new demands from their customers. The current digital commerce trends indicate how customer behavior is evolving and which strategies will shape e-commerce in the future:
Safety first (even after the crisis)
As a result of the coronavirus pandemic, many brands have been (and still are being) confronted with changed consumer habits, fears, worries, and expectations. Old structures and processes fell apart in 2020, especially with regard to in-store selling, and new business models had to be adopted. Contactless commerce is a hot topic, both in terms of delivering ordered goods and paying for them. Customers still obviously want to shop in coronavirus times, but don't want to take any risks. In view of such uncertainty, contactless commerce will most likely remain relevant for brands, even in a world without social distancing.
Companies that want to leverage this digital commerce trend have a wide range of options thanks to digitalization. Concepts such as smart cash register systems that work without a cashier offer innovative ways of making shopping as contactless as possible. Amazon's Just Walk Out technology, for example, automatically detects preregistered customers via their credit card when they enter a store. When they leave the store, their card is charged with the amount to be paid and they are emailed the receipt.
Visual configuration: virtual shopping experience 2.0
Virtual shopping has one disadvantage that traditional shopping doesn't: products can usually only be viewed as images and therefore cannot be fully experienced. However, that could soon change, as visual configuration enables brands to present their products in 2D or 3D models. Through the power of images, customers are given an extremely accurate impression of the product they're thinking of buying, which minimizes the risk of misunderstandings, false expectations, and frustration.
The brand WMF is a good example of how this kind of product presentation works well in the digital world. In its virtual showroom, users can explore the latest products and click on them for a 3D view and a video that demonstrates the product in detail.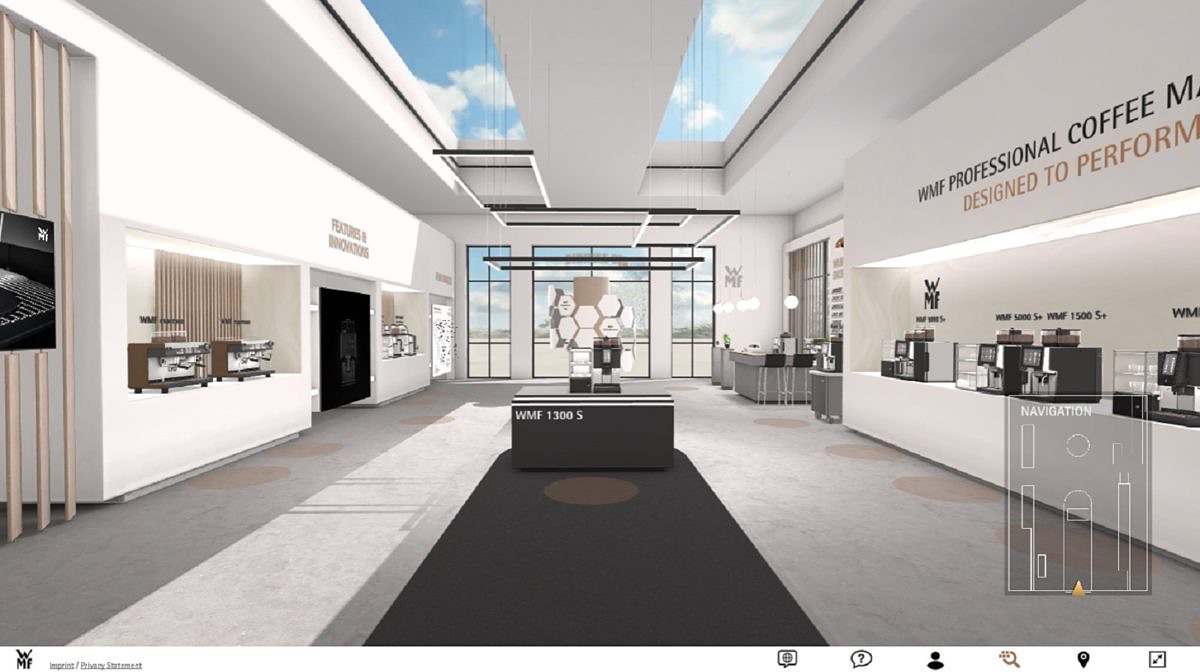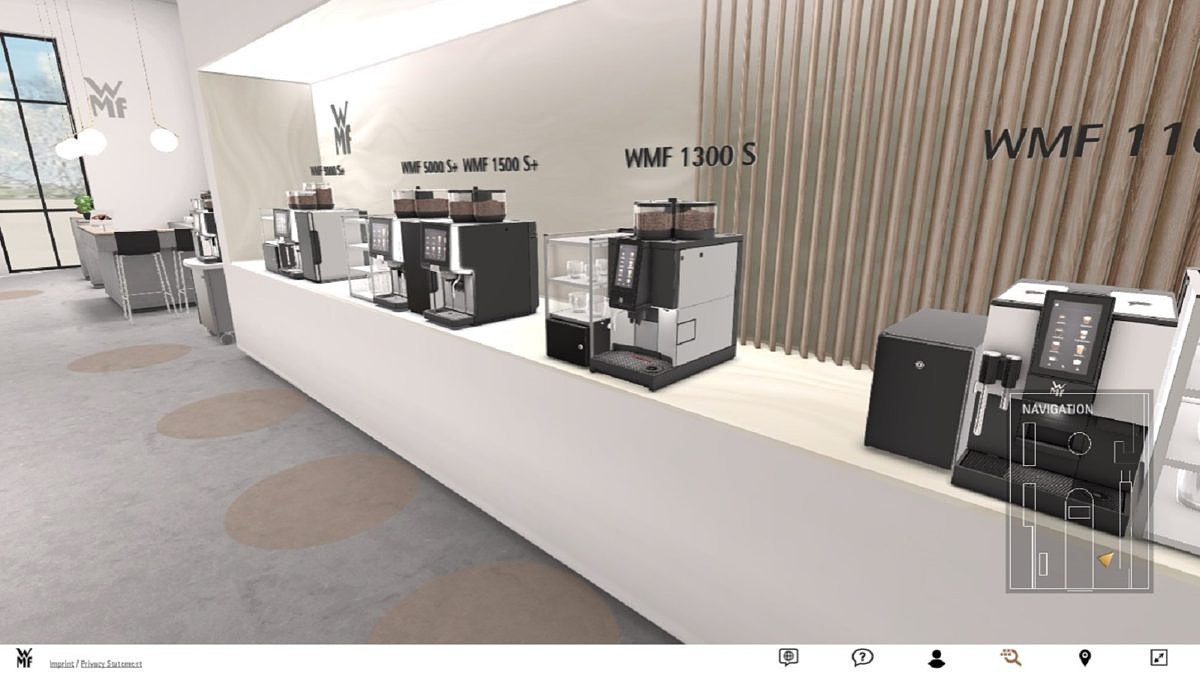 B2B consumerization – the B2C experience for businesses
Intuitive usability, an appealing design, convincing content – what users are already accustomed to in B2C communication is also gaining momentum in B2B in the context of 2021's digital commerce trends. If brands want to stay ahead of the competition and win over B2B customers, they need to implement tools and technologies to make it easier for customers to find what they're looking for. Examples here include filter options, an intelligent search function, image material, videos, and detailed content that answers every possible question.
Live commerce – selling products via live stream
In Asia, live commerce has been happening for quite a while now, and this digital commerce trend may soon catch on in Europe as well. Particularly for companies that have had to close their stores due to the coronavirus, live shopping offers attractive opportunities for increasing sales. The principle is incredibly simple: retailers present their products to potential customers via live stream, thus encouraging them to make a purchase. The big advantage of live commerce is that the customer can often get a much better impression of a product than is possible with just images.
Progressive web apps – all-in-one technology for online stores
Progressive web apps, the modern hybrid of a website and app, will continue to play an important role for companies this year. When users shop online, they are increasingly doing so on their mobile devices. Consequently, shopping behavior in digital commerce is becoming ever more complex and many online store owners are coming up against great challenges, since their store has to be accessible and functional on all devices. Websites with app features are a solution to this problem. The main advantages of this technology:
PWA websites are extremely fast due to caching and because the website content is split into different clusters.

The technology works independently of the device and can therefore be accessed and used equally well on all types of devices.

If the Internet connection is poor, PWA websites also work in offline mode.

Typical app features, such as push notifications and offline search, are possible in progressive web apps.
A strong online presence using voice search marketing
As another current digital commerce trend, searching using digital voice assistants also continues to be popular and still offers enormous potential, especially in e-commerce. In the future, Siri, Alexa, Google, and Cortana could contribute more and more to making websites and online stores easy or easier to find. For that to work, a high search engine ranking is crucial. Companies wanting to jump on the voice search trend should therefore ensure SEO-friendly content and optimize their content according to typical SEO questions and long-tail keywords.
Digital commerce trends of 2021: are you ready for the future?
The new year has lots of challenges in store for brands, and e-commerce will not be spared by any means. In light of changing customer expectations, digital commerce trends are becoming increasingly relevant. Personalization and the implementation of cutting-edge technologies like deep learning and voice search will help companies maintain and strengthen their market position in the long term. So what are you waiting for? Tap into these trends and unlock the full potential of digitalization for your business!