10 useful business intelligence tools for your company
For fresh insights and better decisions: modern business intelligence tools help you unlock your company's data trove. Deciding which BI tool is right for you depends on your specific requirements.
User needs are at the heart of BI solutions
The market for business intelligence solutions has grown enormously in recent years as more and more companies become digitalized. When it comes to the new and further development of BI tools, we are seeing a clear trend toward products that offer a wide range of features and are as user-friendly and convenient as possible, whether in the form of software as a service (SaaS), self-service BI, or augmented analytics.
The big challenge for providers of business intelligence software is meeting the expectations, demands, and requirements of an ever-larger user group. Since the application contexts, required scope of performance, and necessary levels of support vary, there is no one-size-fits-all solution that is optimally tailored to every imaginable need. Instead, when choosing from all the business intelligence tools out there, you have to narrow them down to a suitable data reporting software program that will benefit your business the most. In our overview, we have picked out 10 BI tools to help you find the right solution for your organization. Please note that we have not arranged the tools in any particular order of preference.
#1 Domo
The cloud-based business intelligence solution from Domo focuses on straightforward data visualizations and user-oriented management dashboards. Boasting 1,000 pre-built cloud connectors, the platform allows data to be integrated quickly and also has a really impressive mobile interface. In addition to suitable BI tools for different industries and user profiles, e.g. CEOs or sales reps, Domo offers comprehensive AI support, which enables predictive analyses and more. Due to its complexity, the BI solution is mainly intended for specialized users and is frequently implemented as a department-based solution, for example in finance and marketing.
#2 Zoho Analytics
With its wide range of features, easy-to-navigate user interface, and attractive rates for a limited number of users, the Zoho Analytics business intelligence tool is especially suited to small companies. Alongside the intuitive creation of functional and personalized reports and dashboards using a straightforward editor, the BI solution also brings practical AI support to the table with its Zia assistant and provides users with various tools for visual data analyses and geovisualizations.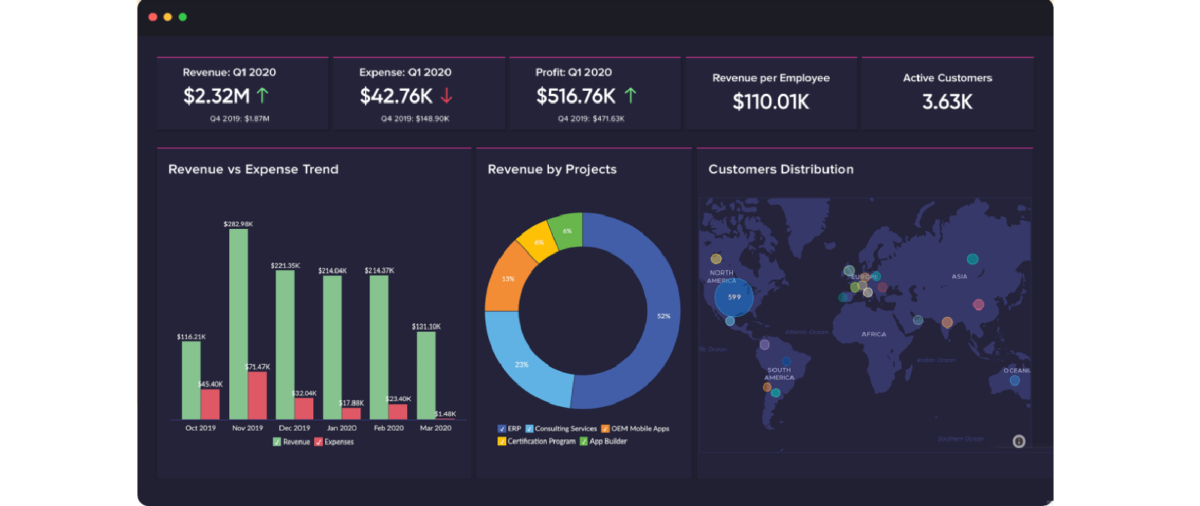 Zoho Corporation also offers a business intelligence mobile app for iOS and Android tablets and smartphones.
#3 Microsoft Power BI
Microsoft Power BI brings together various software services, apps, and connectors for evaluating and visualizing data from local or cloud-based sources as well as publishing reports on the Power BI platform. Microsoft's business intelligence solution is built around three closely intertwined basic components:
Power BI Desktop as a Windows desktop application,
the Power BI service as an online software-as-a-service solution, and
the Power BI mobile apps for Windows as well as iOS and Android.
The Office-like look and feel, strong AI support, and a large active community help users get to grips with Power BI. In addition to features such as augmented analytics, visual-based discovery, and interactive dashboards, the BI software solution also gives you regular updates and, as a single user, you can use Power BI Desktop to create reports, visual analyses, etc. completely for free.
#4 Clear Analytics
Clear Analytics is an Excel-based self-service BI solution with handy and intuitive dashboard and reporting features that only require basic knowledge of Excel. The option to use various Microsoft Power BI functions to process, filter, model, and visualize your data after you have aggregated it is especially practical. What's more, you can also work with special Power BI features, such as Power Pivot or Power Map, and share your results on mobile devices. One downside: when it comes to more complex applications outside Excel, other business intelligence tools perform much better.
#5 SAP BusinessObjects Business Intelligence
With SAP BusinessObjects Business Intelligence, the biggest European publicly listed software company offers a centralized BI suite for analytics, comprehensive reporting, data visualization, and data sharing.
Access to different business intelligence tools enables the integration of Office applications, real-time BI predictive analyses, company-wide reports, etc. Thanks to its flexible architecture, vast array of functionalities, and helpful self-service features, which are all combined on a single analytics platform, the solution can be used for a variety of company roles. One of the key functionalities in this respect is the creation of role-based BI dashboards that can be made available on any device at any time.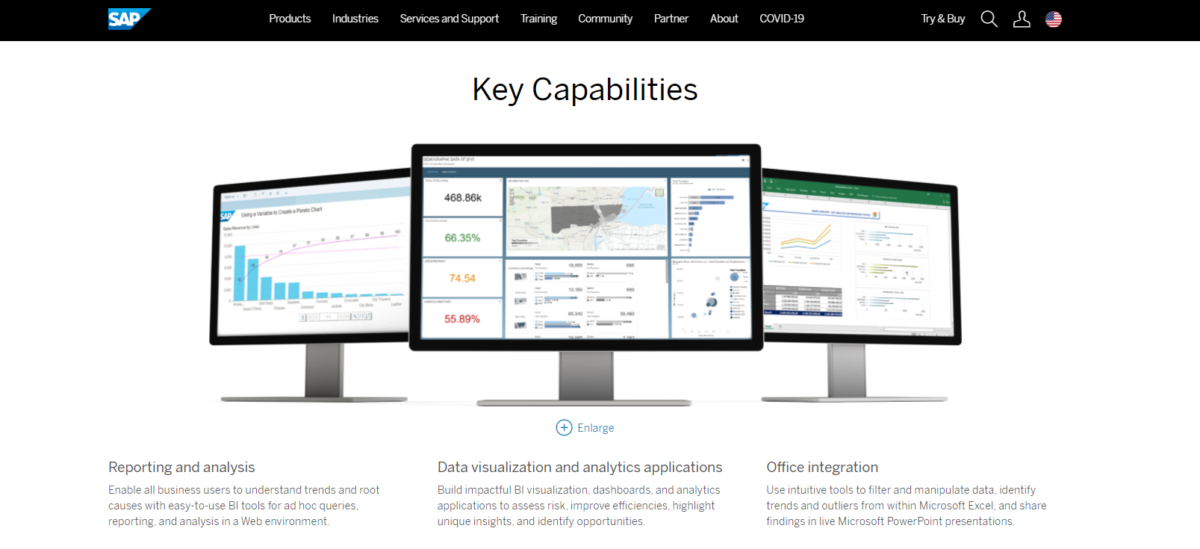 With its SAP Analytics Cloud, the Walldorf-based software corporation offers an additional BI tool that combines various reporting, corporate planning, and predictive analytics features in a single cloud environment.
#6 SAS Visual Analytics
The U.S. technology company SAS, which has been active since 1976, hosts the BI tool "Visual Analytics" on its microservices-based platform Viya. The self-service tool boasts numerous features, such as intelligent data visualizations, interactive reports and dashboards, as well as text-based and location-specific analytics functions. In addition, the BI solution is especially impressive in how it effectively combines data exploration and machine learning through powerful AI for the purposes of augmented analytics and automatic predictions, among other things. Another advantage: SAS Visual Analytics also lets you integrate Office applications and access the interactive reports and dashboards from any end device.
#7 Sisense
The Sisense business intelligence tool is a particularly beginner-friendly and easy-to-use solution for small and medium-sized companies wanting to conveniently merge, manage, analyze, and visualize data from various sources. What's more, the latest version integrates machine learning and offers special solutions for a wide range of business areas, for example marketing, finance, sales, IT, and customer service. Since it can be embedded in web applications, external users can also be given access to the analytics features. Another plus point is its quick data processing speed compared to other business intelligence solutions, thanks to the use of an "in-chip database engine".
#8 Datapine
With its BI software, the Berlin-based company Datapine has been consistently pursuing a self-service concept since 2012 that considerably simplifies the complex process of data analytics.
In addition to extensive analysis, reporting, and interactive dashboard functions, various AI-based features are incorporated for predictive analytics, intelligent alarms, or sediment analyses. Due to its intuitive drag-and-drop interface and an additional SQL mode, Datapine's cloud-based software-as-a-service solution is suitable for non-technical users as well as advanced users and analysts in companies of all sizes.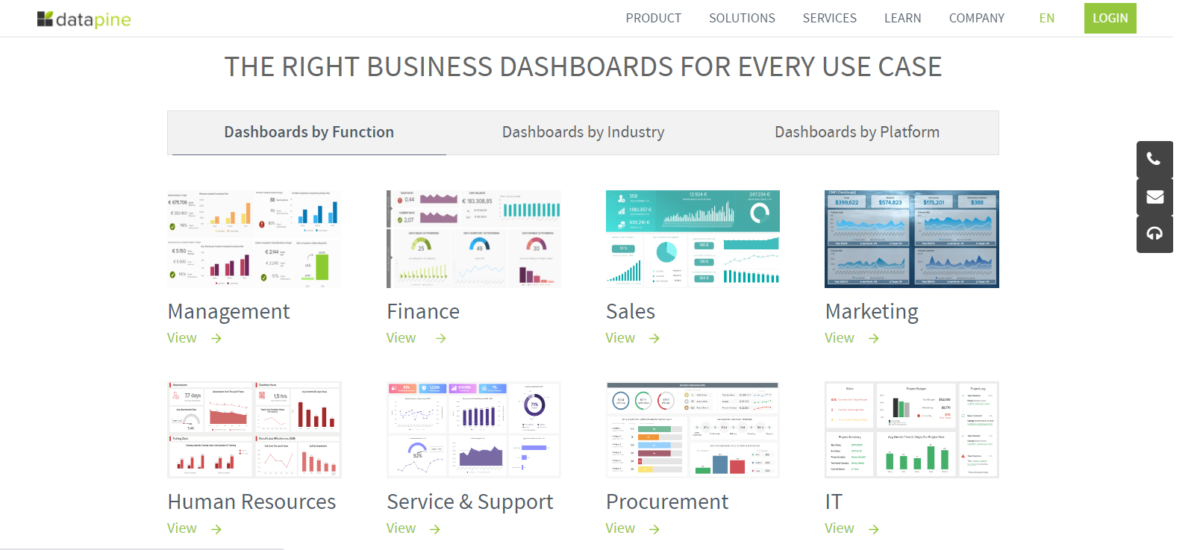 #9 Tableau
Tableau's business intelligence tool promises visual and interactive data analyses in no time at all. Tableau focuses on simple, intuitive drag-and-drop operation as well: in just a few clicks, you can conduct ad hoc analyses and create appealing dashboards and reports using a vast array of visualization and formatting options. As is now the case with many other BI tools, Tableau integrates natural language processing (NLP) too, meaning that you can simply tell the solution what you're looking for in your own words. Separate mobile apps complement an on-premises and cloud version for a high degree of flexibility.
#10 IBM Cognos Analytics
Business intelligence on a self-service basis: the Canadian software provider IBM describes its cloud-based BI solution "Cognos Analytics" as an AI-based business intelligence platform that supports the entire analytical cycle – from detection to operationalization (including augmented analytics). Cognos Analytics is an excellent example of how powerfully the AI in modern BI tools can prepare data, identify, interpret, and visualize hidden patterns, and present it all in a language that is easy to understand. Similar to Power BI, users of Cognos Analytics also benefit from a large, product-specific community for sharing experiences and asking relevant questions. Guided by rigorous, yet fluid governance rules, IBM takes the privacy of your data extremely seriously.
If you don't want to miss any other exciting topics, then subscribe to our content newsletter now and stay up to date.