The top 5 e-learning platforms for your learning success
New technologies are also driving education forward. Online tools such as e-learning platforms enable learners to digitally further their knowledge in preparation for the future. Here, we present the 5 most useful e-learning platforms.
What are e-learning platforms?
Learning wherever and whenever you want: e-learning platforms provide computer-based learning to replace or complement in-classroom teaching. This form of continuing education centers around digital media, tools, and teaching and learning concepts. Online platforms offer a level of flexibility that fits in well with people's individual lifestyles today. In addition to imparting subject-relevant content, many platforms also incorporate didactic and pedagogical methods such as discussion, interaction, and project work. Common teaching concepts used by e-learning platforms include the following:
Video courses

Synchronous lessons

Asynchronous learning via recorded lessons

Digital teaching material

Webinars

Podcasts
Since many of these concepts are available on demand to those interested, users not only have freedom in terms of time, but they can also dictate their own learning pace and manage their time as they see fit. What's more, many courses are offered in various languages.
However, users must have the necessary equipment and know-how to use e-learning platforms. The portals may experience technical problems at times, meaning that access to courses or learning resources and materials cannot be guaranteed. Many learning concepts are also designed in such a way that learners have to get to grips with the content all by themselves without any one-on-one support.
Scope of functions, performance, and services of digital learning platforms
To optimally help learners reach their learning goals, e-learning platforms should meet certain requirements:
User-friendliness: A confusing user interface can quickly lead to frustration and consequently spoil the learning experience. Participants should be able to intuitively navigate the learning platform. The user interface should also be available in various languages.

Quick implementation of internal and external content: Being able to easily share content is essential for both teachers and users in order to optimally implement individualized teaching methods.

Support: If users have questions or encounter problems when using the platform, they should have access to an extensive FAQ section and be able to contact a dedicated customer service team.

Costs: Many e-learning platforms offer trial subscriptions or free courses to give users the opportunity to familiarize themselves with the portal and its content. Users also often have the option to pay only for the course they want to take. Here too, flexibility should be the top priority rather than subscriptions with a long-term commitment and draconian notice periods.
The world of e-learning platforms is growing and constantly offering learners new options to support their continuing education and personal development. The following five e-learning platforms give their users extra-special learning experiences.
#1 Udemy – From business to photography
With over 150,000 video courses in 65 languages and more than 40 million users, the online learning platform Udemy is one of the world's biggest e-learning platforms.
It is designed for people who mainly want to professionally upskill or refresh their knowledge, with instructors and experts teaching lessons on design, programming, marketing, IT, and photography. The platform also offers the special "Udemy for Business" course model, which company employees can use for further training. Courses can be downloaded via an app, are priced between 10 and 180 euros, and include lifelong access. To top things off, users are issued a certificate once they have successfully completed a course.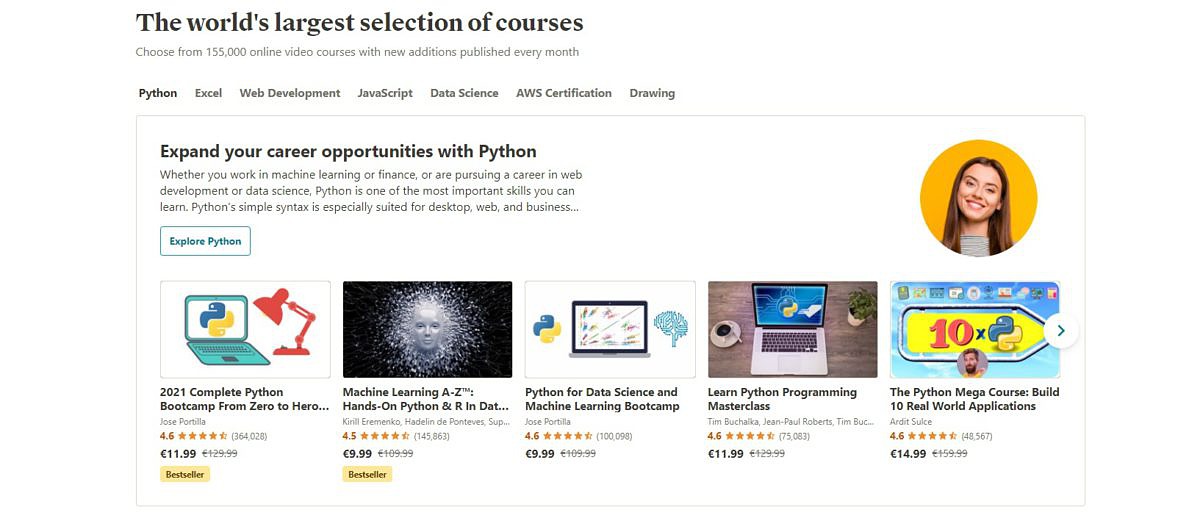 #2 Skillshare – A focus on creativity
Skillshare promises users a vast array of continuing education courses in fields such as technology and business, but it specializes in creativity and lifestyle. Alongside traditional marketing courses, users can also learn how to play musical instruments or practice creative writing in video courses, for example.
The more than 35,000 classes, which are held almost exclusively in English, can be accessed with an annual membership (96 euros) or a month-to-month plan (14 euros). Members merely need to download the app to use the e-learning platform's content. Since the courses are usually project-based, course participants are able to actively collaborate and share project results with one another during the course.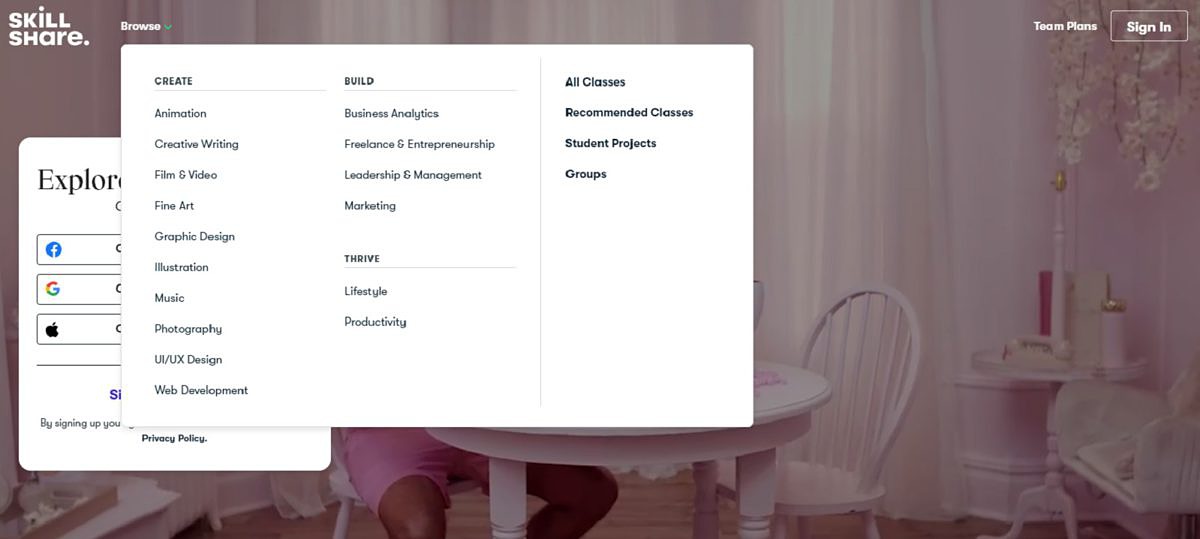 #3 Coursera – Cooperation with partner universities
As the biggest MOOC platform (massive open online courses), Coursera works with over 200 leading universities and companies, including Stanford and Google. The courses offered deal with topics such as big data, business, economy, and machine learning. The majority of the courses are free, but there is a charge for course certificates. In addition to further training courses, the e-learning platform also enables users to earn an accredited bachelor's or master's degree online.
#4 Lingoda – Learn a language at the leading online language school
Web-based language learning anywhere and at any time: the e-learning portal Lingoda lets learners study a language online and live with the help of more than 1,400 native-speaker tutors.
Real interaction in one-to-one lessons or small learning groups with a maximum of five participants as well as individual feedback are the key ingredients in Lingoda's impressive formula, making it really stand out from other language learning apps such as Babbel and Duolingo. The courses come with a price, but according to the provider, they are still 27 percent cheaper than courses provided by an average brick-and-mortar language school. Although the range of languages offered is modest with just English, business English, German, French, and Spanish, they can be tailored to the individual needs of the learner.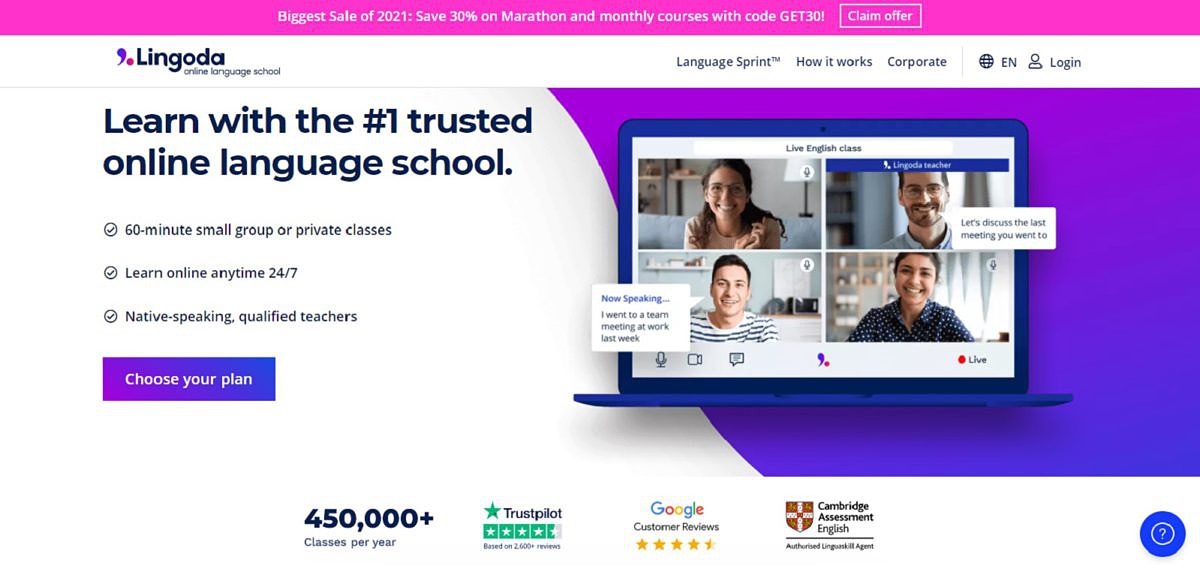 #5 The XU Online Campus by XU Group
The AZAV-certified XU Group in Berlin is dedicated to teaching digital skills. The professional training courses of the XU Online Campus focus on personalised learning. XU Group's XU Online Campus is not a simple e-learning platform, but an all-in-one platform that focuses on blended learning and compiles curated content for individual learning.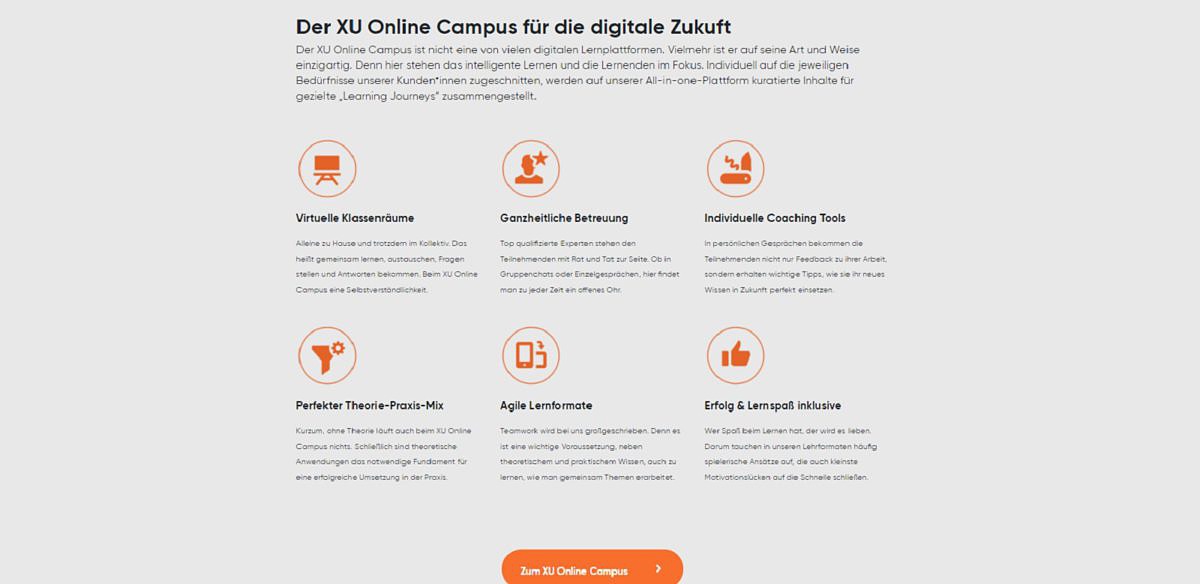 The learners acquire their knowledge alone at home and in virtual classrooms with content that is precisely tailored to their needs and learning goals. Qualified experts assist them and give the learners individual feedback and instructions for the practical application of the acquired knowledge in personal conversations.
A learning platform that enables personalised learning for everyone – with this, the XU Group is taking an important step towards the digital future. We asked Nicole Gaiziunas, managing director and founder of XU Group GmbH, why such solutions are still lacking on a broad scale.
In Germany, digitalization has also made significant progress in the education sector as a result of the coronavirus crisis. However, there is still a lack of sustainable digital (continuing) education solutions. Why is that?
Nicole Gaiziunas: The pandemic has enormously boosted digitalization, with experts even saying that the crisis has accelerated Germany's digital transformation by a good ten years. If you ask me, that's at least one positive aspect to have come out of this dilemma. The educational landscape has also had its share of this digital boost – that's correct. In my opinion though, the problem is less a lack of sustainable education solutions and more a lack of a general awareness of how much digitalization will change our world of work in the years to come.
Ultimately, one of the biggest challenges we all face today is: how do I stay relevant on the job market in the next ten or twenty years or even longer? Everyone currently pursuing a career and intending to work for another ten years and beyond should be asking themselves this question at some point. After all, we're standing at a crossroads. According to the World Economic Forum's "Future of Jobs Report 2020", job profiles such as data analysts and software developers will be some of the most sought-after in the coming years. However, Germany already lacks around 20,000 coders today. Across all industries, employers are desperately searching for digital experts, while many "analog" employees risk being let go. This is an imbalance that will escalate even further in the years to come and lead to growing problems in society and the economy. But it's also an imbalance that can be redressed somewhat by giving employees the opportunity to upskill or even retrain.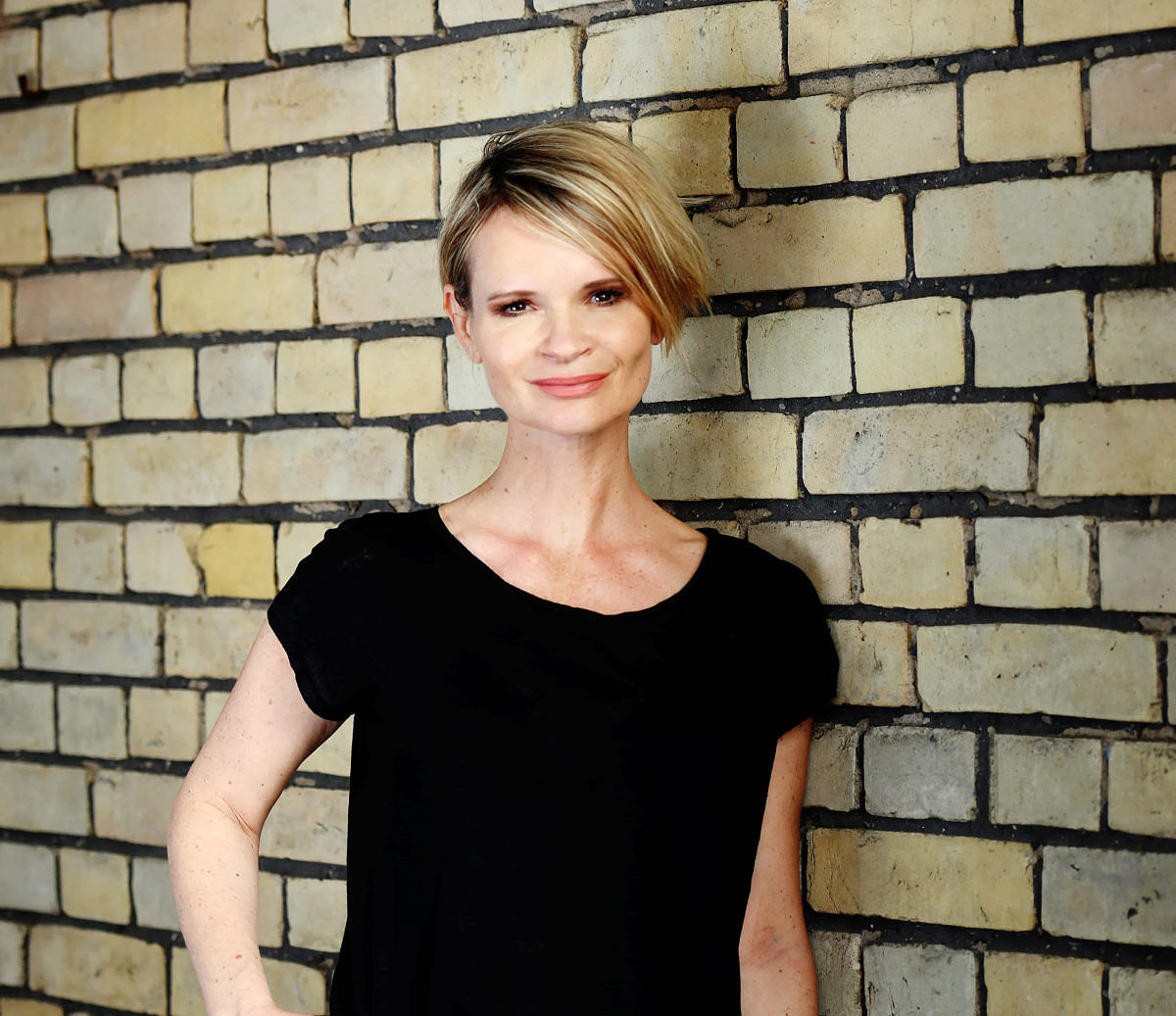 What's needed now is frankness and a shift in thinking – both among companies and employees. Because if companies don't regularly invest in their own digital qualifications and those of their employees, no progress will be made.
More insights on the topic of e-learning and online education
Our "Digital education" e-book contains more eye-opening interviews and expert comments on how to shape the future of digital education.
Download it here now for free.