Matchmaking at its best: your agency presence at DMEXCO
The agency world is all about going digital, but analog networking is still important. Read our three show cases to find out how you can specifically benefit from having an agency booth at DMEXCO.
Why should agencies present themselves at DMEXCO?
The Agency Spaces are the digital hotspot of the DMEXCO universe, where brands meet agencies and decision-makers and specialists talk shop – in short, people are matching wherever you look. Needless to say, having your own booth there is therefore a clever strategy, despite or even precisely because of the ongoing digitalization of the industry. It's a place to generate leads, maintain relationships with existing clients, acquire new clients, and share experiences with partners. Three trade show pros talk about their experiences at DMEXCO: the full-service agency "Evernine" from Munich, the Hamburg-based media, creative and digital agency "pilot", and programmatic marketing agency "Echte Liebe" from Cologne.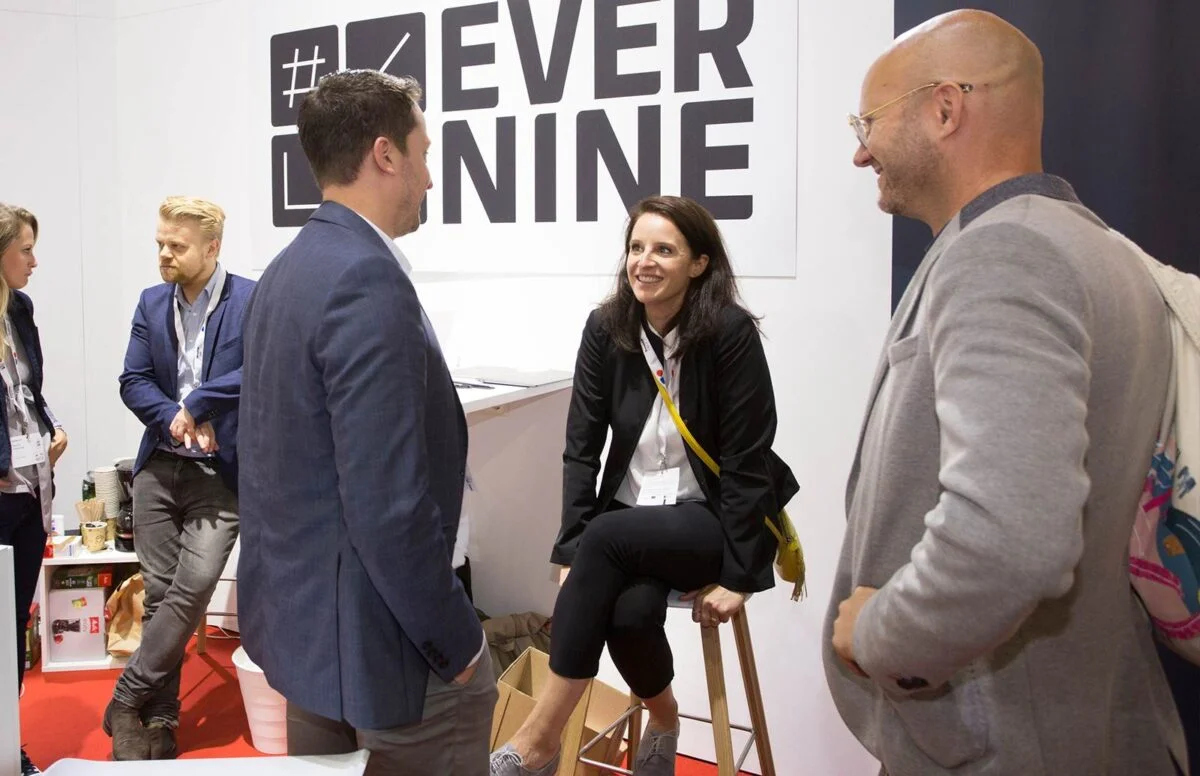 The motives – be part of DMEXCO as an agency
What specific goals are agencies pursuing when they secure a booth at DMEXCO? They all have one thing in mind: networking, making new contacts, and getting to know others are probably the main ideas behind any trade show. But the other focal points vary from company to company, depending on their sector and size. For example, the agency "pilot" primarily sees DMEXCO as a way to boost its presence in the industry: "We have a large team on-site to arrange appointments with interesting potential and existing partners together with our clients," says Managing Director Uli Kramer, adding that "making new contacts has also become increasingly important in recent years."
Evernine took a similar approach at DMEXCO 2019: "We predominantly defined soft KPIs to measure awareness and had a certain number of contacts we wanted to talk to as well as a number of meetings we wanted to hold at the show," says Alexander Roth, CEO of the Evernine Group. For Siamac Alexander Rahnavard, Managing Partner of Echte Liebe, networking and acquiring new clients have always been at the top of the agenda: "We have had lots of 'walk-in' clients at our booth and have had great conversations." However, for everything to go smoothly at DMEXCO, you need to prepare your trade show presence well – so what's the best way to do that?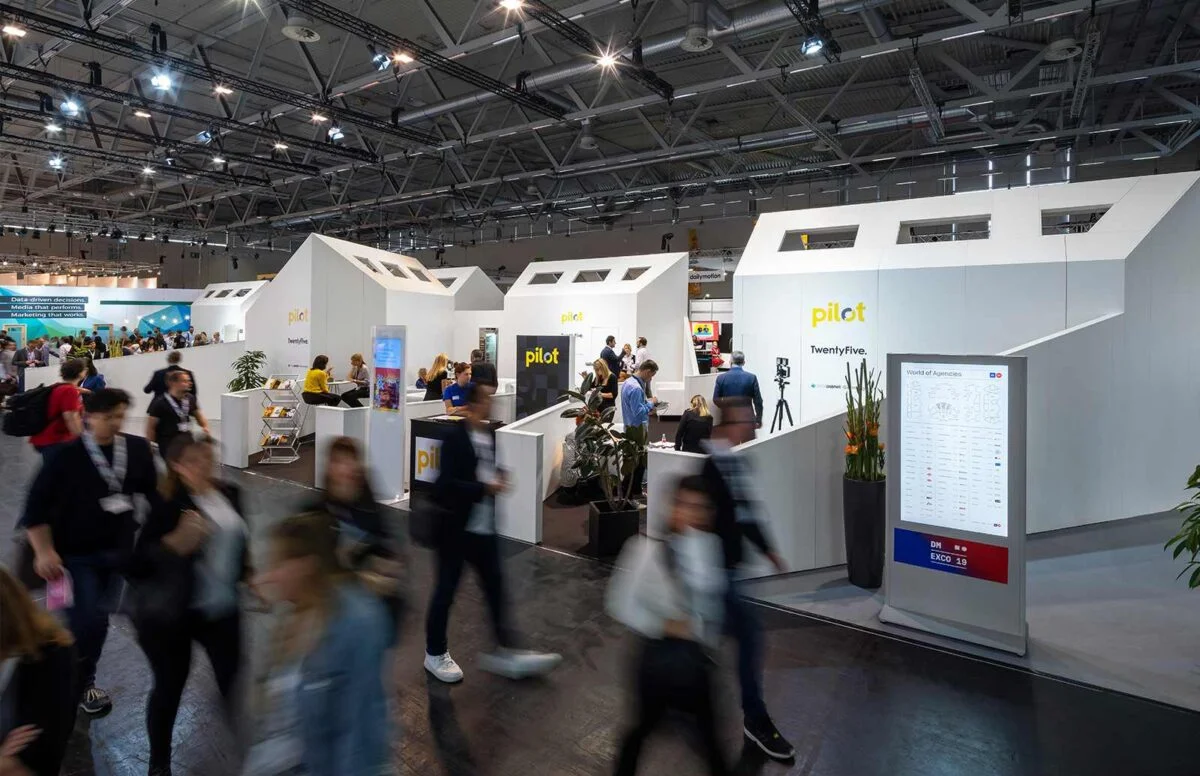 Define clear KPIs, but stay flexible and open-minded
While some agencies define very precise target figures, others approach a trade show with a guideline value. For example, pilot measured the number of specific inquiries as well as the number of people who attended or streamed its presentations on stage. Other agencies set goals related to the conversations they have, e.g. for Evernine, it was the number of appointments to be conducted at DMEXCO, as well as with regard to the conversion rate and paid content. For Echte Liebe, a certain number of generated leads was defined as a team goal, among other things. Other targets may include a growth in social media follower numbers by 10 percent or business deals signed right at the trade show.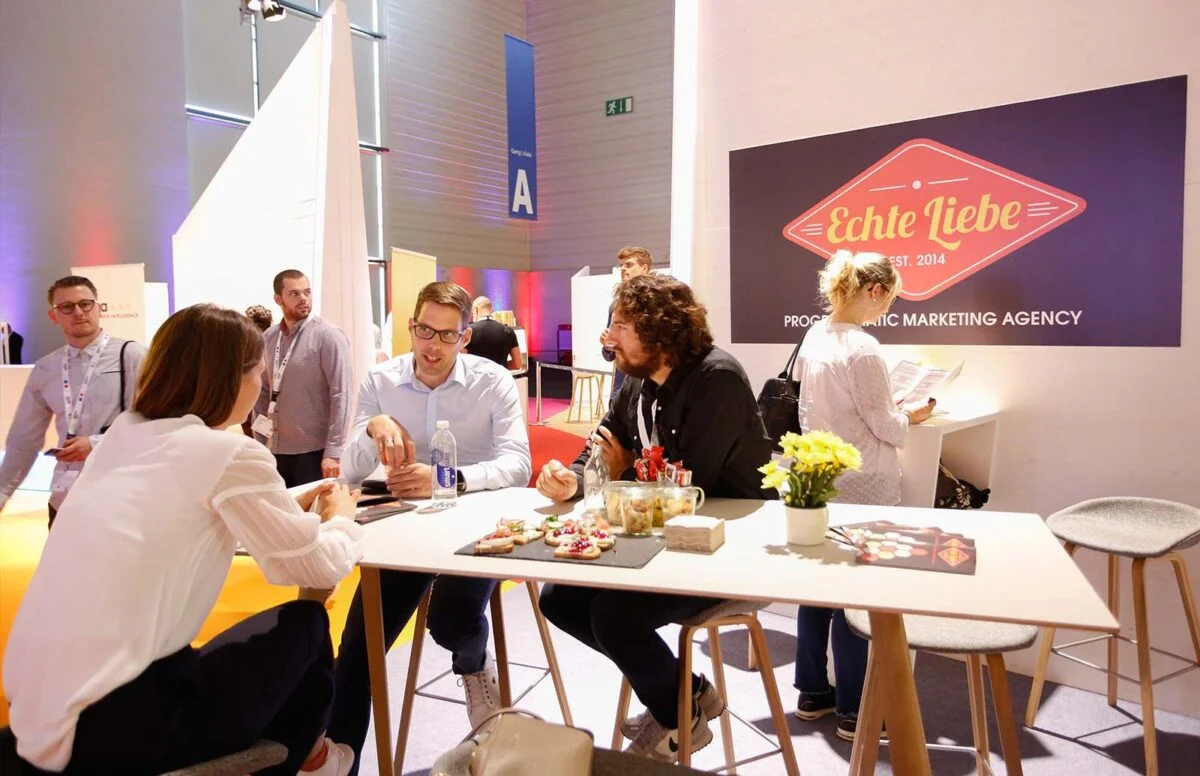 Trade show marketing in advance – what options are available?
There are numerous ways to announce your trade show booth – from banner advertising and social media campaigns to inserting information in email signatures. "Marketing and PR activities need to happen before, during and after a trade show. You should therefore always have your own landing page with information on the trade show, your own topics, and an option for making an appointment," explains Evernine CEO Alexander Roth. Uli Kramer also emphasizes the importance of thorough preparation. Since DMEXCO has grown massively, the manager of pilot advises agencies to only come to the show if they have a well-thought-out concept and have arranged appointments in advance.
A feel-good atmosphere and an effective booth design: what measures attract visitors?
Visitors walking around DMEXCO will get hungry or need a caffeine fix sooner or later. True to its name, Echte Liebe, which means "real love", catered to those needs. Managing Partner Siamac Alexander Rahnavard reminisces about the company's open-door policy at its booth, with a barista serving guests: "Everyone was welcome and appreciated the breather, and it allowed us to make terrific contacts who then went on to become new clients." Many agencies also give away freebies. The good old pen along with a notepad are often needed at trade shows, and small bottles of water bottles are also very practical and popular.
In any case, it is advisable to know your way around. Spontaneously helping "passers-by" find the restrooms can spark a conversation. Guided tours are also a winner with visitors: "Our guided tours, which are planned individually for clients, are well-reputed and in high demand," reports Uli Kramer. It is also absolutely essential for agencies to put together a trade show team that works well together and is very communicative. Employees should be well trained and briefed so that they can fully leverage DMEXCO's potential and proactively contribute to meeting defined KPIs.
A look back at DMEXCO 2019
In general, our three example agencies sum up last year's event as being very positive and talk about inspiring conversations at their booths: presentations, guided tours, and inviting booth concepts. Although the paths to their trade show success were very different, their results are more than satisfactory on the whole. Do you want to be part of DMEXCO for the first time this year? The experienced agency bosses advise first-time exhibitors to come with a well-thought-out concept and an outgoing team, determine their desired target groups, and define realistic KPIs. And in all the planning and preparation of your trade show appearance, don't forget to be open-minded, in a good mood, and spontaneous, of course.
Let's talk numbers: our show case sheet outlines the specific results achieved by our three example agencies and the measures they used.
DMEXCO 2020 – with a big and prominent topic
DMEXCO is regarded by many exhibitors as the first trade show and consequently the first major industry get-together of this year – digital, @home as well as on site in Cologne. The coronavirus and its economic and social impacts will without a doubt be the number 1 topic people are talking about this year. It will therefore be all the more interesting and enlightening to directly discuss how COVID-19 has changed the digital industry, how companies have dealt with the new circumstances, what opportunities the situation presents, and so on. In short, it will be an exciting and inspiring event!