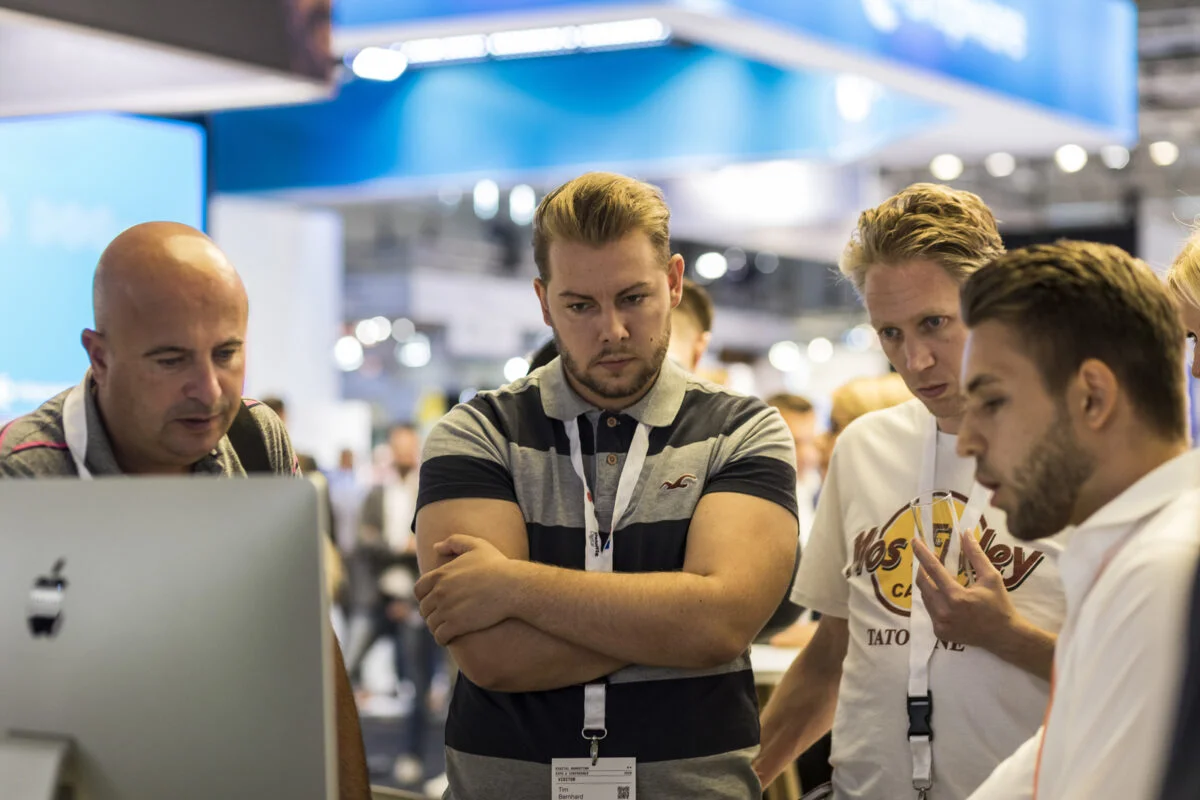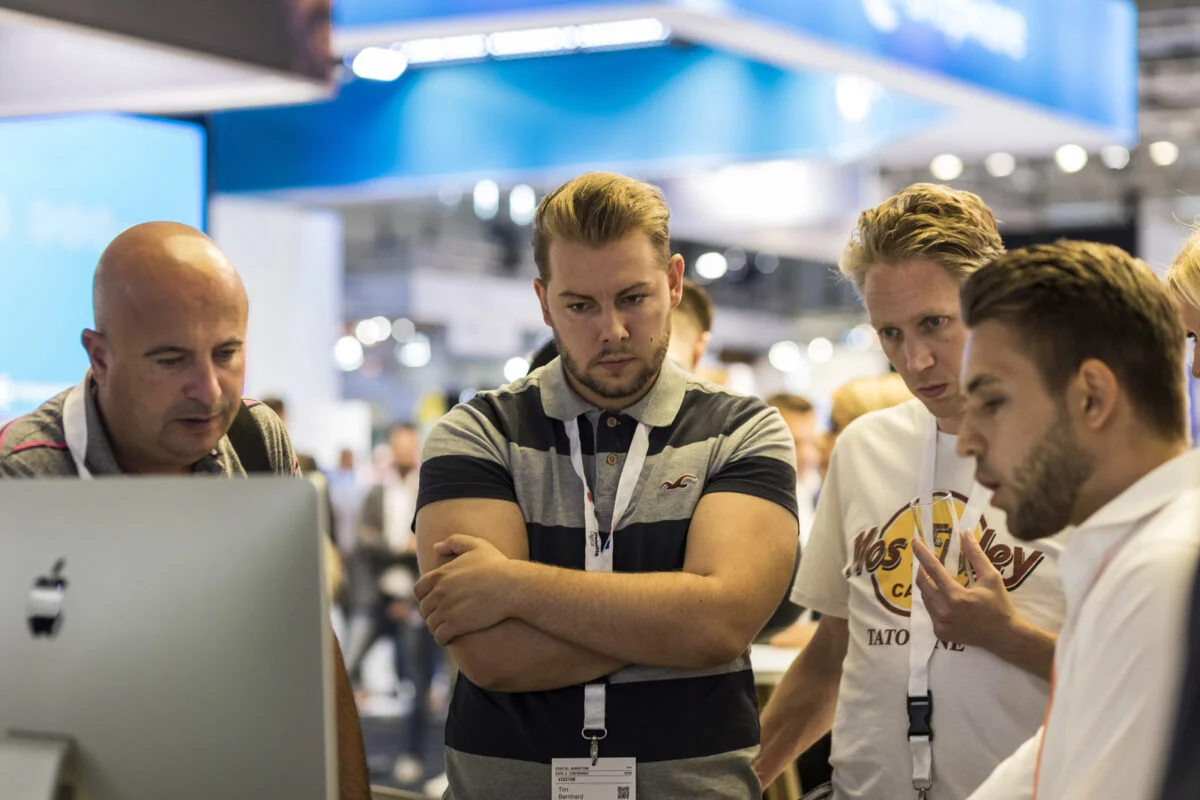 Leverage Amazon's potential by using technical solutions
Merchants generate around 160 billion dollars a year on Amazon globally. In Germany alone, more than 240,000 active sellers use the enormous reach of the online marketplace to deliver almost 600 million items to people's doors. The use of professional tools providing technical support, for example when it comes to marketing or accounting, are playing an increasingly important role here. Our story explores four practical tools for Amazon that can drive your business forward.
Adspert – intelligent software-as-a-service solution for better Amazon advertising
Adspert allows merchants and brands on Amazon to optimally keep track of their budget. Aided by machine learning, Adspert's algorithms analyze your Amazon Advertising account and optimize campaigns and bids for both keywords and products. "Amazon advertising is complex, and it isn't uncommon for Amazon to change the rules of the game. Merchants and manufacturers offering a large range of items have to manage thousands of bids and can quickly lose sight of the big picture," explains Adspert CEO Marcel Pirlich. "Our AI keeps everything under control and makes thousands of changes in real time in a matter of seconds." Adspert adjusts hundreds of thousands of bids a day not only on Amazon Advertising, but also on Google Adwords, Yandex and Bing for customers that include Hella, Teufel, and BlaBlaCar.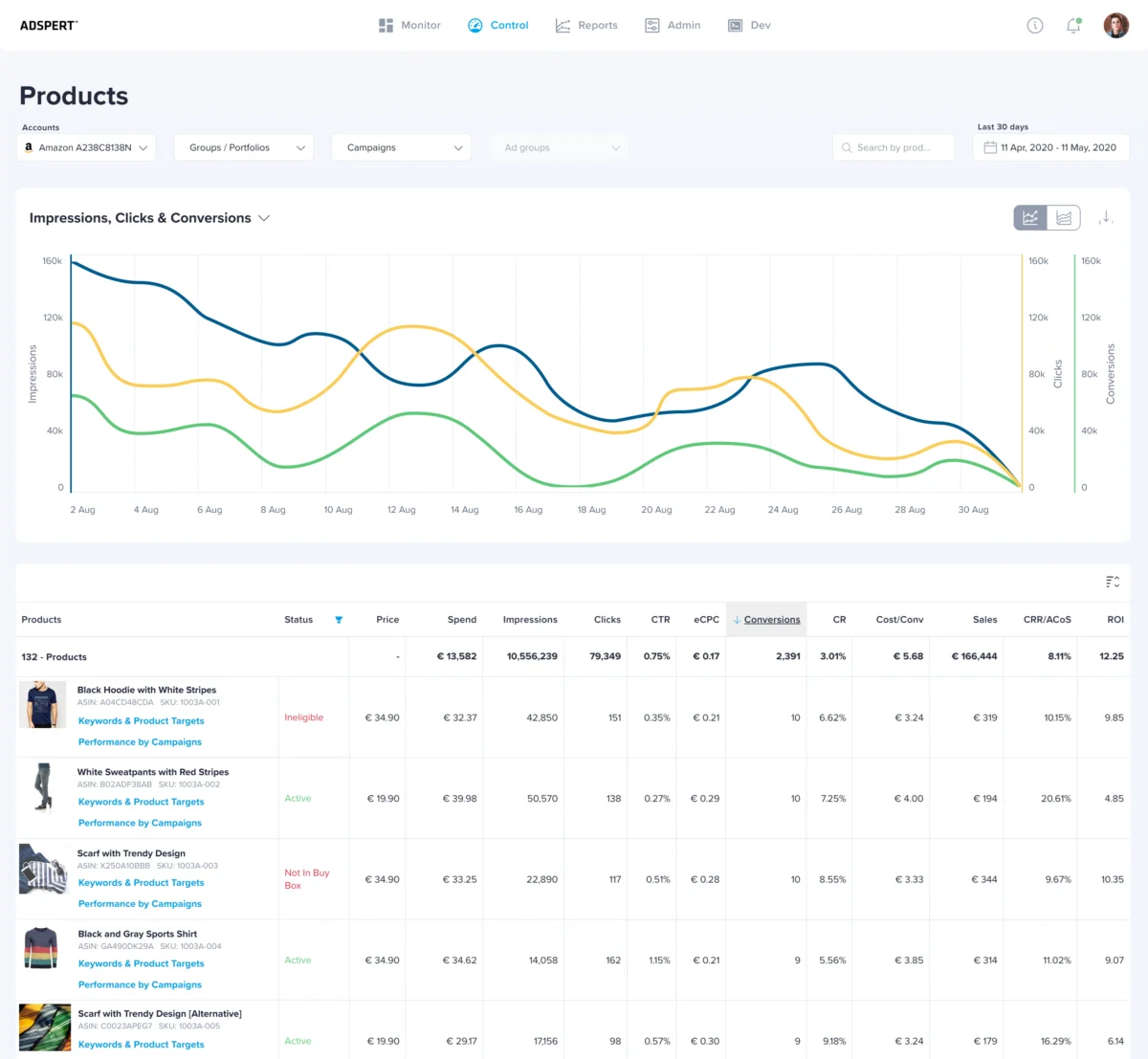 Adspert runs entirely in the browser as a software-as-a-service solution (SaaS). It is easy to set up and can currently be tested for free for 60 days. Adspert's customer service team helps you set up your account and define a target for the AI, which then analyzes your existing advertising account. In the process, it identifies patterns in the behavior of Amazon users and competitors and can therefore submit an optimal bid for each target group of each product and keyword at all times. The intelligent advertising tool for Amazon also learns from the results of all changes and provides advertisers with valuable statistics related to their advertising account and the behavior of customers and competitors.
Adference – Amazon advertising with smart algorithms
Whether it is because competitors are adapting their strategies, the buying behavior of customers is evolving, or Amazon features are changing – there are many reasons why campaigns need to be regularly reviewed and optimized. However, manually managing hundreds of pay-per-click campaigns is extremely time-consuming and complex. Through automation, an Amazon PPC tool increases the performance of advertising campaigns and helps generate more sales in considerably less time.
"Machine-learning-based Amazon advertising tools offer a vast array of benefits," explains Dr. Florian Nottorf, Adference Co-CEO and data scientist. "Unlike rule-based systems, they enrich the database statistically and are thus able to place an optimal bid very early on – fully automatically and regardless of the actual amount of data provided. Machine learning solutions such as Adference therefore do away with expensive learning budgets. They are a shortcut to more sales and a lower ACoS for sellers and vendors," says Nottorf.
Adference supports advertisers in creating automated campaigns and placing suitable bids for millions of keywords and products. By combining various factors into an optimum setup using scientifically developed machine learning algorithms, every campaign in Amazon can be leveraged to maximum advantage. A particularly useful feature: Adference's algorithms draw on data up to twelve months old and utilize statistical calculations to learn from all keywords and products in the account.
The fully automated data-driven solution for optimizing Amazon advertising campaigns gives you access to the following features in the Adference tool for Amazon:
Predictive bidding – bids are calculated algorithmically and placed fully automatically on a daily basis
Automated campaign creation and intelligent budget allocation – smart algorithms distribute the budget across your created campaign groups based on their success
Success-based insertion and removal of keywords in both Sponsored Products campaign types (automated and manual campaigns)
New "Move Campaigns" feature for automated campaign handling
Comprehensive, cross-campaign reporting
Adference's customers include major sellers and vendors on Amazon (i.e. shirtracer, Gloryfeel, and Mascot) as well as agencies specialized in Amazon as a marketplace (such as Finc3 Commerce).
Amainvoice – professional accounting for Amazon Marketplace merchants
In addition to high-performance advertising tools for Amazon, there are numerous other technical solutions that lend sellers a helping hand on the online marketplace. For instance, the Bavaria-based software developer and consulting firm amaZervice focuses on the complex accounting challenges faced by Amazon merchants navigating the European tax maze. Its modular software Amainvoice helps you automate your accounting processes and record them in a legally compliant way.
Via an interface to Amazon, the software generates all the documents and datasets required for business processes such as invoicing, sales tax returns, financial accounting, or reporting intra-European goods movements. An especially practical aspect of Amainvoice is that it automatically applies the relevant tax laws of all EU member states, including delivery threshold regulations. As a holistic Amazon accounting software program for Amazon Marketplace merchants, Amainvoice not only supports FBA (fulfillment by Amazon), FBM (fulfillment by merchant), PAN-EU (pan-European shipping by Amazon), and Amazon's sales tax calculation service, but is also equipped with an interface to DATEV accounting.
Another practical feature is the correct processing of retroactive invoicing and billing data, allowing errors in past sales tax returns to be corrected. Amainvoice corrects all invoices, reverse invoices, Amazon bills, recapitulative statements and Intrastat declarations from previous years and creates new and complete documentation of all chronological processes.
MOVESELL®
– Amazon brand reporting for sellers
Merchants who are part of Amazon's seller or vendor program do not have access to reports that combine all relevant success indicators (sales, performance, advertising, and content). That means they cannot analyze their brand performance quickly and easily and also lack segmentation into individual product portfolios. As a result, marketing activities on Amazon cannot be evaluated and planned objectively and efficiently.
As a solution for this, MOVESELL® implements special software to collect all data available for a connected brand at the ASIN (Amazon Standard Identification Number) level on a daily basis and merges it in a performant dashboard containing automated reporting based on individual cycles. MOVESELL® thus automatically calculates the advertising share (advertising revenue/total revenue) or the total ACoS (Advertising Cost of Sales), for example.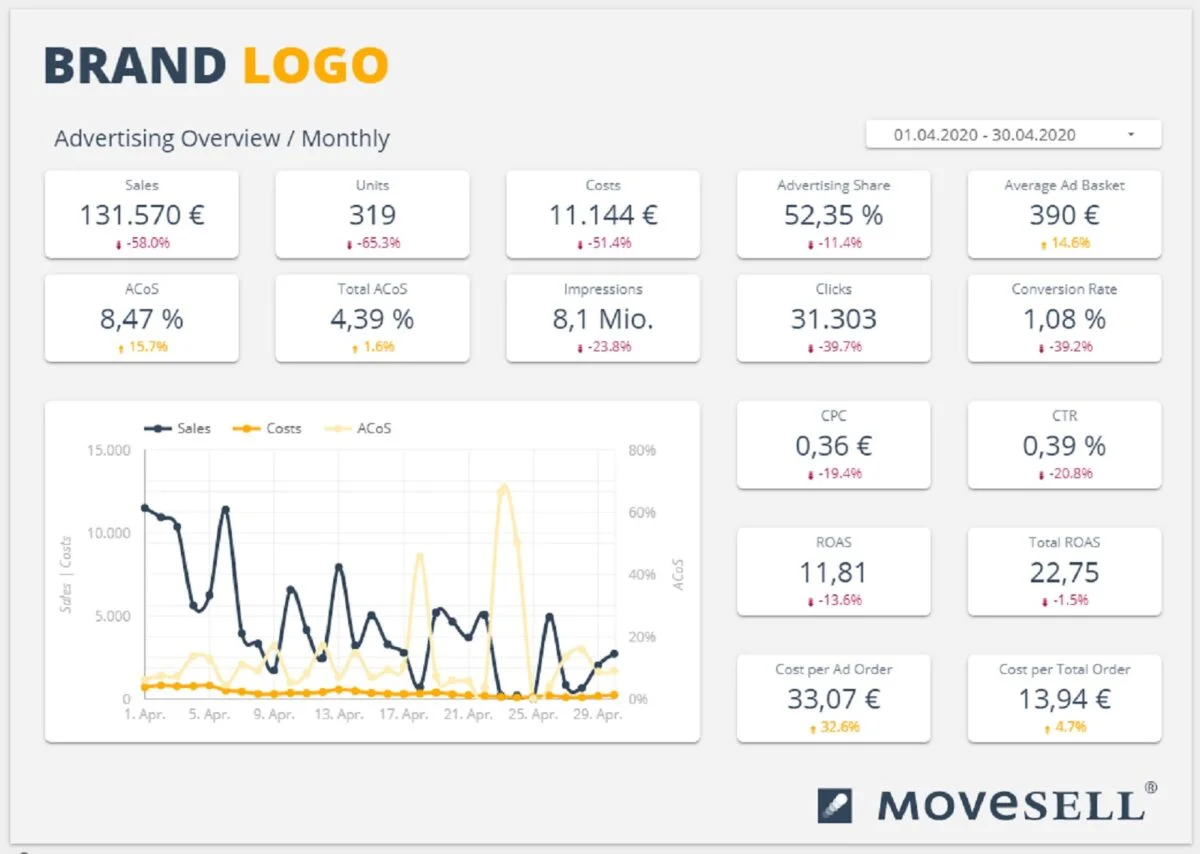 "Thanks to our long-standing experience in Amazon marketing for sellers and vendors of all sizes and categories, we know which figures matter and how to map them most efficiently. This lets brand manufacturers focus on their core business instead of wasting time on manual analyses with rudimentary datasets," explains Moritz Meyer, Managing Partner of MOVESELL® GmbH.
More than 100 brands, including Calvin Klein, VILSA, HAMMER, and Tommy Jeans, already rely on the features provided by MOVESELL®:
Combined data: Amazon doesn't provide you with all the information you need – and definitely not bundled together in one dashboard. MOVESELL® combines data from various sources, such as MWS, Advertising API, Seller Central, Vendor Central, Amazon product pages, and search results pages.

Visual analysis: All the important success and performance indicators can be analyzed and compared graphically. The information is visualized in a clearly arranged and appealing form, making it quick and easy to scan.

Time period comparison: Every selected period is automatically compared with the previous corresponding period (for example last month or last year). The change in percentage is automatically calculated here.

Portfolio segmentation: MOVESELL® lets you analyze any desired selection of your product portfolio, e.g. individual products, product groups, or the entire brand. This gives you a more in-depth understanding of how the figures are developing.

Performance table: With the performance table feature, all products can also be analyzed and filtered as desired using absolute numbers. This makes it easy to compare individual products or product groups.

Fully automatic on a monthly or weekly basis: All graphs, tables, and figures can be sent by email in a clearly structured PDF according to individual cycles. Time-consuming manual reports are therefore a thing of the past.