DMEXCO @home: free guest tickets for exhibitors
DMEXCO @home, the digital version of DMEXCO 2020, gives exhibiting companies the full DMEXCO experience. As an exhibitor, you also benefit from a one-of-a-kind offer: an unlimited number of free guest tickets to your digital presence.
Flexible and smart: your digital exhibition at DMEXCO @home
Networking, interaction, and business on a new, digital level – and all from the comfort of your own home or on the go. DMEXCO @home not only provides exhibitors with countless opportunities to leverage their business potential, but also offers a perfect communication environment for their partners and visitors. If you want to take part as an exhibitor, you have a choice of three different packages, each of which can be flexibly expanded with add-ons:
The Rookie – the basic package

The Challenger – with additional features

The Master – all features included
Unlimited guest tickets are included in all packages.
Real networking: direct and live
As an exhibitor at DMEXCO @home, you can showcase your company in your own brand showroom on the interactive brand showfloor. There, you'll not only have the opportunity to present your company and products, but also be able to directly communicate and do business with customers. You'll have the chance to make a great impression with interesting content, via links to exciting sessions and through live interaction with other attendees.
In the virtual cafe, you'll find your private space – the communication hub for talking to visitors and partners, setting up private meeting rooms, giving presentations, and hosting marketing events. This lets you position your company and brand as an expert and thought leader in your specialized field and attract your target group's interest from among our global community.
Get on board, get set up, and send out invitations before the expo begins
Even before the event begins, you'll already be able to log into the DMEXCO @home digital platform using your exhibitor account and design your exhibitor profile however you prefer. You'll be able to arrange appointments with other attendees, make contacts via text chat, and view and download the visitor database. You can find more information about the features, formats, and functions in our FAQ. To increase your reach as an exhibitor, DMEXCO is providing exclusive guest tickets to exhibitors this year.
Guest accounts to boost your reach as an exhibitor
To mark DMEXCO's online premiere in the DMEXCO @home format, we are providing a special service to you as an exhibitor, which means more leads, maximized ROI, more awareness, more customer contacts, and the widest reach possible: you and your exhibiting company can use free guest tickets to invite an unlimited number of visitors to your virtual presence at DMEXCO @home. These guest accounts are an especially quick and convenient way of reaching existing and potential customers all over the world.
"With the introduction of guest tickets, DMEXCO exhibitors can build an extensive presence on our platform and invite select people from their target audience at no additional cost. This provides great added value for our exhibitors, especially when it comes to making contacts and boosting sales activities – an option that is not available in this form anywhere else on the market."
The guest ticket – invite your target group for free
Whatever exhibitor package you opt for and whatever goals you're pursuing as an exhibitor at DMEXCO @home – you can invite an unlimited number of select attendees to your formats with the guest account. Each of your guests will receive free access to your presence with their guest account.
Invite your guests and give them a guest account that provides free access to the following:
Your live sessions

Your interactive master classes and deep dives

Your private space in the virtual cafe

Your brand showroom with video room
In contrast to other well-known webinar and video conferencing concepts, DMEXCO @home offers you direct and immediate interaction with your target group. With its vast array of formats and communication options, the networking experience in the digital version gives you maximum flexibility and a reach that would hardly be achievable under usual trade show conditions. Real networking and direct communication, whether one-on-one or in groups – the digital expo format of DMEXCO @home provides you with the ideal space for presentations, communication, and acquiring new contacts.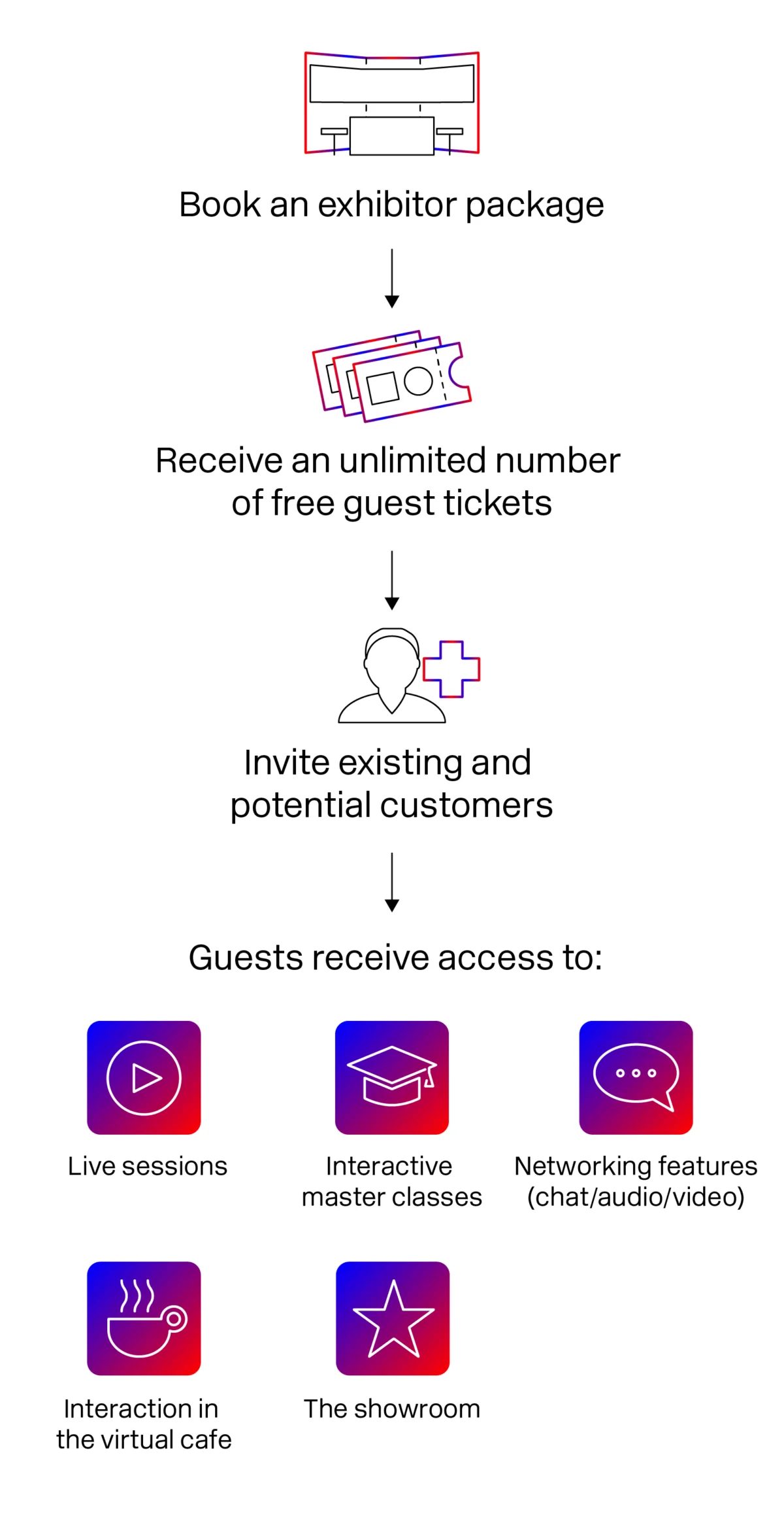 If you are already a registered exhibitor of DMEXCO @home you will receive your guest code via e-mail within the next few days. You can distribute this code to your customers as you wish. Not an exhibitor yet? Contact us: We will help you to put together your individual package.
If your guests not only want to visit your events, but also want to access other expo content or use additional features, they can of course purchase a regular visitor ticket for DMEXCO @home.