Are sprinters the new sleigh? Here's what Logistics 4.0 is gifting e-commerce
In the run-up to Christmas, there is always an unprecedented number of parcels to be delivered. Logistics 4.0 is set on bringing them to people's doors using drones, but is it that advanced yet and where do online retailers fit in?
Logistics 4.0: getting better on demand
Having any product delivered to any location precisely when they want it and in the shortest possible time is something that the young generation of consumers is increasingly expecting. At the same time, there is a growing demand for greater personalization. Both the industry and delivery services (with Amazon leading the pack) are willing to cater to these needs and are setting themselves increasingly ambitious goals to further cut delivery times. E-commerce is rapidly transforming into Q-commerce (quick commerce) and thus significantly driving developments in the logistics sector.
At present, it's mainly continuous technological innovation that is being practically applied in order to pinpoint and optimize specific KPIs in individual segments. The key focus is on improving the following:
Delivery time

Delivery reliability

Delivery capability

Delivery flexibility
In this respect, the current emphasis is ultimately still on optimizing the level of service to satisfy heightened customer needs in the best possible way.
A disillusioning reality: couriers and sprinters instead of drones and Santa's sleigh
Christmas sales were already the baptism of fire for newly established processes in the courier express parcel segment, but Black Friday, which is also becoming more and more popular outside the USA, extends e-commerce's busy season even longer. In this first year of the new normal, a year plagued by the coronavirus pandemic, the situation has further intensified.
The German association for parcel and express logistics, BIEK, anticipates an increase of between 15 and 20 percent in deliveries to private individuals compared to the previous year. It is estimated that 420 million parcels will have to be delivered during the Christmas period.
According to a study conducted by Accenture and Geodis, 64 percent of online retailers want to become less dependent on virtual marketplaces, if it weren't for their own logistical options not being up to scratch. More than half of online retailers are not able to fully leverage the potential offered by e-commerce for that reason. This is mainly due to:
Bottlenecks in the supply chain

Bottlenecks in fulfillment

Rising logistics costs resulting in falling margins
Delivery volumes already skyrocketed in the first half of 2020 amid the lockdown and social distancing restrictions. An increase of 7.4 percent in deliveries to B2C customers over the previous year was recorded, which was, however, contrasted by a drop of 7.6 percent in the B2B sector. No matter how automated the delivery of parcels is claimed to be, an enormous amount of human effort is still required: DHL Express has hired 10,000 new employees worldwide. Around 30,000 additional temporary seasonal workers are to meet the increased demand in the run-up to Christmas.
How much more impetus do drones need?
Is Logistics 4.0 a threat to contract work in the logistics sector? So far it appears to be having the opposite effect. At least as long as developing, manufacturing and servicing delivery drones remains less cost-effective than employing workers. Consequently, service couriers, truckers, delivery drivers, bicycle couriers, and other low-skilled workers are highly sought-after in the logistics sector. As the demand rises, will the increasing shortage of such workers become an additional driving force not just for further technological innovation, but also for the actual adaptation, integration and application of these technologies on the path toward Logistics 4.0?
This view is actually too one-sided, since complex processes and the implementation of technical innovations and digital systems naturally increase the need for appropriately trained experts – employees who are just as hard to find as traditional warehouse logistics specialists or couriers.
Transforming the supply chain into a logistics network
What characterizes Logistics 4.0 and how is it unique? As in Industry 4.0, Work 4.0, or Leadership 4.0, the world of logistics is, in its essence, predominantly denoted by the departure from fixed, established, and prescribed processes. It has to constantly learn, adapt to ever-changing requirements, and be able to transform itself over the course of its implementation.
With this in mind, Logistics 4.0 is to be first and foremost understood as a network of all companies, stakeholders, and players involved in value creation. This results in much more complex logistics systems where an entirely different approach needs to be taken and other possibilities exploited than was the case with the traditional supply chain model, including:
Developing decentralized warehousing and delivery concepts

Creating interfaces and networking one's own systems with other players in the value creation system on a global scale

Using new technologies to process customer orders and requests even more efficiently and effectively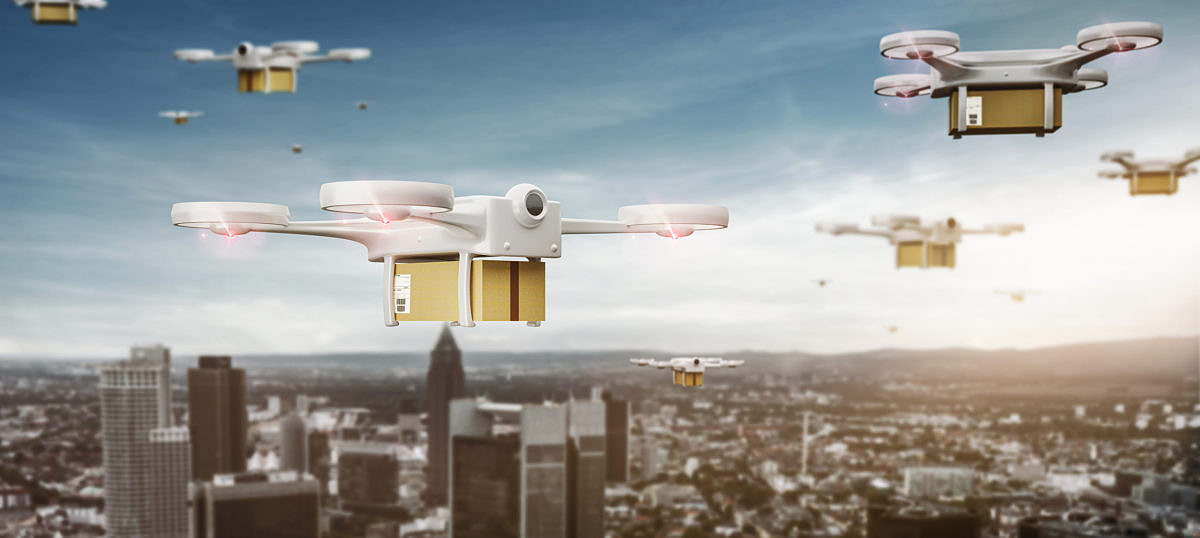 Where does e-commerce fit in and how can it benefit?
How can online retailers turn the developments related to Logistics 4.0 to their advantage and optimize their own fulfillment? E-commerce businesses should take note of the following:
#1 Networks have a big impact: decentralized warehouses and cross-border logistics
Transporting goods across borders prolongs delivery times and sometimes makes delivery costs difficult to calculate. Solutions can be found in cross-border logistics. For online retailers, it makes sense to establish warehouses that are located close to important sales markets. Shipping orders from several decentralized logistics centers reduces transport distances and costs, significantly speeds up delivery, and means that the customer only has to pay national shipping costs. Delivery Hero, for example, is currently shifting its focus to this kind of decentralized, but extremely intermeshed warehousing concept as part of its Q-commerce strategy. Its aim is for bicycle couriers to deliver products to customers in urban areas within five minutes.
#2 Focus on fulfillment: alternative delivery methods
As logistics companies may experience bottlenecks at peak times and during months where orders go through the roof, it is wise for online retailers to have more than just one shipping company to quickly fall back on. More and more ideas from the sharing economy are finding their way into the logistics sector.
The DHL MyWays app has been available in Sweden since 2013 and enables people to pick up parcels for themselves and their neighbors on their way home from work. In the USA, Uber, with its UberRush service, is among a number of companies that are working on innovative and low-cost parcel transport concepts. There is an abundance of social delivery and bring buddy concepts out there, and the trend is clearly heading toward multiplying delivery options.
#3 Data is crucial to keeping everything under control
Many online retailers not only do not have the means to retrieve real-time key performance indicators for their supply chain, but also lack analytical capabilities to generate or process this data themselves. Real-time transparency of supply chain inventories is absolutely essential, though, for a number of reasons:
Ensuring product availability and avoiding stockouts

Offering the appropriate delivery option

Keeping the customer informed about the shipping status
Integrating online sales channels with the fulfillment service partners or in-house logistics is therefore fundamental to efficient e-commerce fulfillment processes. Here as well, a clear trend toward increased networking is thus emerging: businesses and logistics service partners have to form e-commerce networks in order to ensure agility in the fulfillment process as well as availability.
#4 Logistics is not a one-way street
Inconvenient returns processes are among the main criticisms that customers have when it comes to online retailers. Especially after the stressful Christmas period, a huge volume of returns has to be processed quickly and smoothly in the interest of customer satisfaction. Companies that are rethinking logistics and teaming up with others to form e-commerce and fulfillment networks should definitely not underestimate this aspect of reverse logistics.