#TrustInYou: Live from the DMEXCO Vol. 1
Insights, event impressions and the emotional moments – live from the first day of the DMEXCO.
6:30 pm – Who killed Dominik Matyka?
At the end of the day, the Congress Stage focused on search optimization. But in a slightly different form. Yext founder and CEO Howard Lerman and some Broadway actors in musical form made clear why the right form of search is so important. The solution to the mystery surprised everyone.
5:03 pm – Back to the past
Adobe takes the visitors with them on a short journey through time. Together you travel back 20 years, to the beginnings of the Internet and agency life. Much of what is taken for granted today was anything but easy to achieve back then. The journey through time takes just 15 minutes and ends with the status quo in the now. The tour starts every quarter of an hour. But watch out: The slots are pretty well utilized. Therefore it means to be at the booth early in order to travel through time at the desired date.
4:35 pm – Tech as a big trend
Whether text automation, virtual reality or 5G – future technologies are everywhere on the DMEXCO topic. Exhibitor Retresco visualizes its AI services with a writing robot and Scanblue brings VR experiences to the Expo.
4:00 pm – Ready Player One
Gamification is becoming more and more important. This can also be seen in this year's exhibitor picture. Especially older game models seem to be especially popular here. Ready to risk a round?
3:20 pm – Podcast recording with Harley Finkelstein
Before he is interviewed in the TV studio, Harley Finkelstein, Chief Operating Officer at Shopify, sits in the mobile podcast studio with our host Alex. For a little refreshment before we really started, we had a little chocolate. The two talk not only about Harley's current business, but also about his DJ career at the time.
2:50 pm – Afternoon Low?
Everywhere in the halls there are small and quiet oases from Google. Including charging lockers for your smartphone, fatboys and refreshing infused water. Very pleasant!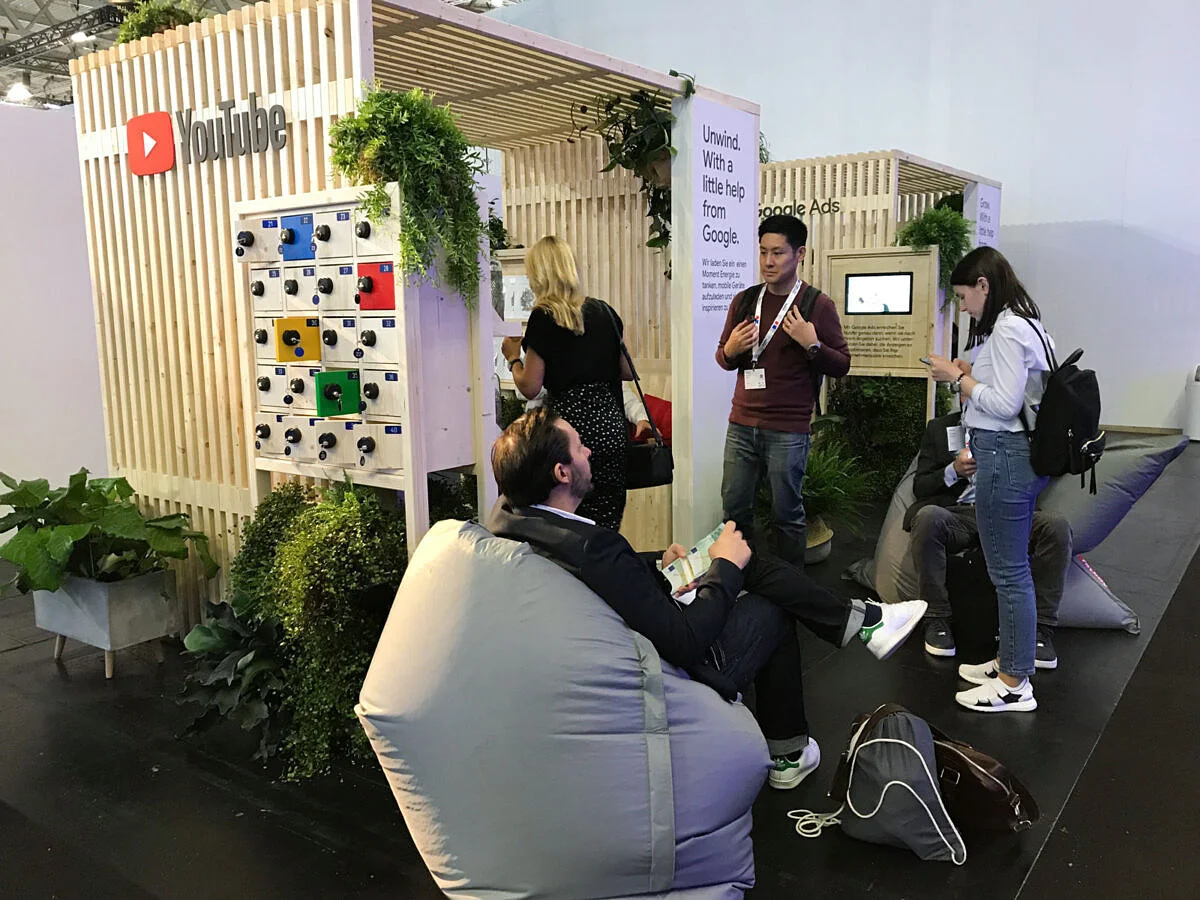 1:45 pm – The Search for Truth
"The level of trust has substantially declined, and that's no wonder." Wikipedia founder Jimmy Wales and Ralph Simon, founder of Mobilium Global, discuss the challenges facing mainstream media today. At the top of the list are reader mistrust and doubts about the truthfulness of the news in response to fake news scandals. Another problem: the stiff business model "quality journalism". In times of social media, recipients are accustomed to entertaining and, above all, quickly accessible content. However, there is a desire for profound, high-quality journalism, as Wales illustrates with the following example: The New York Times, known for its quality journalism, has more than 3,500 subscribers by mid-2019, compared to just over 1,000 in 2015. Despite the positive trends, Jimmy Wales advises experimenting with new, interactive solutions and thus adapting the media industry to the modern society. The fundamental building blocks of these solutions should be honesty, authenticity and especially the communication of these values.
01:05 pm – Customer experiences at a scale thanks to AI
"Less than 20 Percent believe, negislation can't fix the trust problem through data that we have. It needs to happen from the brands and companies themselves." According to Christoph Kull, VP and Managing Director Europe Adobe, this is only possible through data transparency. So how does a company use its customer data? On the other hand, companies have to keep their promises to their customers. This includes identifying and understanding the ever-increasing customer demands. It's no longer about products, it's about experiences. From Adobe's point of view, this works best via hyperpersonalization – on a grand scale. Artificial intelligence offers the solution to this challenge. Watch the video to learn more about how Adobe solves this problem:
12:00 pm – Networking at its best
While the majority of visitors and exhibitors are still doing business, the first ones are already enjoying their well-earned break. Whether on the boulevard at the North Entrance or outdoors in bright sunshine.
10:40 am – Opening Words with surprises
At the Congress Stage, Gerald Böse CEO from Koelnmesse, DMEXCO Chief Advisor Dominik Matyka and BVDW President Matthias Wahl, together with stage presenter Louise Houghton, officially opened DMEXCO 2019. For one of the spectators, the opening keynote was a stroke of luck, because under his chair there was a green card symbolising a 10,000 Euro check for planting 1,000 trees. In addition, the winner, Aleksey Syroveign, CSD of E-Promo, can drive a new e-car for one year for free. In connection with this campaign, Dominik presented a very special campaign in cooperation with Marcel Hollerbacher, CMO of Productsup and official sponsor: The DMEXCO Forest. Together with Social Business Treedom, DMEXCO is planting a further 1,000 trees, thus creating a forest in Murang'a County in Kenya. This is intended to offset part of the CO2 emissions caused by the arrival of international DMEXCO guests.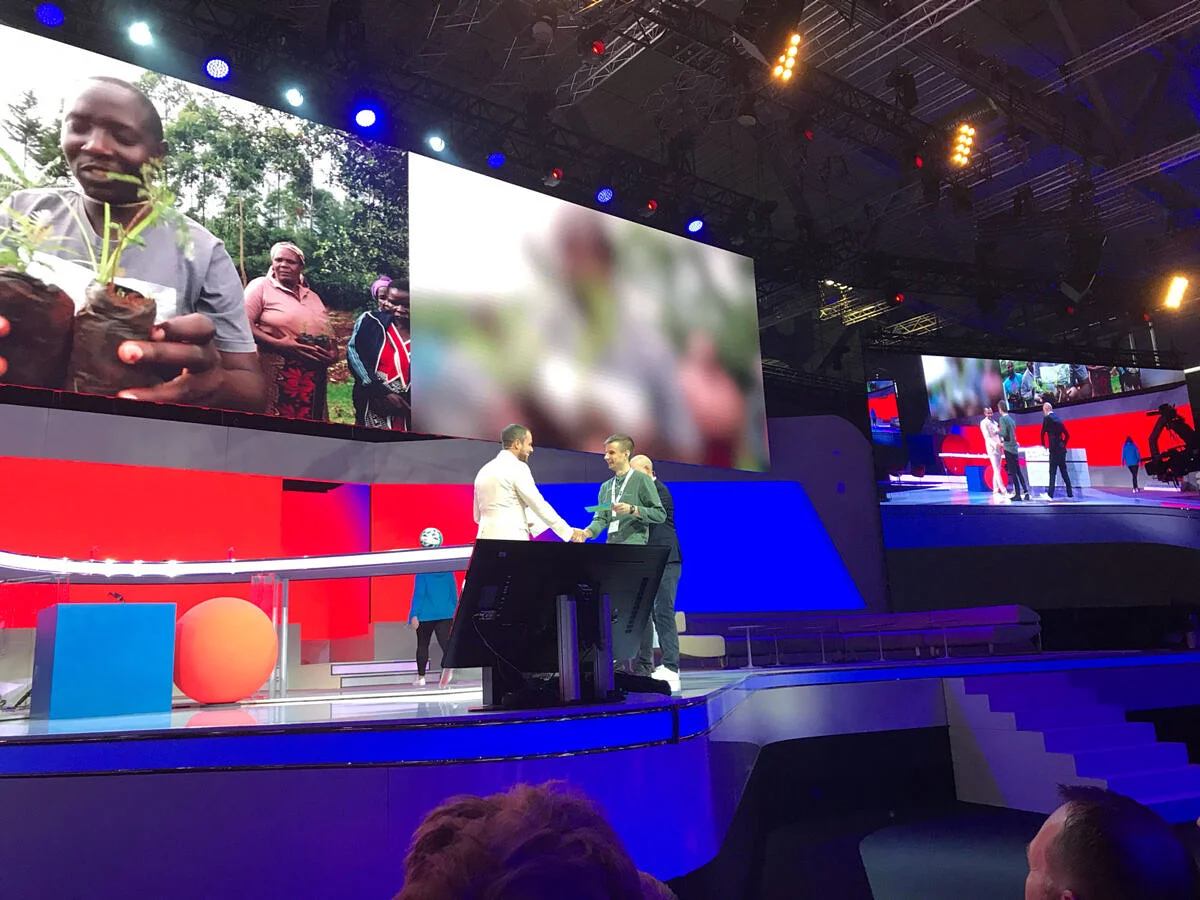 09:00 a.m. – Welcome!
DMEXCO 2019 is open, the exhibitors are looking forward to a lot of visitors and dates, our top speakers are ready and the first visitors have already redeemed their App-Ticket. Highlights of the first DMEXCO day include the sessions "Search for Truth" with Wikipedia co-founder Jimmy Wales and "The Philosophy of Trust" with Brennan Jacoby. In our live ticker today and tomorrow we'll keep you up to date on current events, conference and expo highlights.