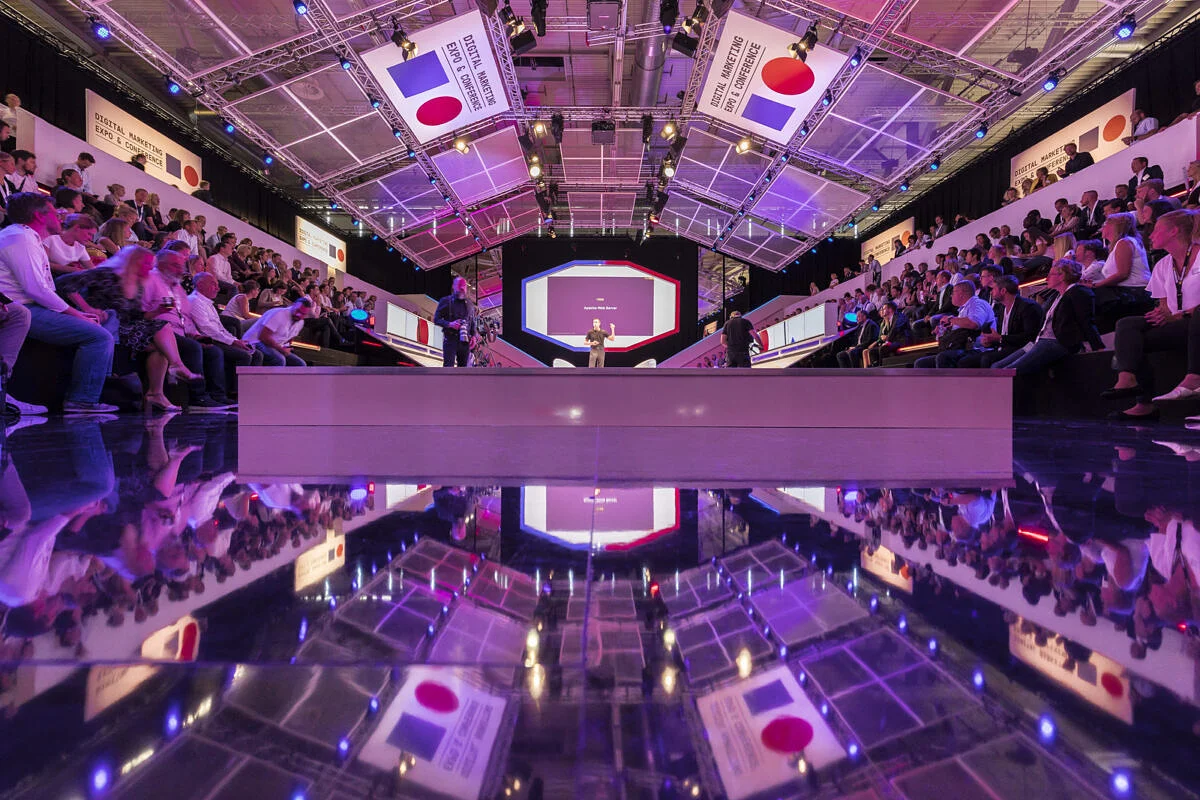 Congress Stage highlights
Public transportation already plays a major role in the debate on climate protection. Trains in particular are used by many as an environmentally friendly alternative to cars. Deutsche Bahn has set itself an ambitious goal for 2030: to bring 260 million people to their destination. AI and High Performance Computing are to help in this endeavor. Sabina Jeschke, Director of Digitalization and Technology at Deutsche Bahn, will explain how the company intends to position itself as a driving force for a green future. Sir Martin Sorrell and Kai Diekmann will also talk about how to remain successful even in the agency sector.
Debate Stage highlights
Again this year DMEXCO and SevenVentures are looking for the most innovative start-up in the B2C sector under the motto "Creating a mass market brand!" According to Forbes, the competition, endowed with a media budget of three million euros, is one of the world's most important awards for founders. The four finalists, ArtNight, CHOOOSE, Jodel and rebike1, will present their ideas to a jury of experienced industry experts including SevenVentures CEO Dr. Jens Pipping as well as host and start-up investor Joko Winterscheid. The afternoon opens with a discussion on how to avoid human bias in the development of artificial intelligence and the resulting campaigns. We are curious…
Experience Stage highlights
Get in the car and immerse yourself in another world. Nils Wollny, CEO of Holoride, describes how this could look. The Munich-based company works together with partners such as Disney to make virtual reality responsive and more comprehensive. Another one of our guests is Pierre Fautrel. He is part of the Parisian artists' collective The Obvious, which achieved a whopping 425,000 US dollars at the auction of its AI-created artwork "Portrait of Edmond Belamy" at Christie's Auction House.
How-to Stage highlights
Focus on the customer – in order to stay one step ahead of the competition, analysis and correct use of customer data has enormous relevance for brands. People-Based Marketing enables advertisers to better understand their customers and identify trends at the right moment. Stefan Blumenthal, Country Manager DACH at Zeotap GmbH, explains how brands can use this form of marketing to their advantage. Afterwards, e-commerce expert Achim Himmelreich invites you to a thought experiment, not because he hopes for a world without online commerce, but… just go and see!
World of Agencies Stage highlights
In the age of Purpose-Driven Business, companies have the opportunity to use their marketing to initiate positive social change. Especially through advertising campaigns, consumers can be shown which steps the company takes to make a social and sustainable contribution. Paul Polizzotto, founder and CEO of Givewith, and Damian Slattery, VP of Marketing for Fast Company, explain how agencies and companies can successfully work together to realize their visions. If you don't want to chase after trends, you should change your perspective and look at the "here and now" from a future perspective. Mateusz Zabierowski, Partner and CEO of Admind Branding & Communications will show you how this works.
Practice-oriented highlights
Those who work with Amazon Advertising know it: a lot of time for structure and strategy development as well as a good knowledge of the platform are crucial for success, but unfortunately often difficult to implement. The solution lies in automating the account. At least Marcel Pirlich, CEO of Adspert Bidmanagement, is convinced of this. He will provide you an overview of what is really important in advertising with Amazon. In the Worklab with Optimizely, you also have the opportunity to learn proper user guidance and prioritization of pain points using the "Problem-First Hypotheses Framework". Under the supervision of Jil Maassen, Senior Strategy Consultant at Optimizely, the participants will develop hypotheses on various issues in teams and receive broad feedback on their proposal if desired. Personalization and the handling of user data also play a major role here.
The bottom line
Also on the second day, DMEXCO offers you many exciting highlights in the form of lectures, seminars or worklabs. Would you like to maintain an overview? Use our app to select your personal favorites and clearly plan your second DMEXCO day.