Is messenger marketing coming to an end?
We will show you what all WhatsApp, Apple, etc. can do for businesses.
"Markets are discussions" is the first and thus the most important of the 95 theses of the Cluetrain Manifesto published by Vordenker in 1999. As already described, the era of one-way communication in marketing will soon be over. Some call it the "Age of Conversational Commerce". Conversations will again play a central role – be it via voice with Alexa, Siri, etc. – or via the favorite activity of smart phone users: chatting.
When we talk about chatting, we have to talk about messengers and when we talk about messengers, we have to talk about WhatsApp After all, WhatsApp has 1.6 million users worldwide, making it the clear number one messenger app.
The focus of messenger communication in recent years has been on the distribution of content in the form of newsletters. The effort was manageable for companies. The content reached all recipients immediately and opening rates in some cases exceeded 90 percent in the first 15 minutes. In e-commerce, click rates of up to 80 percent were also achieved. However, WhatsApp newsletters will no longer be allowed after December 7, 2019. Mass push dispatch of messages will then constitute a violation of the WhatsApp guidelines. So what comes next?
Messenger marketing is more than just newsletters!
Those who think messenger marketing will become a thing of the past couldn't be more wrong. First of all, there are messenger alternatives such as Facebook, Telegram or Viber, which support newsletter-like communication. However, the path WhatsApp or Apple with Apple's Business Chat is taking leads towards dialog. Since the summer of 2018, WhatsApp has offered the WhatsApp Business API as an alternative to the WhatsApp newsletter, thus enabling users to engage in real dialog with organizations.
A distinction can be made here between two features of the WhatsApp Business API:
The "Customer Service" feature: This allows companies to answer their customers' questions in a WhatsApp chat. The number of chats is unlimited and free of charge for both sides. However, if the last message from the customer in the chat was sent more than 24 hours ago, the company will no longer be able to write to the customer.

Notifications: They also work in customer communication outside the 24-hour customer service window. This gives companies the opportunity to send their customers messages within a tight framework – similar to an SMS or e-mail message. These "notifications" are subject to a charge for the respective company outside the 24-hour window and are only permitted under certain conditions.
Why WhatsApp is committed to dialog and customer service
While in marketing it seems there are one million ways companies can reach their customers, for the past 20 years there have essentially been two channels through which customers can reach companies: phone and e-mail. Phone hotlines are often annoying for customers and very expensive for companies. In the case of e-mail inquiries, customers often wait very long for an answer or, in the worst case, the messages end up in the spam folder.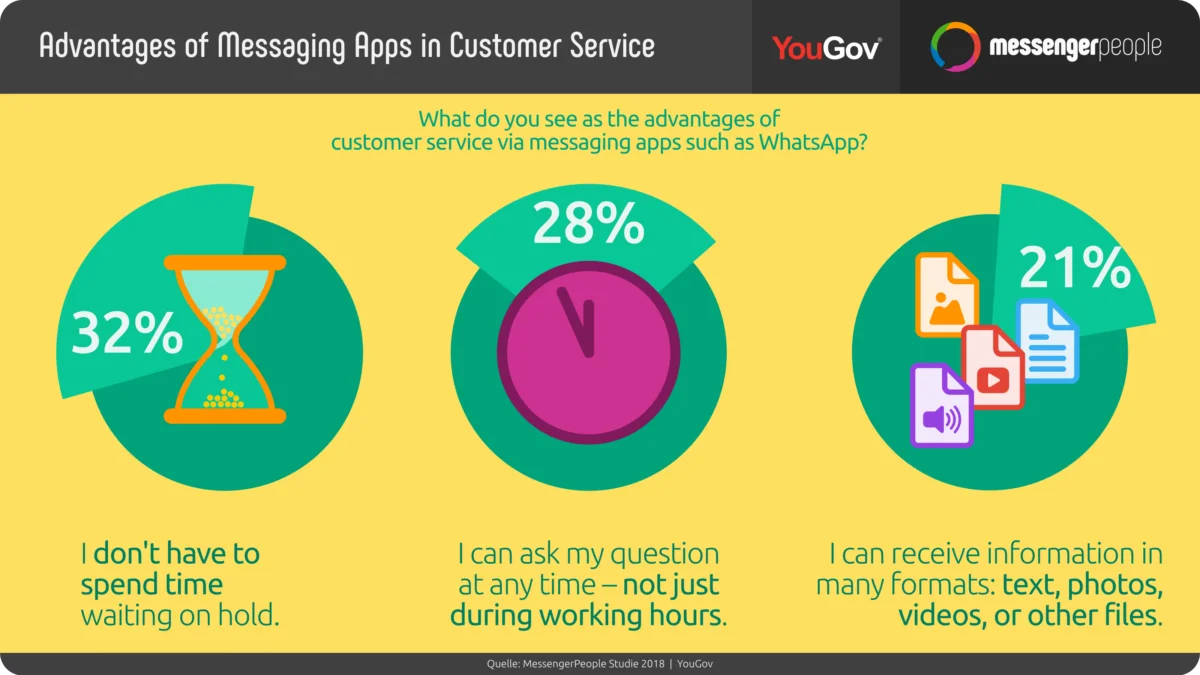 The exciting part is just beginning!
WhatsApp wants to close this service gap now! Messengers like WhatsApp are widespread and easy to use. Everyone chats when there is time, because they often wait 30 minutes for an answer and, the other way round, the company also waits for the customer's answer. Virtual assistants can answer the majority of queries automatically. We are not talking about artificial intelligence here, but quite simply about intelligent automated communication. If companies answer the same question a hundred times – for example, where the customer's package is – it is only smart to automate this type of communication. This gives companies more time to take care of the real wishes and interests of their customers. After all, in contrast to the common assumption, customers do not necessarily want to talk to someone personally, but want their concerns resolved and appreciate good service instead of being bombarded with advertising messages.
The bottom line
The WhatsApp Business API is a promising approach for companies that want to offer their customers a good alternative for service dialog beyond frustrating telephone hotlines, contact forms or general e-mail addresses. Those who cushion the majority of inquiries with intelligent automation have more time for the individual wishes and needs of their customers. The WhatsApp push wave will be followed by targeted dialog via the Messenger starting in December 2019. Time to get ready!