DMEXCO marketing precap part 4: content marketing trends of 2021
Content marketing will get more personal in 2021. More individualization, more personalization, new video formats, and strong communities: these content marketing trends will be spurring us on in 2021.
Virtual closeness is called for
Face-to-face communication, personal interaction, emotional bonds, physical contact – all these human needs have been in short supply in 2020. COVID-19 and the impacts of the global pandemic have changed how we communicate, across all industries and across all countries, and have driven the need for new communication approaches in both a personal and business context.
Meaning well doesn't always cut it. Or did you feel personally addressed when 20 newsletters from different senders with the subject line "We're there for you" landed in your inbox one after the other? Of course, this was intended to demonstrate solidarity and was a welcome move. However, the shock of the coronavirus requires companies, brands, and agencies to delve even deeper into the needs of their users. By doing so, great opportunities will open up, enabling them to massively propel their content marketing forward.
In 2021, content marketing will be all about truly finding out who your users are and what they want. We need more personalization, more individualization, and more direct interaction via live video or live webinar formats. And we need strong communities.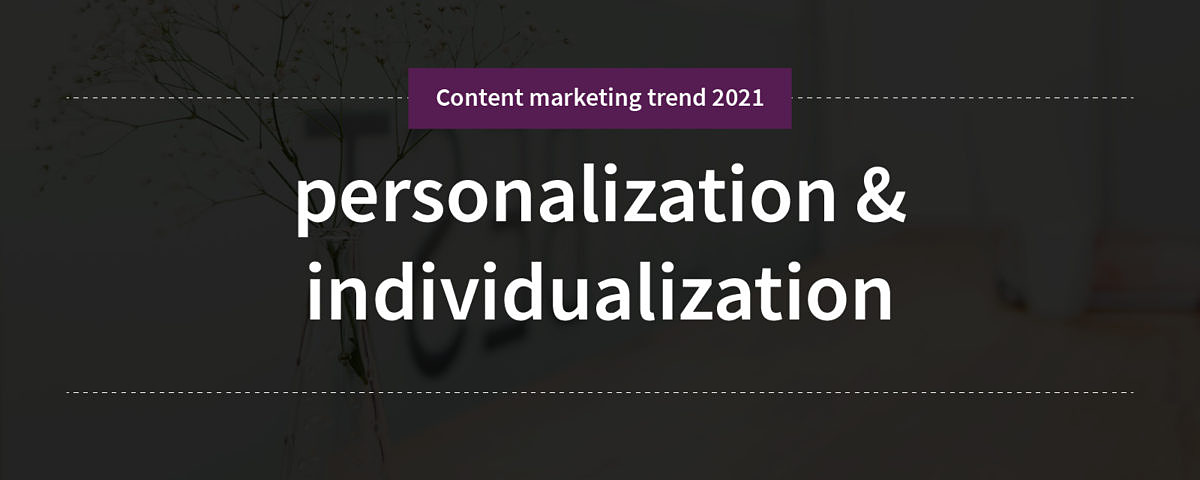 Content marketing trend 1: personalization & individualization
Personalized and individualized content is nothing new, but it's more important than ever. After all, we want to address users as personally as possible in order to get more engagement, more conversions, and stronger customer retention in return. Let's clear up one common misconception first: personalization and individualization do not mean the same thing.
Personalization means that web pages and content are tailored according to general user data, which includes information on the device being used, the location, etc. In light of the SEO trends of page experience and mobile first, personalization can no longer really be avoided.
Content individualization goes one step further. In this case, specific user data that has been imported or collected is used to display products based on interests, for example.
Now, personalization and individualization are already part of many digital strategies. To actually get closer to users and ideally engage in a dialogue with them, the individualized content must accompany the entire customer journey.
There's no denying that such an individual content experience poses a challenge in terms of resources. At the same time though, it comes with enormous opportunities. The more specifically you address users with niche and long-tail keywords, the more this content will make you stand out from the thousands of listicles and general how-to articles that do not convey a clear message. You are then delivering individually valuable content.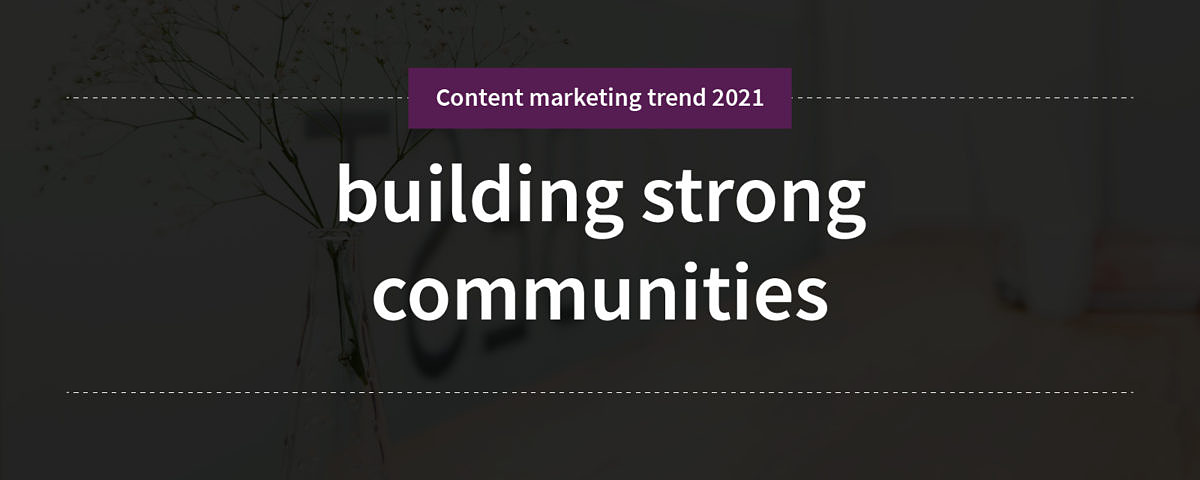 Content marketing trend 2: building strong communities
The community trend gained real ground in 2020 and will be more relevant next year than ever before. More and more users want to network with like-minded people and are building personal bonds online. Social media channels have picked up on that. Facebook, for example, is putting more emphasis on groups.
In communities, many users speak or write very openly about what challenges they are currently facing and what they want. Companies that run groups therefore have a big responsibility, since they provide a safe space to users, support them, and help them to help each other. Especially in a time where many people are missing personal contact, they make a significant contribution to society. Strong communities thrive on solidarity, mutual respect, and the fact that they are helpful to members. When brands form exactly this kind of community, the content comes from the users themselves and a genuine dialogue ensues.
Content marketing trend 3: live video content
We all know the benefits of video content: it is quick and easy to consume and at the same time makes a lasting impression. Lots of companies already publish videos on their platforms, but what we want to see on all channels is interaction. In this sense, live video content in a vast array of new forms will definitely be one of the content marketing trends of 2021. Live videos are watched more often and for longer and lead to considerably more interaction. For instance, Facebook Lives generate 10 times more interactions than non-live videos. That's hardly surprising, given that a live stream is far removed from a smoothly polished image-boosting video. Hardly anyone is perfect live, which is precisely what comes across as authentic and tangible. A live video gives users the feeling that they are part of it, because they cannot only watch it, but also contribute something to the discussion right then and there.
Live video content isn't just a must for social media. When it comes to masterclasses, webinars, and the like as well, users no longer just want a brief hello followed by a 30-slide presentation. With this in mind, online communication needs to be more real and interactive. Exciting formats, both big and small, will no doubt be added to the mix in 2021.
While this year already saw entire events, trade shows, and conferences being held digitally, 2021 will be about breathing even more life into hybrid and digital formats. Moving images and interactive options will play a big role in that.
Better content. More dialogue. More engaged brands and users.
Everyone wants engagement – brands have to keep up. Sending your content over the airwaves, leaning back, and waiting for your community to engage – that approach is proving less and less successful. Thankfully! Companies must first get to know their users and involve them before a genuine dialogue can be established. We'll get closer to the crux of content marketing in 2021. At textbest, we're looking forward to exciting new formats!