DMEXCO and SevenVentures, the investment arm of ProSiebenSat.1 Media SE, are continuing their strategic partnership. This year, in addition to DMEXCO's own start-up competition The HATCH (winner 2018: MeasureMatch, a platform designed to make it easier for companies to recruit experts from the fields of data, analytics and technology), SevenVentures Pitch Day (7VPD) will also take place again. Under the motto "Creating a mass market brand!", the top format enables participating start-ups to present themselves and establish relevant contacts with decision-makers and strategic cooperation partners. SevenVentures has once again offered a comprehensive media and service package consisting of three million euros in TV advertising money and 30,000 euros for the creation of a TV spot.
Wanted: Young B2C companies with growth potential
Creative and innovative B2C start-ups with unique products or services can participate in the competition. The requirement is, that the companies already have a scalable business model and can cope with the demand resulting from a successful TV campaign. Both, German companies wishing to advertise their product or services on ProSiebenSat.1's TV channels, as well as international companies who want to participate in the German market.
The renowned founder price already helped numerous enterprises e.g. Hafervoll, Withings or GetYourGuide, to break through. Last year Selfapy won the SevenVentures Pitch Day. The start-up, which offers scientifically based online therapy courses against stress, sleep disorders, depressions, anxiety and eating disorders, won through two rounds against strong competition and thus secured the lucrative media package worth millions.
Application and procedure
From the 10 of July to 22 of August 2019, start-ups can submit their applications via the SevenVentures website (www.sevenventures.de). From this pool, three finalists will be selected for the final at DMEXCO. Each of them will receive a Start-up Stage Package in the Future Park of DMEXCO.
A fourth final ticket will be issued as a wildcard among the start-ups exhibiting at DMEXCO Future Park. At dmexco.com/de/future-park, young companies can register for one of the exhibitor slots. The subsequent selection of candidates for the wildcard will be made by Koelnmesse.
The jury
This year's 7VPD jury is again made up of experienced industry experts. It consists of Dr. Jens Pippig, CEO SevenVentures, as well as presenter and start-up investor Joko Winterscheidt. The ninth final will again be moderated by Steven Gätjen and will take place on 12 September from 11.20 a.m. to 12.20 p.m on the Debate Stage of DMEXCO.
Dr. Jens Pippig, CEO von SevenVentures: "This year's SevenVentures Pitch Day is all about building a new brand for the mass market. After all, TV advertising can do that best. Pitch Day is taking place for the ninth time, which shows how important and established this competition already is. DMEXCO offers the best platform for it. The package of three million Euro TV media budget and 30,000 Euro for the production of a TV spot is one of the most highly remunerated start-up prizes ever. I would like to encourage all B2C start-ups in the right growth phase and who are thinking about TV advertising to apply!".
Juror Joko Winterscheidt: "For the second time I am part of the jury at SevenVentures Pitch Day and looking forward to the presentations just like Venture Capital Funds are looking forward to a successful exit. Since my last participation two years ago, I have learned a lot. Applying this knowledge to the products and services and incorporating the changes in the market is fun if I only think about it."
"The renewed holding of the SevenVentures Pitch Day, one of the world's most relevant start-up competitions, at DMEXCO, shows how valuable Cologne is as a location for start-ups and what impetus for the digital industry comes from Cologne and the state of North Rhine-Westphalia," says Gerald Böse, CEO of Koelnmesse.
"We are very pleased to be entering a second round as a partner of ProSiebenSat.1. With the renewed implementation of the SevenVentures Pitch Day, we are expanding the opportunities for start-ups to make valuable business contacts at DMEXCO and establish connections with investors from all over the world," adds Dr. Dominik Matyka, Chief Advisor of DMEXCO.
Kontakt SevenVentures GmbH:
Bianca Bertsch
Director Marketing & Communication
SevenVentures GmbH
Medienallee 4
D-85774 Unterföhring
Tel. +49 89 950 786 51
Mobil +49 151 4065 6216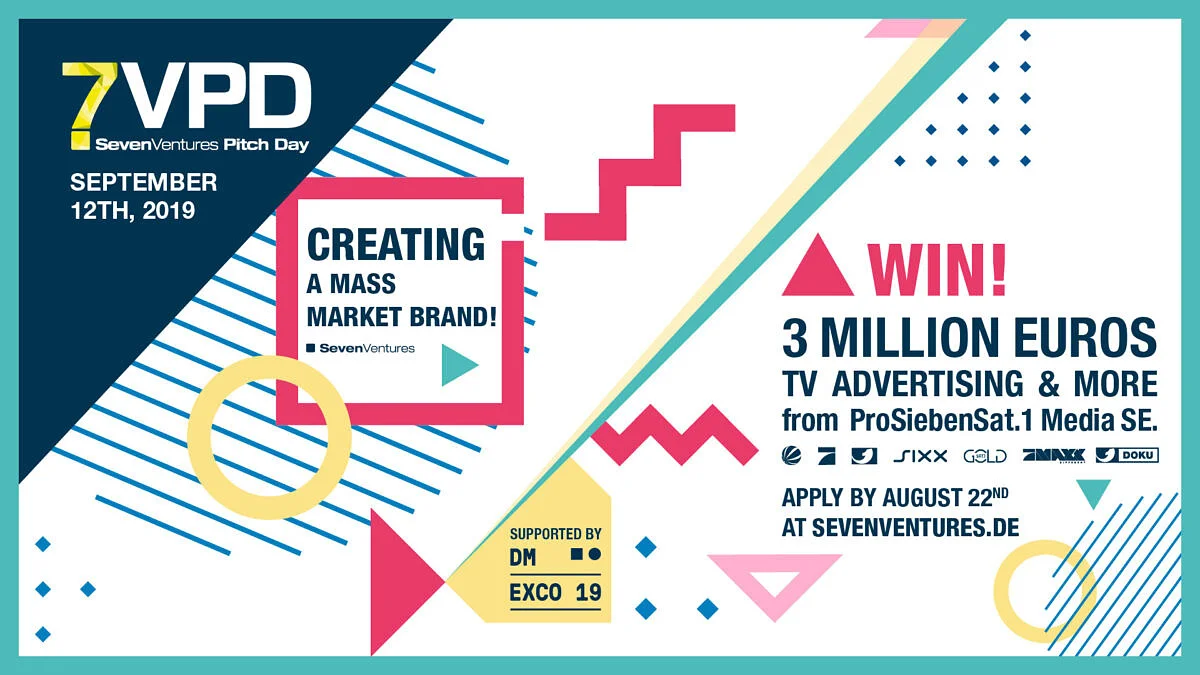 About DMEXCO
DMEXCO is the meeting place and a community for key players in digital business, marketing, and innovation. We bring together industry leaders, marketing and media professionals, and tech pioneers to set the digital agenda. Both globally informed and locally focused, DMEXCO offers an ecosystem with seminars, debates, and expositions outlining the future of the digital economy and driving market value.
Bringing together 41,000 visitors, about 1,000 exhibitors, and more than 550 speakers from around the world for a one-of-a-kind event each year in Cologne, DMEXCO has set the standard as the place for business minds to learn and inspire, build connections, and for ideas to become actions. DMEXCO — where tomorrow's digital business happens today.
The German Association for the Digital Economy (BVDW e.V.) — with special participation from the Circle of Online Marketers (OVK) — is the ideational and professional partner of DMEXCO and the owner of the DMEXCO brand. DMEXCO is organized by Koelnmesse.