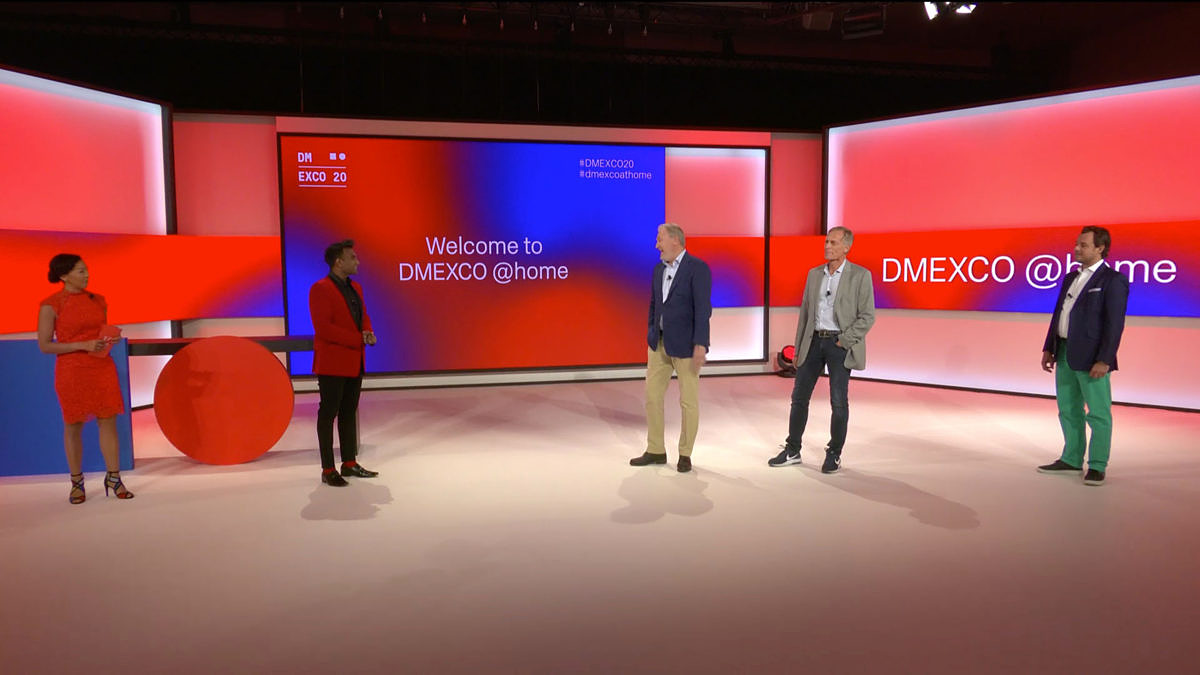 With over 20,000 participants, more than 800 speakers from all over the world, and 260 exhibitors, DMEXCO @home, the fully digital version of DMEXCO 2020, is celebrating a successful premiere. For the first time since the outbreak of the COVID pandemic, the most important decision-makers in the digital and marketing industry are gathering together on a digital platform. Participants have the opportunity to listen to presentations and speeches from top speakers, interact with leaders in masterclasses, and network with the global DMEXCO community at any time. In addition to the wide range of business offers and tools, the entertainment factor is also sure to impress: together with its partner MAD//Fest London, DMEXCO @home will host a live concert with Mousse T. on September 24 at 9 pm, where all participants can let their hair down after two days of business and networking.
Strong Interest, Involvement, and Engagement on the Platform
DMEXCO @home was used extensively on both days: more than 10,000 visitors were continuously live on the platform at the same time. On the first day alone, they posted over 60,000 messages and more than half of the participants (56 percent) used the option of audio or video calls on a regular basis. And each of the sessions in the program recorded an average of 230 viewers on September 23. 38 percent of the participants this year were international.
"With gamescom in the B2C segment and DMEXCO as a completely B2B event, we at Koelnmesse have succeeded in setting the benchmark for future hybrid events. For other events in our portfolio as well, we will be taking a close look at how we can benefit from this experience," summarizes Gerald Böse, CEO of Koelnmesse.
"For us, the DMEXCO digital community is an absolute godsend. Together, we developed DMEXCO @home in an extremely short time, a platform that will set new standards in the international expo business. The next DMEXCO will hopefully take place again in 2021 as both a physical AND digital event," says Oliver Frese, COO of Koelnmesse.
"I am extremely proud of our entire team, which managed to implement DMEXCO @home as a platform in only three months. We celebrated a successful premiere, and the feedback from the community was positive through and through. I think we have shown how innovative digital events can be. All of DMEXCO's moving image content will be available as video-on-demand starting in October for visitors who have purchased a ticket. Up until the next DMEXCO, we will continue to expand and advance DMEXCO @home as a connecting digital platform," adds Dr. Dominik Matyka, Chief Advisor of DMEXCO.
"The BVDW would like to thank all of the visitors, exhibitors and partners as well as Koelnmesse for making this digital DMEXCO @home possible. My appreciation to all of them: Planning the expo this year was extremely difficult. They all deserve respect for their commitment to this new digital trade fair format. This is a leap of faith that we are grateful for. Because after all, attitude matters," says Matthias Wahl, President of the German Digital Industry Association (BVDW), the ideational and professional partner of DMEXCO.
The Conference: CEOs, Influencers, Innovators, Podcasters, Marketers
More than 800 speakers, some of whose presentations were produced live on site in three studios, represented a previously uncovered range of topics at DMEXCO @home. Altogether, the program spanned more than 160 hours, including 163 masterclasses and workshops and two events-in-event. The proportion of female speakers on DMEXCO's curated stages in 2020 was 39 percent (previous year: 35 percent). Starting in October, participants will be able to access all of the presentations, speeches, and moving image content of DMEXCO @home in a video library.
Quotes from Exhibitors and Partners
Marco Dohmen, Vice President Sales, 1plusX
"This year, we were curious about how the DMEXCO virtual setup would affect the success of this core industry event. We've experienced a more casual, last-minute approach towards meetings and reservations. The shift to virtual encourages visitors to pass by and chat more than ever. The DMEXCO platform really facilitates this with smart functions like the lobby/showroom and integrated video & audio options. Also, in terms of lead generation and meaningful connections, we are delighted and look forward to keeping the conversation going after the event. Finally, we are pleased about the positive response we got from our masterclasses on data-driven marketing and first-party data strategies – inspiring the community and sharing our expertise means a lot to us!"
Sandra Fruendt, Director Marketing, Google B2B DACH
"It was inspiring to see how DMEXCO @home has reinvented itself as a purely digital event. With valuable insights into consumer trends and innovations in digital marketing, DMEXCO is one of the most important industry events for us."
Lillian Haase, Director Marketing EMEA, Searchmetrics
"Hats off to the DMEXCO Team for making this event happen under the toughest of circumstances! We were surprised and impressed at how much having an online showroom enabled a live experience connecting with people in real time. The DMEXCO @home team was extremely helpful from our vendor perspective, plus our Searchmetrics team and many of our customers had a lot of fun during the event itself."
Jan Homann, CEO, eqolot
"DMEXCO @home was a successful premiere of a brand-new event concept. Participants got to experience a top-class program, were able to dialog with the speakers and participants, and network with each other. What was previously only possible in 'real life', the DMEXCO team has now innovatively implemented in digital space. We were pleased that influencer marketing in all of its facets was a key part of the program. It shows that DMEXCO is addressing the right topics in the industry."
Louise Kloster, Senior Vice President Marketing, Adform
"To take an event the size of DMEXCO digital is no small undertaking. But what better candidate than an event tailored to digital marketing? We've seen excellent engagement with visitors taking full advantage of the platform, including great conversations and heavy interest. Our live stream about identity, presented with PAYBACK Programmatic, was well received, and DMEXCO @home ended up being an optimal stage to introduce the world to our new platform, Adform FLOW."
Philip Papendieck, CEO Intermate Media
"Our DMEXCO @home presence proved to be a lead generation powerhouse. In total, our masterclass on 'TikTok Masterminds' alone created more than 600 leads. For us, the investment paid off many times over just due to that. A success all the way."
Judith Rehage, Marketing Lead, IBM iX DACH
"The DMEXCO @home team promised a lot – and they delivered. It was a completely new experience for everyone, and we are happy we were there. With such a large number of participants, we were able to use the networking opportunities, but especially our presentations and speeches, to make a lot of people aware of our IBM iX brand and our showfloor, and thus make contacts on the digital platform. We are looking forward to attending again next year – hopefully also on site in Cologne."
The DMEXCO 2021 will take place on September 22 and 23, 2021.
Image material for DMEXCO is available online at https://go.dmexco.com/de/press-downloads-dmexco.
About #DMEXCO
DMEXCO is Europe's leading Digital Marketing & Tech Event. We bring together industry leaders, marketing and media professionals, and tech pioneers to set the digital agenda. Both globally informed and locally focused, DMEXCO offers an ecosystem with seminars, debates, expositions, and masterclasses outlining the future of the digital economy and driving market value.
In Cologne, we set the benchmark as a network and business platform for the digital economy. Decision-makers continue to educate themselves and be inspired, make contacts and conclude deals. DMEXCO is the place where the digital business of tomorrow can be experienced today. DMEXCO 2021 will take place on September 22 and 23, 2021.
The German Association for the Digital Economy (BVDW) – with the special participation of the Circle of Online Marketers (OVK) – is the ideational and professional partner of DMEXCO and the owner of the DMEXCO brand. DMEXCO is organized by Koelnmesse.
Information, along with photos, videos and original audio clips from DMEXCO 2019, can all be found at https://dmexco.com/, https://www.facebook.com/DMEXCO/, https://twitter.com/dmexco, and https://www.youtube.com/dmexcovideo.