The Kano model: how to wow your customers
The Kano model enables you to identify the product and service attributes that make your customers' hearts beat for joy. Read on to find out what it's all about and how you can ramp up the wow factors in your business.
The Kano model for customer satisfaction
Making customers happy is no easy task. Whether you're offering a product or service, so many different factors determine whether your customers will beam with joy or grumble. With the Kano model, you can get a differentiated view of the characteristics of your product or service.
While some features are a given for customers, there are some that make a product stand out from the crowd. The Kano model helps you pinpoint those by focusing on attractive and performance attributes. As a result, product developers can quickly identify the unique selling points that make their customers much more satisfied.
What is the Kano model?
Dr. Noriaki Kano, a former professor of quality management at the Tokyo University of Science, was the brains behind the Kano model. In the late 1970s, he developed this model in order to depict the relation between customer satisfaction and the different attributes of a product or service. The Kano approach is relatively simple:
Improving a product attribute doesn't always necessarily increase customer satisfaction, but some attributes will boost it all the more.
Categorization of product attributes in the Kano model: prioritizing made easy
According to the Kano model, a product's attributes are split into three categories so that it can be put under the microscope. There are then two additional factors that can have an individual impact on customer (dis)satisfaction.
Must-be attributes
As the name suggests, these are indispensable product attributes that are expected by customers and are key to their satisfaction. If they are missing, customers will be dissatisfied.
Performance attributes
These attributes play a decisive role when directly comparing products or services. In an online store, that could be free shipping or an enclosed returns label (something that can no longer be taken for granted).
Attractive attributes
Attractive attributes exceed the expectations of customers and convince them of a product and brand on a long-lasting basis. Even the slightest tweak of a product feature can be enough to create a wow effect.
Reverse attributes
These are attributes that trigger dissatisfaction. However, if they are not present, they don't bring about the opposite effect.
Indifferent attributes
These attributes are not significant in terms of the degree of satisfaction. Usually, they are hardly noticeable and may often only be relevant to a very specific target group.
The Kano model explained in practice
Let's take a look at the Kano model using a concrete example. When ordering gifts in an online store, the customer expects the products to be delivered in working, flawless condition and without anything missing (must-be attributes). The performance attribute could be the quality of the product, the price-performance ratio, or a small discount. However, that alone will probably not generate excitement.
Including a surprise in the parcel, such as a personal note from the person who packed the item, a voucher for the customer's next order, or a friendly message that goes above and beyond expectations is more likely to achieve that! Just by offering a special attractive attribute you can generate exceptionally good effects in a targeted manner.
A reverse attribute could be a broken seal in the packaging of a high-end gift, for example; an indifferent attribute could be the choice of packaging material.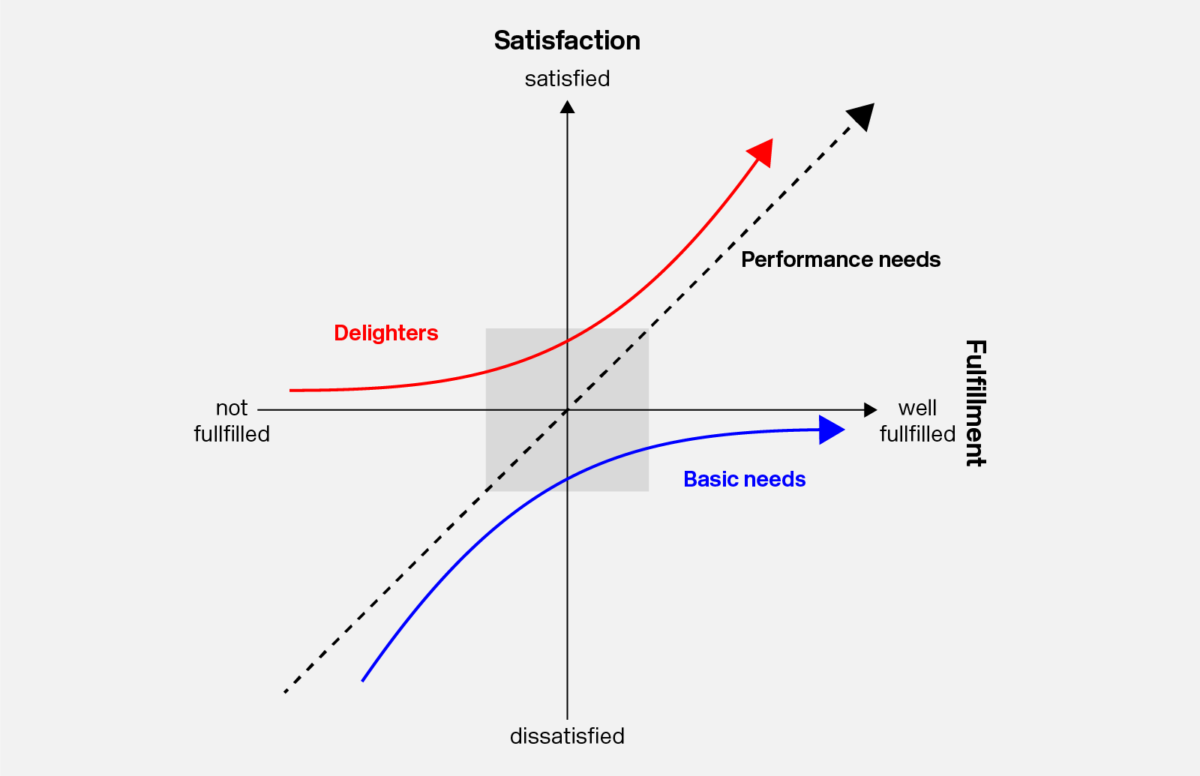 The Kano model questionnaire: precisely gauge needs based on customer segments
As shown, the Kano model is perfectly suited to efficiently prioritizing product or service attributes and thus optimizing product development. During the process, you shouldn't lose sight of who you're wanting to improve the product for. After all, the people in your target group don't have identical needs, meaning that the factors influencing customer satisfaction will vary accordingly.
Therefore, it is worth identifying buyer personas and bringing them to life: What do the needs of the various personas specifically look like? What product attributes match the preferences of the buyer personas?
Customer centricity is the term of the hour here: closely communicating with customers, for example by conducting interviews or larger surveys, provides valuable insight and guidance when it comes to the expectations, wishes, and personal perceptions that customers implicitly or explicitly have of a company. A scale of answer options starting with "I would really like that", moving on to "That wouldn't make any difference to me", and finishing with "I would not like that" clearly reflects customer preferences. Ideas from the backlog or feedback from the customer service department can be easily used as suggestions for product improvements.
A round-up of how the Kano model can help your business
Marketing, sales, and product development professionals are heavily reliant on and driven by customer satisfaction. The Kano model offers them a framework for identifying and leveraging the features and qualities that make them unique compared to competitors on the market. So why not conduct a competitive analysis using the Kano model? Or systematically identify attractive attributes to win over customers? By taking an agile approach to this, you'll storm ahead of the competition!
Companies that generate excitement and are recommended on the basis of their products gain a competitive edge on the market and often build long-term B2C relationships in the process. The sooner companies get to grips with the Kano model as well as their performance and attractive attributes and align them with the preferences of their customers, the higher their customer satisfaction will be.