How to find the perfect candidates for building a sales team
Sales staff are the interface between products and customers – so your company's success depends on creating a first-class sales team setup. The oft-mentioned soft skills are what matter when it comes to recruitment.
Why sales team selection is so important
Whether start-ups or global players – all companies need an outstanding sales team. After all, only really good sales staff can boost figures and, with these, the company as a whole in the long term. In this context, however, "good" is not synonymous with reams of expertise or the right qualifications on paper. Rather, it's about having the right mindset: employees that are dedicated to their mission and stick to it long enough to learn from their mistakes will also be able to convert leads into deals. But how do you find exceptionally talented people for your sales team and then hold on to them? These are the important factors in sales recruitment.
What qualities do sales team candidates need?
In the main, the right people have the following character traits:
Perseverance: Studies have shown that 80 percent of buyers only say yes on the fifth time of asking, while 92% of salespeople give up after four or fewer knock-backs. In the B2B area, TOPO's Sales Development Technology Report states that it takes 18 unsuccessful dials on average to connect with the relevant buyer. Successful salespeople know this and remain persistent and optimistic, in spite of the rejections.

Authenticity: Good salespeople stay true to themselves – and this should also come across in the job interview. Instead of putting on an act, they use their charisma to win favor and customers.

No fear of rejection: Even with the best products, salespeople are usually going to hear "no" more times than "yes." Those that cannot deal with this and cave too easily are simply wrong for the job. Generally, the only way to filter out the candidates who view rejection as an opportunity to try again rather than giving up is to ask direct questions during the job interview.
Must-have: the right attitude
Experience, perseverance and charisma: successful sales staff need to draw on a deep toolkit of capacities. However, one thing is a must: the right attitude – as per the recruiter maxim: hire for attitude, train for skills. Even the best qualified salesperson will not get results without motivation. If a candidate is not proficient in a certain tool or has not yet had experience with AI in sales, this should not necessarily take them out of the running. After all, what matters most is that the sales team has "bite" and demonstrates a great deal of passion and persuasive ability. At the end of the day, most customers are only won over after multiple emails, conversations and/or phone calls.
It's a match: are the sales staff a good fit for the company?
Cultural fit is frequently overlooked when recruiting a sales team. Sales staff are the faces and ambassadors of your company – so it makes sense that candidates should fit well with your company and be able to identify with it. An applicant who insists on wearing a shirt and tie and takes a very formal approach with colleagues is probably not best placed within a start-up. And vice versa, a candidate that refuses to follow a particular dress code and considers a corporation to be a dusty relic, for example, would be better advised to look for a role with a start-up. The chemistry with the existing sales team also needs to be right. A period of job shadowing is a useful means of observing how well a candidate gels with the rest of the sales team.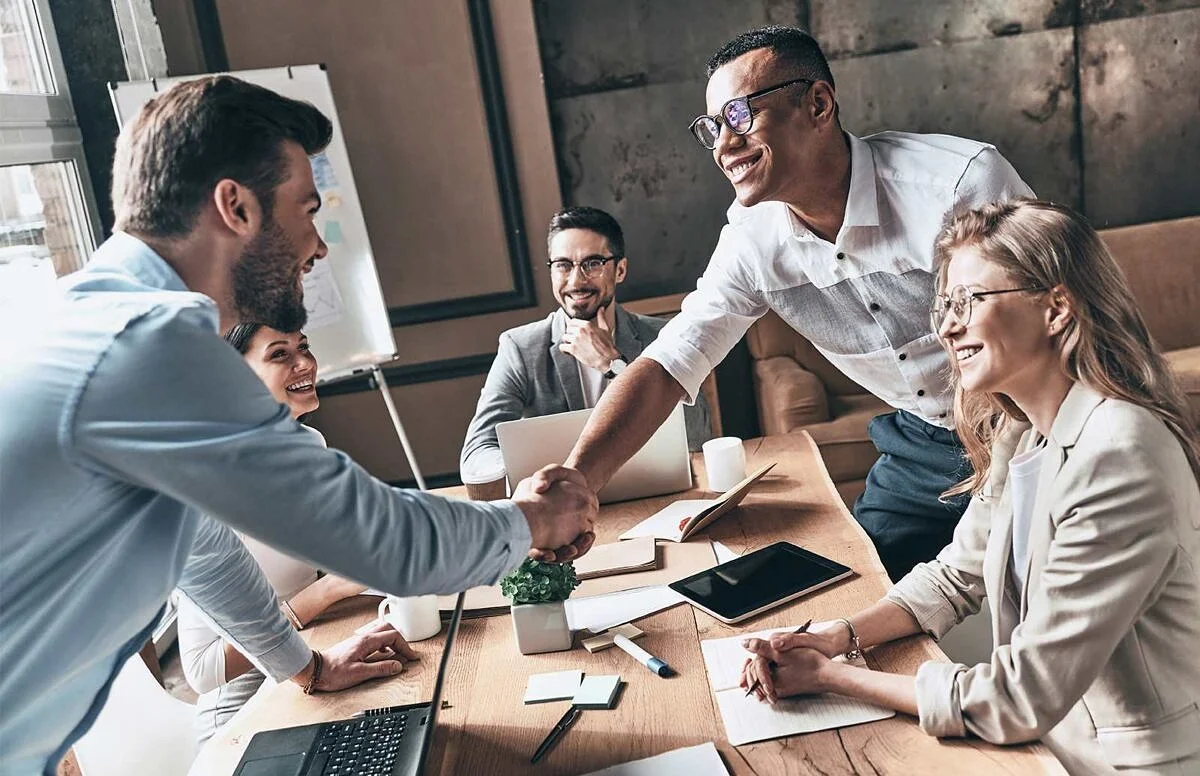 Timing is everything!
The right qualities are one aspect of candidate selection and an optimized recruitment process is another. Timing is also a crucial factor when putting together a top-class sales team. Hiring the first candidate that comes along because the sales team is swamped with requests is usually not a wise approach – or the right time. Ideally, two to three months' lead time should be allowed. The recruitment process should be built on a realistic needs assessment conducted by the head of sales based on defined KPIs.
As time is of the essence when recruiting, companies often fall back on standardized employment contracts. This is problematic in two respects: such contracts rarely suit the advertised role and they are binding – on both parties. Therefore, working hours, salary and agreed targets should always be negotiated on a case-by-case basis. And remember that good salespeople are always in demand. Therefore, it is worth putting incentives such as bonus payments, mobile working and automatic pay rises in contracts.
Welcome on board: building a sales team
Onboarding is another often-underestimated aspect: simply just showing the successful candidate their desk and a customer list will not get them off to a flying start. Instead of rushing the induction phase, new members of the sales team should be given space to find their bearings and handovers should be documented and detailed. It is also important to clearly discuss all expectations and objectives at the start of the probationary period and to set these down in writing. Another element of onboarding is familiarizing new sales staff with the corporate culture. Further educational opportunities are generally a sound investment as well. And last but not least, regular feedback is essential to fostering development, particularly in the first few weeks and months. Performance stats and sales figures can work wonders when it comes to motivation.
Conclusion
The foundations for sales success are already laid at the recruitment stage. After all, only candidates with the right mix of motivation, perseverance and persuasive ability know how to convert leads into deals. A high-performing sales team all but guarantees sales and can propel the entire company forward.