For brands, influencers are mediators and ambassadors who establish direct contact with the target group via channels such as Instagram or YouTube in order to transport products and brand experiences. A cooperation with an influencer can increase the brand awareness in a particular community. Ideally, the content created in a cooperation pays into the company's marketing and content strategy. Before companies launch a campaign, however, there are a few things they should keep in mind in order for it to be ultimately successful.
Mona Hellenkemper is Director of Marketing at technology company for influencer marketing InfluencerDB and is familiar with the pain points of companies when it comes to campaign management: "The biggest challenge in identifying and analyzing influencer channels is separating the wheat from the chaff and only considering a cooperation with those opinion leaders who operate a high-quality organic channel with which interested and dedicated followers actually interact". The search for the right influencer should always begin with a well thought-out strategy with clear targets. Relying exclusively on the influencer's content is the wrong approach, says Mona Hellenkemper. In order to conduct influencer campaigns on a professional basis, it is essential to store all data, information and documents belonging to the respective campaign in one place – ideally in a cloud, so that they can be accessed at any time.
Software solutions enhance transparency
Generally speaking, software solutions such as the Influencer Marketing Cloud help to keep an eye on all campaign KPIs at all times and keep them up-to-date. Here, marketers can use Influencer Discovery Services such as InfluencerDB's Influencer Marketing Cloud or Hype Auditor, which use filters such as country, language, category or engagement to make it easier for them to find the right cooperation partner and make it possible to configure it precisely for their needs.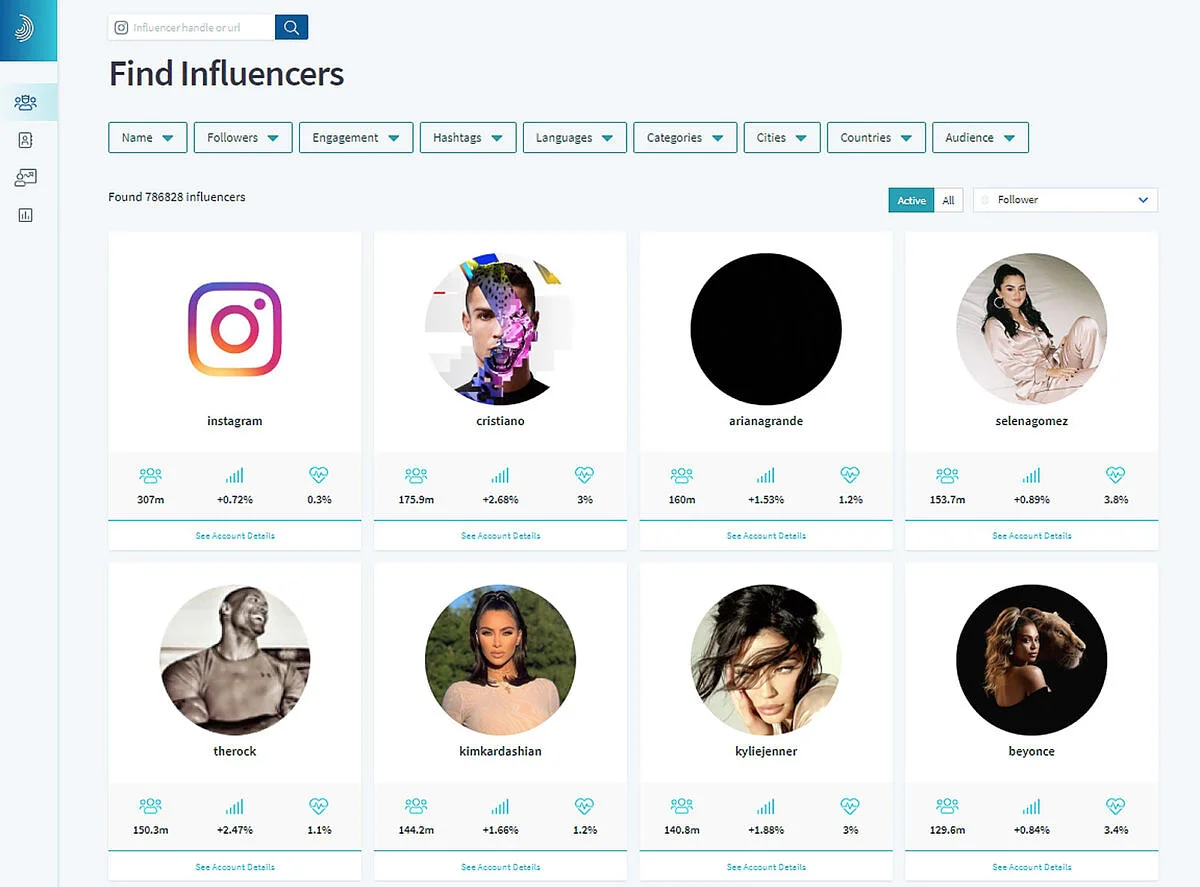 "This also makes sense for companies that want to outsource their influencer marketing activities to an agency and monitor its performance," says InfluencerDB's Director of Marketing. This is helpful in an industry in which followers can be bought cheaply and anyone can call themselves an influencer. On top of this comes the large selection of potential Influencer types. The industry makes a rough distinction between micro- and macro-influencers. With up to 50,000 followers, micro-influencers have a much smaller range than their macro colleagues, who often cover several topics on different channels.
For companies, cooperation with micro-influencers can be valuable when it comes to reaching a niche audience on a specific scene. The dispersion loss is significantly lower here than with macro-influencers. The advantage of the high-reach influencers is that they often have the algorithm of large platforms such as Instagram on their side. Macro-influencers thus generate more attention almost automatically. In the long run, however, a micro-influencer strategy can provide credible access to the desired target group with regard to the sustainable community building of a brand. The success or failure of a cooperation and thus a campaign, however, depends on the quality of the content. "All-in-one" solutions are an enormous relief for brands looking for transparent and consistent insights into their influencer campaigns.
Define KPIs individually and monitor content in a targeted manner
In the area of profile and post analysis, the technical advantages of various tools quickly become apparent. Providers such as InfluencerDB support companies in evaluating the content generated. Whether it's the number of posts, engagement or the reach metrics, the evaluation can be conducted individually, specific to channel and in real-time, thereby simplifying campaign management for companies. Although taking a glance at the channel can provide initial indications of the thematic environment in which the influencer operates and the quality level at which his or her content can be classified, there are numerous other meaningful criteria that should be taken into account when selecting an influencer.
Checklist for your influencer selection
We have compiled ten selection criteria for you to ensure the success of your influencer marketing campaign. The qualitative factors show in which environment an influencer is positioned, which image he/she embodies and how he/she is perceived by his/her environment. The quantitative aspects are more number-driven and consider KPIs for increasing attention, interaction or conversions.