Nearly 100 million smart speakers have been sold worldwide in the past twelve months. In addition, speech assistants in smart speakers and smartphones are becoming one of the most frequently used applications. Voice is an important trend in marketing, and marketers must adapt to the changes initiated by Siri, Alexa and Co. Even though marketers are aware of this situation, voice still plays a subordinate role in the daily business for many people. This is the conclusion drawn by the current DMEXCO trend survey with 854 national and 270 international participants from the DMEXCO Community.
In general, respondents attribute the highest importance to voice search, both nationally (74 percent of respondents) and internationally (65 percent of respondents), closely followed by smart speakers (58 percent nationally, 50 percent internationally). However, voice is far less important in the day-to-day business of marketers: Currently voice search is only operationally relevant for 36 percent of the national and 39 percent of the international respondents. But marketers are aware that action is required: 71 percent of the national and 65 percent of the international respondents assume that content needs to be redesigned for voice search.
Smart Speakers: Mainly used to listen to music, little trust in manufacturers
Smart speakers are already widespread within the DMEXCO Community. Over 50 percent of German and 45 percent of international respondents use a smart speakers in their own household or personal environment. Within the whole German population, however, only one in six persons talks to Google Home, Amazon Echo & Co.
Smart speakers are primarily used to listen to music via a streaming provider (42 percent nationally, 38 percent internationally) and for web radio or podcasts (36 percent nationally, 30 percent internationally). Searching via voice or ordering products via smart speakers is only used by 22 percent or 6 percent of national respondents. Internationally, ordering products via voice is not relevant either (8 percent). Voice commerce is currently the least used application.
Even though sales volume of devices and the use of voice assistants are constantly rising, smart speakers have one great weakness: Many people consider them as intruders in their living rooms that do not handle personal data with enough sensitive care. 63 percent of German respondents say that they do not tend to or do not trust providers of smart speakers. Internationally, half of those surveyed (50 percent) do not.
A new advertising experience is needed
Advertising and communication via smart speakers is also viewed critically. 72 percent of national and 66 percent of international participants state that they only agree with advertisement if listeners actively express an interest. 54 percent of national respondents accept advertisement in return for free content (i. e. music, podcasts, etc.). Also 60 percent of international respondents prefer different forms for audio advertising, for example through native, editorial-like formats.
Dr. Dominik Matyka, Chief Advisor DMEXCO, explains: "Hardly any other device has spread as quickly as smart speakers and their associated language assistants. But the assessment of our community shows that even the experts who already use smart speakers tend to distrust manufacturers with regards to data protection and privacy. With this year's DMEXCO motto "Trust in you" we want to draw attention to the important role society's trust plays in the further development of the digital economy".
Christoph Menke, Director Sales & Operations DMEXCO, adds: "In the newly designed Future Park, DMEXCO visitors can experience the topic of voice and other current technologies such as IoT and Blockchain live and in a tangible way. We not only want to generate new impulses, but also show practical applications and reduce fear of contact".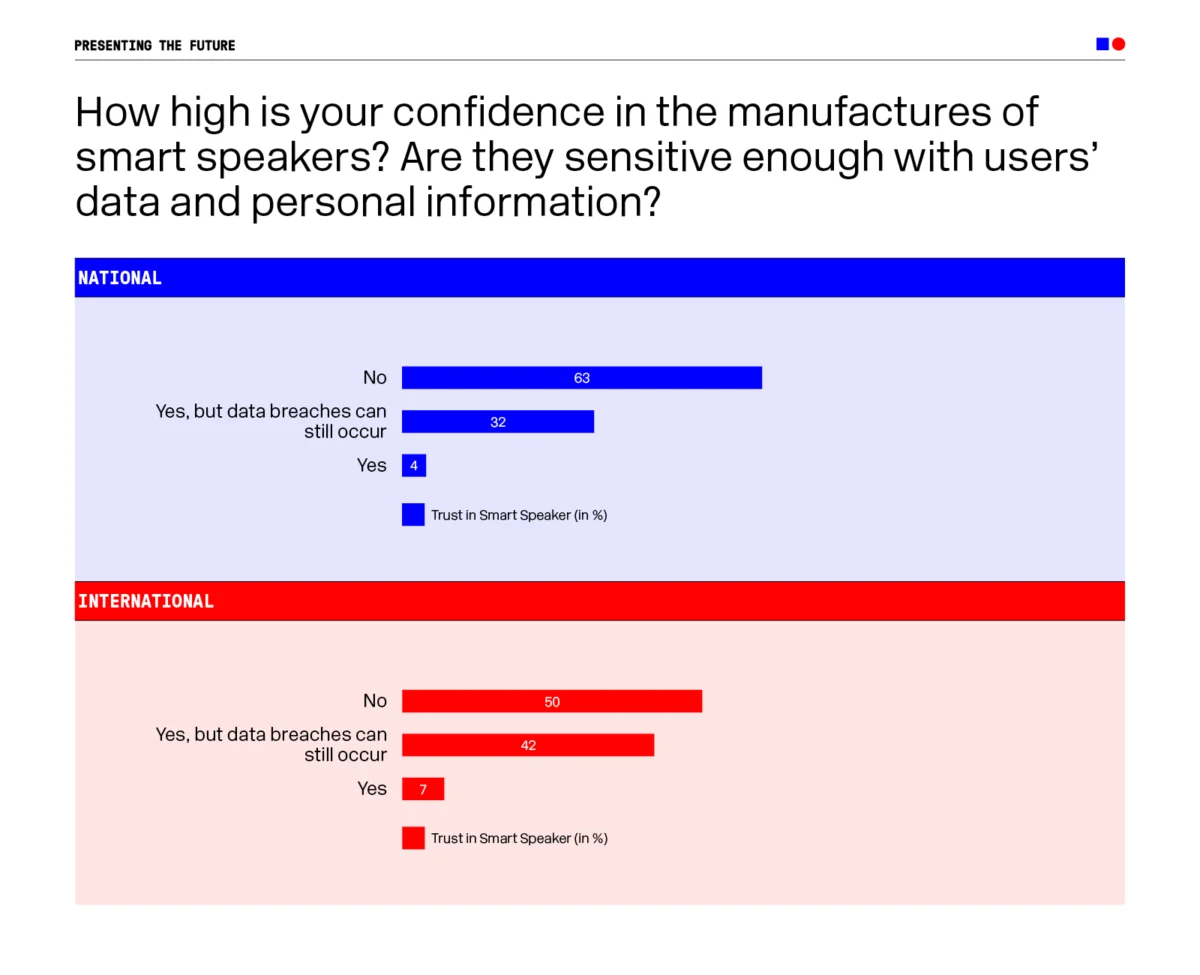 About the survey:
The first DMEXCO trend survey was conducted online by DMEXCO in May 2019. Answers from 854 national and 270 international participants from the DMEXCO community were evaluated. The DMEXCO community consists of visitors, exhibitors, speakers and journalists.
About DMEXCO
DMEXCO is the meeting place and a community for key players in digital business, marketing, and innovation. We bring together industry leaders, marketing and media professionals, and tech pioneers to set the digital agenda. Both globally informed and locally focused, DMEXCO offers an ecosystem with seminars, debates, and expositions outlining the future of the digital economy and driving market value.
Bringing together 41,000 visitors, about 1,000 exhibitors, and more than 550 speakers from around the world for a one-of-a-kind event each year in Cologne, DMEXCO has set the standard as the place for business minds to learn and inspire, build connections, and for ideas to become actions. DMEXCO — where tomorrow's digital business happens today.
The German Association for the Digital Economy (BVDW e.V.) — with special participation from the Circle of Online Marketers (OVK) — is the ideational and professional partner of DMEXCO and the owner of the DMEXCO brand. DMEXCO is organized by Koelnmesse.
DMEXCO 2019 will be held in Cologne on September 11 & 12, 2019. You can find all the information about DMEXCO 2018, as well as photos, stories, events and the podcast, at https://dmexco.com, www.facebook.com/dmexco, http://twitter.com/dmexco, and www.youtube.com/dmexcovideo.