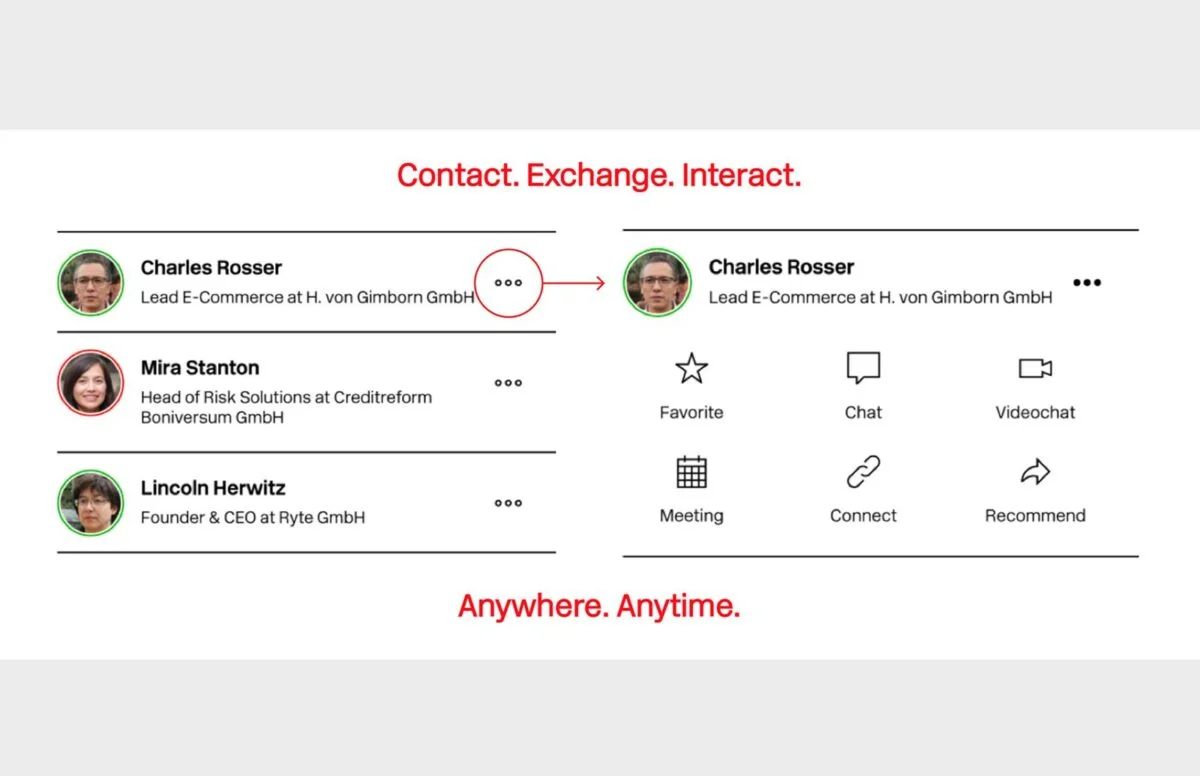 The Communication Center – search and find
The DMEXCO @home Communication Center located in the right-hand section of the screen really simplifies and speeds up networking. There, you will find exactly the network partners you'd like to virtually meet and get to know using the free-text search feature under "People" and "Networking".
For example, if you enter "CMO", all registered chief marketing officers will be displayed for you to talk shop with them. Entering the search term "social media" will display all the social media managers.

Alternatively, you can find fellow colleagues from your business field by entering terms such as "marketing" or "technology".

If you're looking for a contact whose name you just can't remember, but you know where they work, then simply enter the company name in the search field and everyone who works there will appear.

And the same applies if you can only remember someone's first or last name.
Once you have found the person you're looking for, you can directly arrange meetings, start a call, or interact via the text chat feature. If you slide the bar in the Communication Center over to the right to "Requests", you will see all your pending requests and, next to it, your list of contacts.
All your contacts at a glance in the Discovery Graph
The Discovery Graph provides a great visualization of your entire network in DMEXCO @home. You will find it under "Networking" on the left-hand side of your DMEXCO @home space. While the Communication Center arranges the names of all your contacts in a list, the Discovery Graph gives you an expanded overview. This means you don't have to scroll up and down, but instead you can see lots of contacts or contact suggestions in one view. How does the Discovery Graph work?
This is where the handy slide control comes in useful again: under "Explore my connections", you will see all the contacts you have added to your contacts list. Do you want to add new ones? Then simply slide the control over to the right to "Find new people". There, you can find the people you want to interact with using the various filters of the free-text search feature. A special function: you can define the number of suggested contacts, whether 10, 20, 40, or 60 – it's your choice. If you don't see anyone you want to add to your list, don't worry: simply click on the "Load new suggestions" button and all of the existing suggestions will be replaced with new ones that meet your search criterion.
Networking at the digital expo booth: network directly in the Showroom!
Have you already got your eye on a couple of interesting companies and want to contact them? Then go straight to their brand card! This networking method can be found on the Showfloor, which is also located on the left of your DMEXCO @home space. By clicking on any company here, you will immediately see the photos and names of its registered employees, who will meet and greet you virtually just as they would at the analog expo. You can directly chat with them digitally by entering their showroom at the click of a button.
Optimize your own profile
Of course, networking is a two-way street! We recommend making your profile as powerful as possible so that others can find you via the search feature. Besides a photo, don't forget to add your social media handles and interests. Enter the keywords you want others to find you by, e.g. leadership, emerging markets, data & analytics, targeting – the list is endless!
More networking tips for DMEXCO @home
Depending on which communication preferences you and your contact have, there are a range of options for networking with each other. First, you can use the text chat – ideal for quickly introducing yourself. Second, there are the call and video chat features for longer talks. And furthermore, you can also schedule a meeting with up to nine participants for more detailed discussions. If you don't want any distractions, you can activate the "Do not disturb" mode in your personal settings. This will stop all notifications from DMEXCO @home during the time the mode is enabled. Once you deactivate the mode again, you will be shown any meeting invitations, contact requests, and calls that you may have missed. You can also just switch off the networking mode if you temporarily don't want to receive any contact requests. You will then be "invisible" on the platform.
What an amazing array of networking features! DMEXCO @home is intuitive to use. We recommend logging into the platform in advance from September 14 onward, networking with your desired contacts, and arranging meetings with them. By thoroughly planning your digital expo visit, you'll get off to a fantastic start when the conference kicks off on September 23!