3 practical collaboration tools for the coronavirus outbreak
Are you lacking a collaboration tool for communication, social media management or transparent project management? We introduce our favourites, which are sure to lend you a helping hand when working from home.
Staying flexible in times of crisis
Covid-19 has got the world in its clutches. Only time will tell what changes the virus will bring to society and the economy. One thing is clear though: everyone is responsible for protecting themselves and the people around them to the best of their ability. Those who can are currently working from home. The same goes for us in the DMEXCO content team. As many of you find yourselves in the same situation, we would like to let you in on three collaboration tools without which our workflows wouldn't be half as smooth.
Visual project plans and impressive features: Asana
Who should take on what task in a project and when? Coordinating and agreeing on the daily to-dos is incredibly difficult when all team members are not in the same location. This is where Asana comes in with its transparent dashboard. Projects and tasks can be monitored by all team members in every work phase.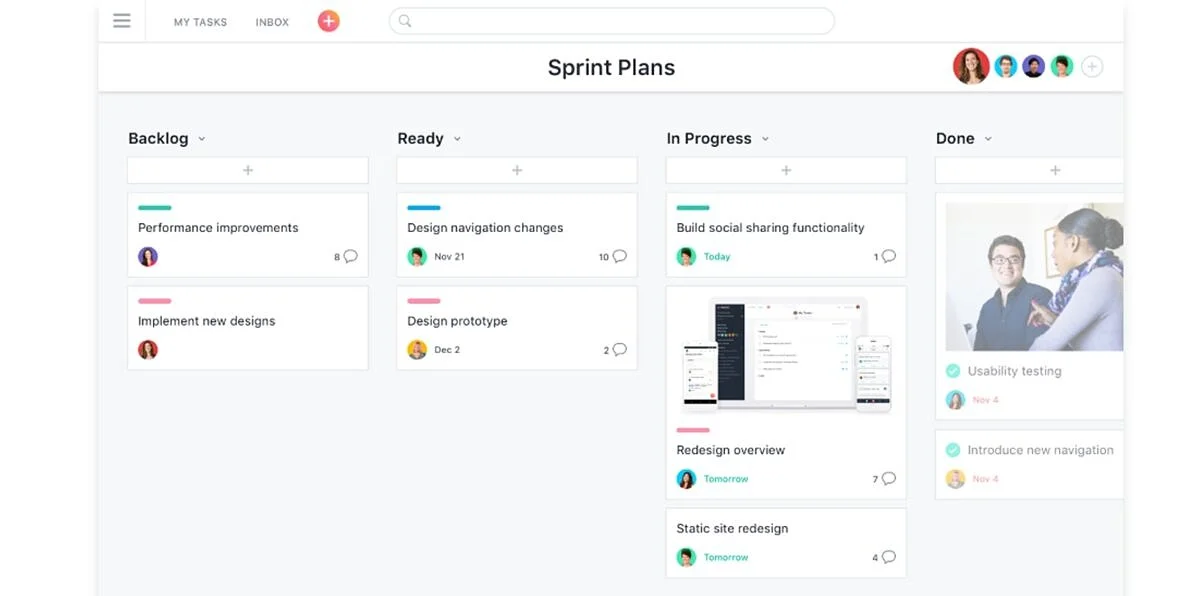 Visual project plans inspired by the Kanban board allow all workflows to be tracked in real time, meaning that everyone is kept up to date every step of the way. Because team members can see exactly who has made changes to tasks and when, misunderstandings are pretty much eliminated and conflicts are thus avoided.
The tool boasts a huge range of features. Quickly definable automation rules enable teams to save a significant amount of time which can then be invested in their output. The interfaces are also especially practical: Asana can be combined with various common tools that we use on a daily basis, for example Slack.
The benefits at a glance:
Suitable for all company sizes
Free basic version for up to 15 users
Intuitive user interface
Simplifies project management
Prevents communication problems
Costs:
For teams with 15 or fewer members and for those wanting to try it out before committing, the free basic version is ideal. There is also the premium version (starting from 10.99 euros per month and user), the business version (starting from 24.99 euros per month and user) and the enterprise version, each offering a varying range of features, even for larger-sized companies.
Chat, call, send files and more with Slack
"Wait a sec, I'll slack it over to you" has been one of the most spoken sentences in our DMEXCO offices for a long time, not just now that we are working from home. The current situation has highlighted how useful the Slack chat tool is. Various channels are clearly arranged, with each representing a specific topic. The different workspaces allow us to co-work with agencies and partners without any trouble. Depending on the version, group audio and video calls are permitted. The search feature is quick and straightforward. The great thing about Slack is that you can link it to other tools such as Asana or Dropbox. "Slacking" photos and videos is so much faster than emailing them, which frees up a whole lot of work time that can be used to do something else.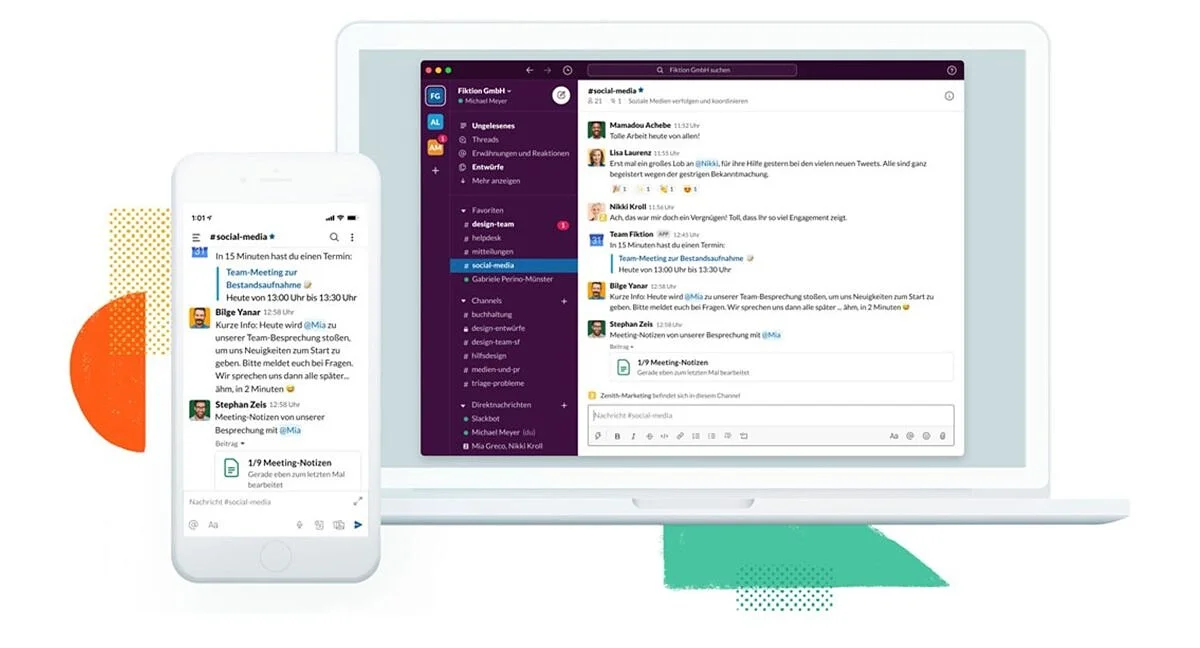 The benefits at a glance:
Very clearly arranged dashboard
Number of channels can be freely chosen
Fast and simple communication
Files can be sent easily
Costs:
The chat tool comes in four different prices: Free, Standard (starting from 6.25 euros per month and user), Plus (starting from 11.25 euros per month and user) and Enterprise Grid for really big companies.
Versatile social media management: Swat.io
Particularly in times like these, life is increasingly taking place on social networking sites. So it is all the more important to keep an eye on the highly active traffic across all channels and to manage it well. While some tools merely focus on planning, Swat.io combines publishing, planning, community management and monitoring – an all-in-one solution that we have appreciated for a long time. It supports the most important channels at present:
Facebook
Twitter
LinkedIn
Instagram
YouTube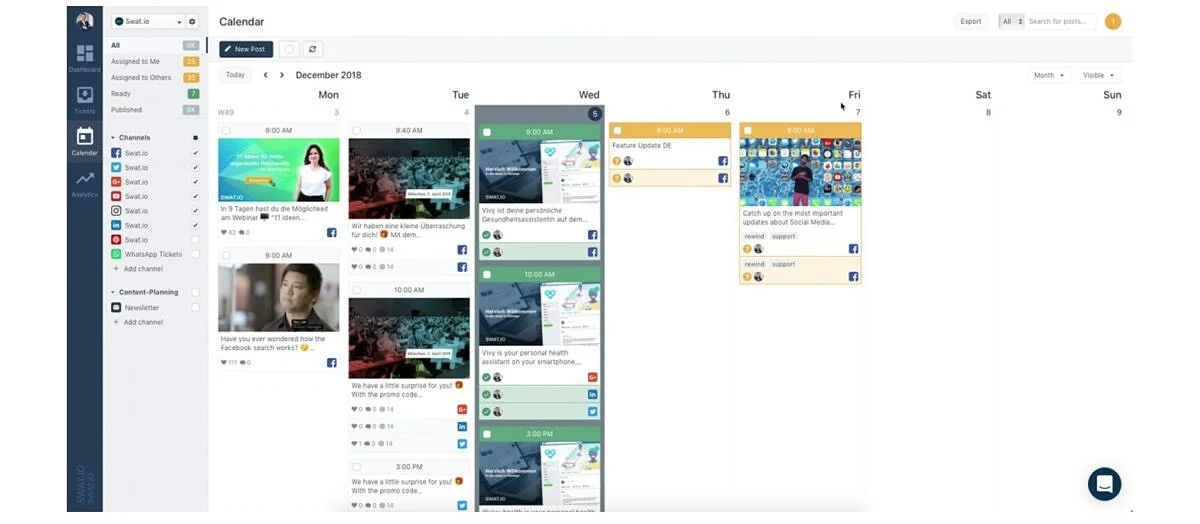 Especially when it comes to working from home, it is extremely useful to have ways to communicate and collaborate. Swat.io is mainly characterised by its ticket inbox where all comments and direct messages from the various networking sites are pooled together and arranged in a clear list. All social media managers can assign the tickets among themselves from home. Everybody knows who is to respond to which messages or edit posts and whether a comment may need to be deleted. This ensures seamless community management without misunderstandings.
The analytics and monitoring feature in Swat.io is also incredibly handy. Here, users can filter according to channel and keep an eye on relevant KPIs such as the number of followers, reach and engagement rate.
The benefits at a glance:
Clear calendar feature
No misunderstandings thanks to ticket assignment
Especially suited to large companies
Costs:
A free demo version is available. The monthly price then starts from 300 euros – Swat.io is therefore definitely something for social media management at big enterprises.
Make efficient use of today's tools and programs
If you're after one or several good social media and collaboration tools in order to carry on working with your teams despite the coronavirus outbreak, then take a look at the free versions of our best pick. The DMEXCO team is grateful to have these options so that we can continue our work pretty much as before. Stay home and stay safe!