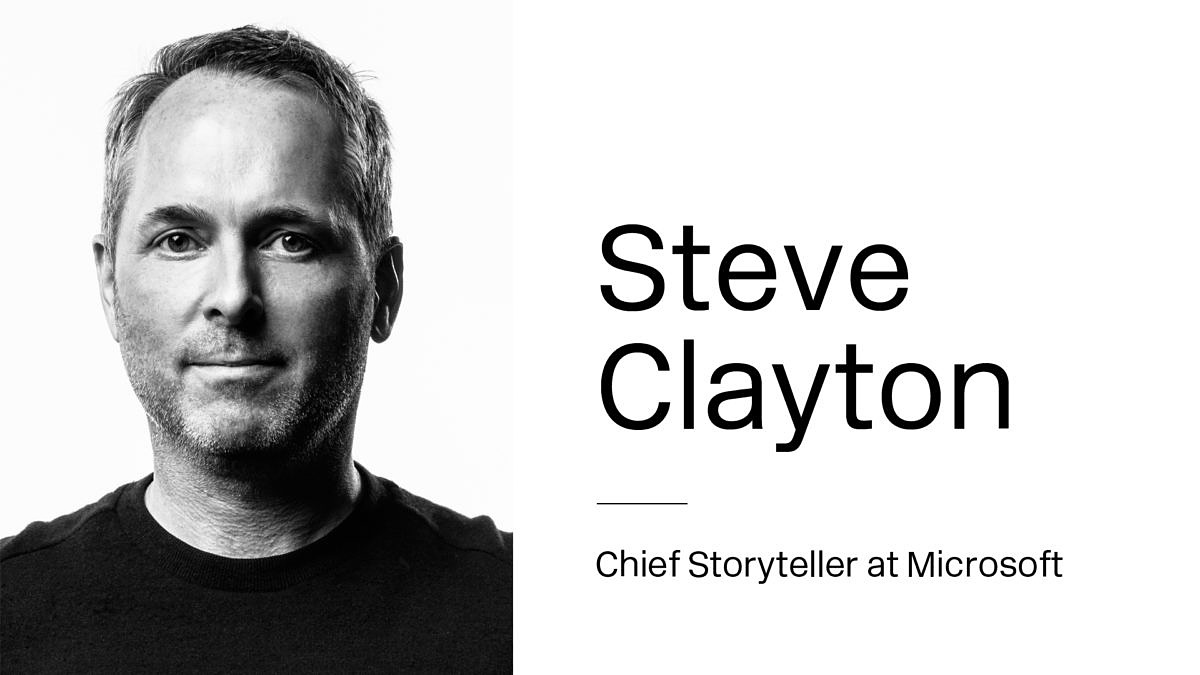 Steve Clayton has turned his passion into his profession. In 1997, he took a position at Microsoft in the Technical Sales department. At some point, he realized that his greatest passion is good stories and that he has a special talent for writing interesting and inspiring stories about his company. Today, Steve heads Microsoft's Innovation, Culture and Stories team. About 40 people work on his team, developing stories for internal and external communication.
But how do you write captivating corporate stories and find ideas? Steve is convinced that the best stories don't have to be sought out, they find you. And as he sees it, for that to happen, you need to approach the world with a curious eye: "If I look at the people who were on my team, I said, I want people who are going to walk down, you know, walk down a busy high street or walk down any street. And the people you want are the people who are going to recognize the one thing that's out of place on that street," says Steve.
Steve and his team in Seattle launched the Microsoft Story Labs website eight years ago. Today, they create a wide variety of formats. In addition to Story Labs, which mainly features corporate news, there's also the Microsoft Life website, a kind of lifestyle magazine about the people who work at Microsoft. Steve's team also posts their creative corporate stories on channels such as Twitter, YouTube, Facebook, and Instagram.
"You know, one of the things I'm often asked is what do I look for when I'm hiring people on the team? And the thing we look for more than anything is this curiosity, having a natural curiosity. And when you have those people around and you produce this type of content, then you have a gravitational pull. These amazing stories just find you."
Convincing, authentic corporate stories help build brands and shape the corporate culture. Steve's goal is thus to use good storytelling to bring people closer to such a large company like Microsoft.
In the podcast, Steve Clayton and Alex Wunschel discuss the following points and more:
What's it like to work as chief storyteller in a large company like Microsoft?

How is storytelling connected to marketing, PR, and communication?

How are exciting and interesting stories created?

How do you organize the creative process in the team?

How can stories change the corporate culture?

How can employees be involved in the storytelling process?
We hope you enjoy listening!