Experience networking, exchange & business in a decentralized and easy way – wherever you are: at home, in the office or on the road. Immerse yourself in the world of DMEXCO @home and take your business to a new level!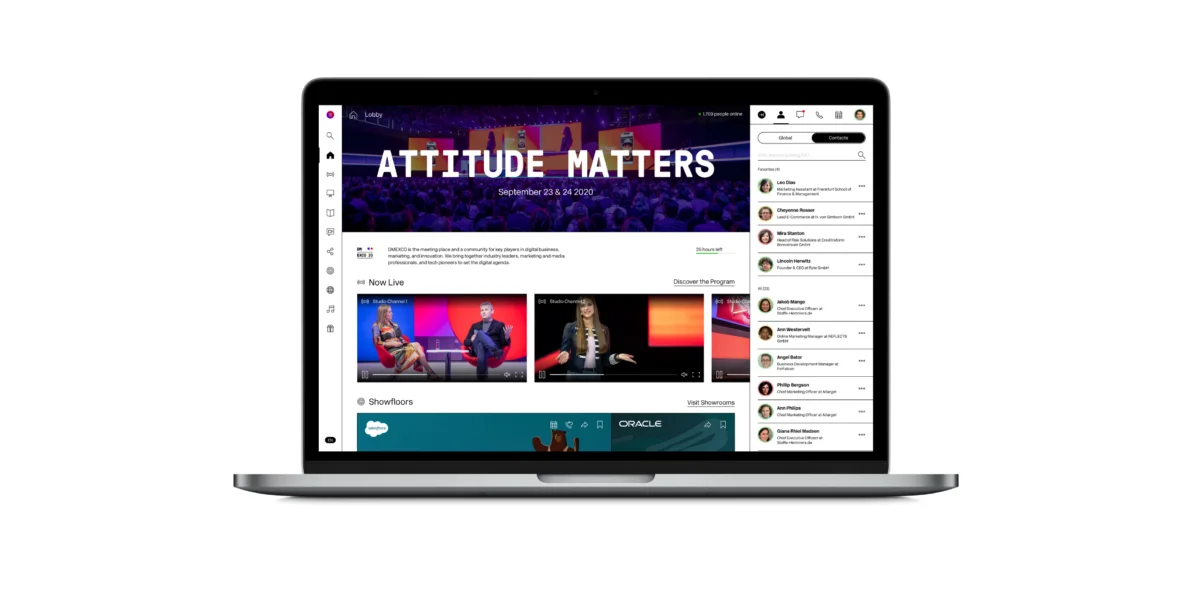 DMEXCO @home at a glance:
Lobby
Each participant starts in the "Lobby", your personal dashboard. Here you will receive recommendations for relevant contacts, brands and content sessions – and can immediately immerse yourself in your personal DMEXCO experience.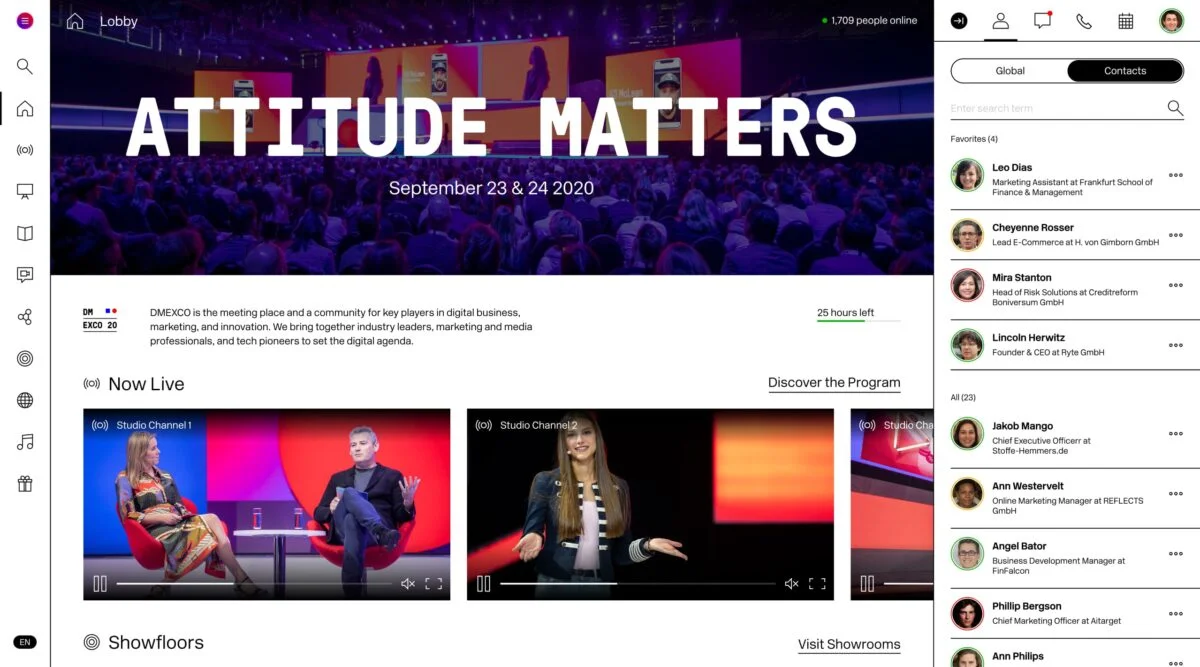 Live Conference
In 2 moderated studios, international top speakers – live on site from Cologne or streamed from all over the world – take a look at digital trends and future business potential. Various interaction possibilities such as chats, Q&A or voting ensure an active exchange between the community and the speaker. Find out more about the DMEXCO Conference here.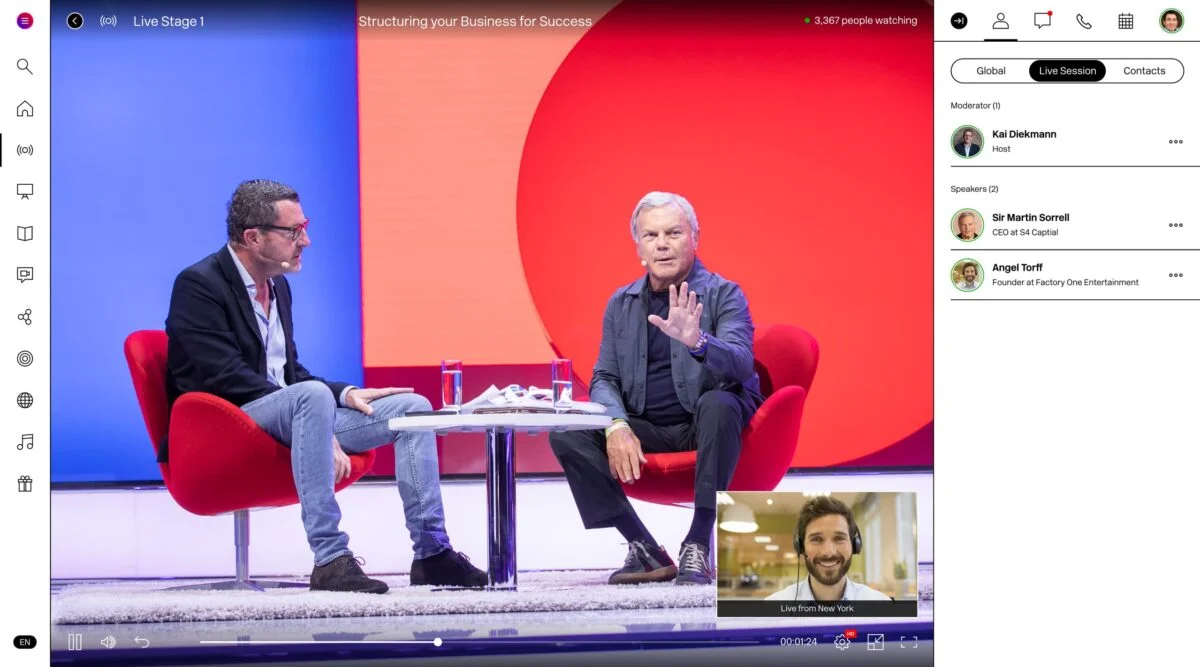 Masterclasses & Deep Dives
Pure inspiration! The Masterclasses offer learning sessions from and with successful experts. Get to know new approaches and optimisation processes for your daily marketing activities through case studies, interactive product tests and discussions.

The practice-oriented Deep Dive Sessions go beyond mere knowledge transfer – they create dialogue. Discuss with industry experts, learn among specialists and work out results together.
For further information about Masterclasses and Deep Dives, click here.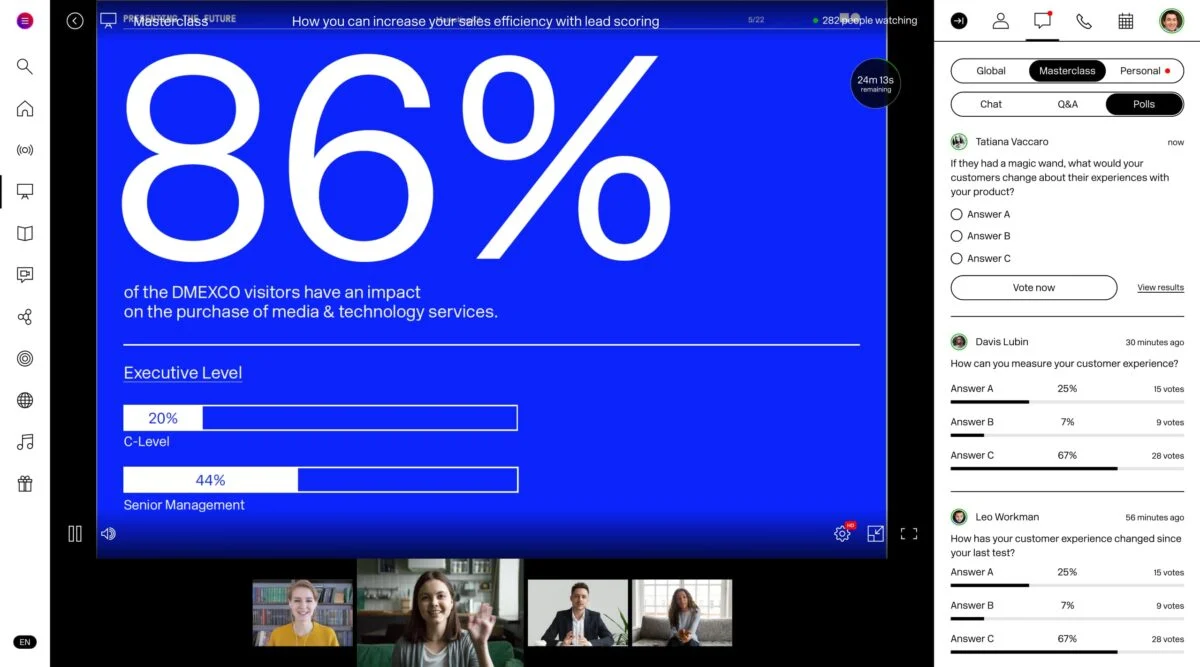 Virtual Cafe
In the Virtual Cafe exhibitors meet visitors and partners. Here, exhibitors have the opportunity to set up private meeting rooms and hold presentations, roadshows or thought leadership sessions on specific topics. Access to a Virtual Cafe Space is exclusively for invited participants.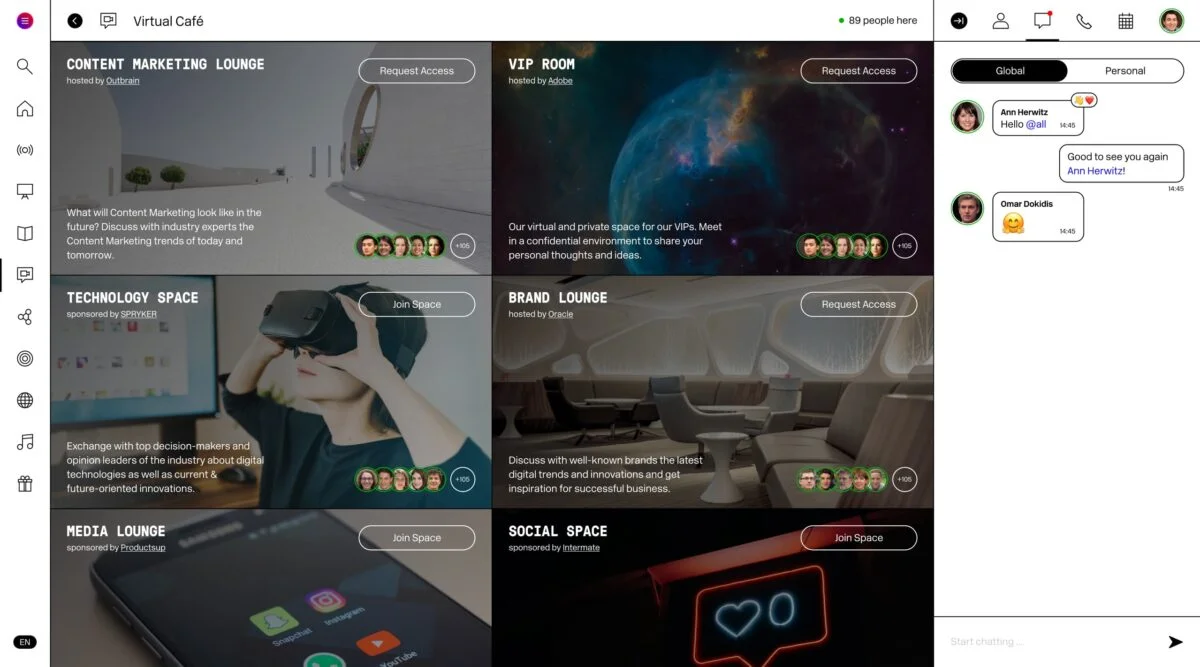 Showfloor with interactive Brand Cards
Exhibitors and partners of the DMEXCO community present themselves on the Brand Showfloor:
As a company you can draw visitors' attention to you and your solutions via "Brand Cards". The Cards are interactive business cards that lead to your personal showroom.

As a participant, you can search for companies and contact their employees by sending a meeting request, asking the exhibitor to contact you or networking directly with high-quality contacts from the digital industry!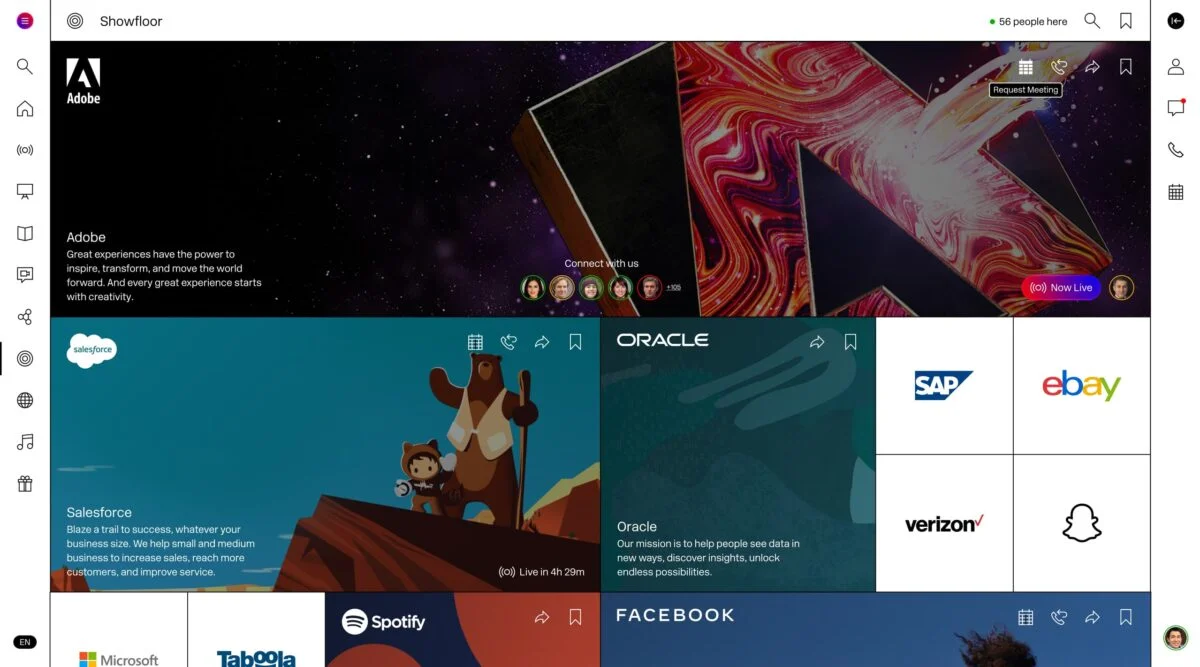 Brand Showroom
You want to learn more about a company? Then the Brand Showroom is the right place for you! Here exhibitors provide all relevant information about their company, products and services. In addition to information material, you will also find downloads of further content, links to exciting sessions and much more. Visitors and exhibitors can exchange information live or make appointments for a later date.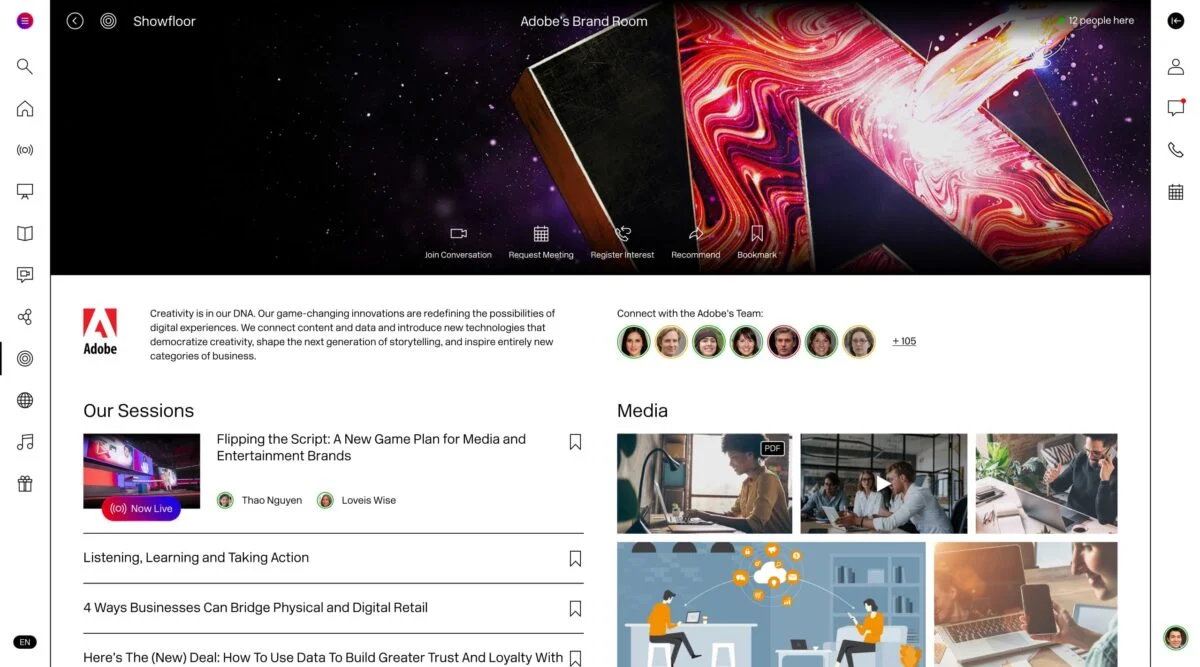 Discovery Graph
Find exactly the right person for your business among tens of thousands of participants. The visual Discovery Graph makes it easy, fun and interactive to find relevant contacts and companies. (beta phase)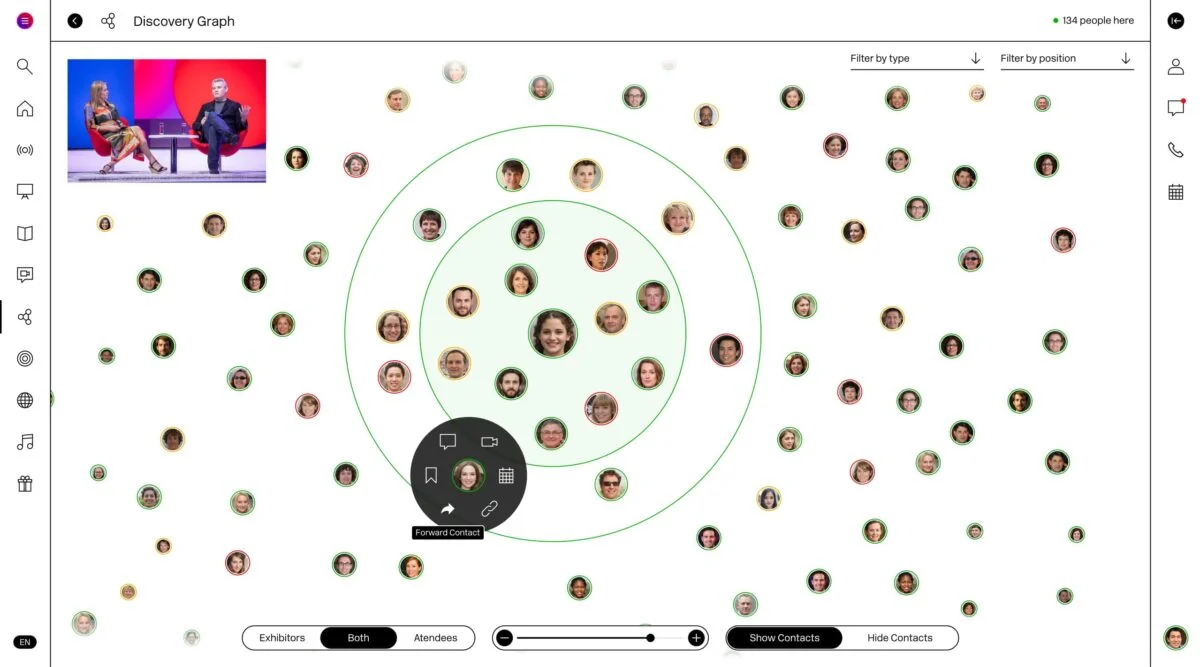 A community is all about interaction. So is DMEXCO @home
Communication Center
DMEXCO stands for networking and personal exchange. Even if you can't be on site in Cologne this year, you are always in contact with the entire community via the DMEXCO @home Communication Center! Communicate with other participants via platform-wide instant messaging through text chats and audio/video calls, exchange contact information and conveniently arrange virtual meetings – 1:1 or with several people.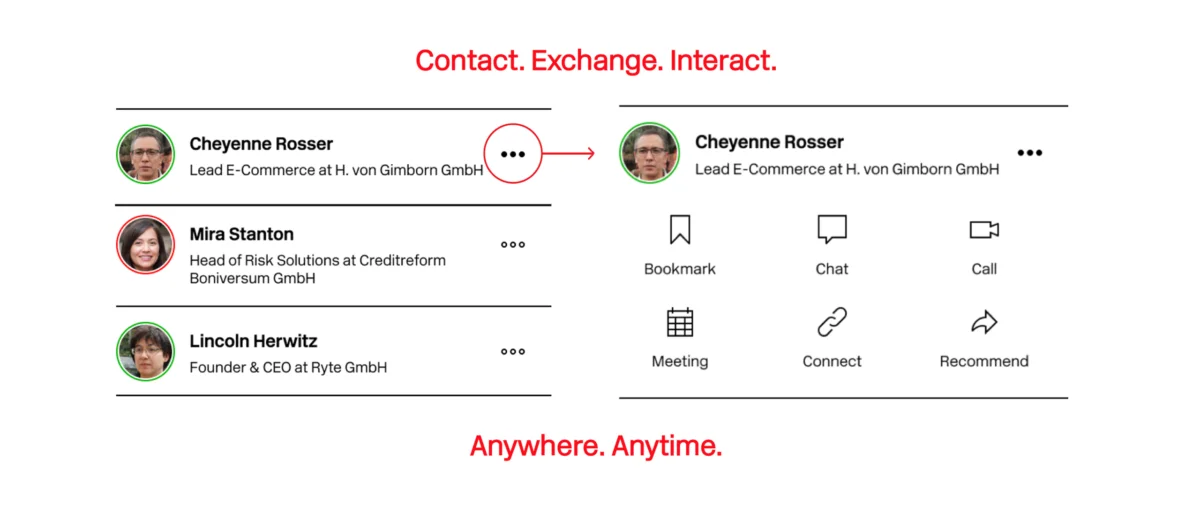 Meeting Scheduling upfront & live
Network with valuable contacts! Both as exhibitor and visitor you can invite up to 9 people from all registered participants to private meetings – both in the run-up to the event and live during the event.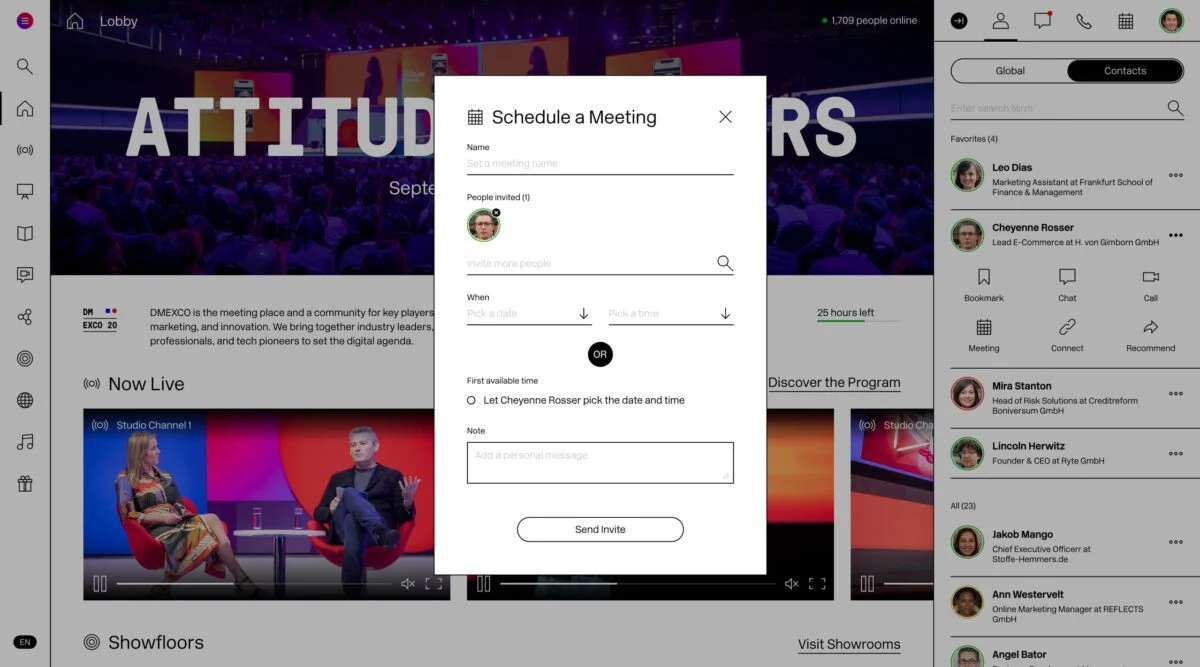 DMEXCO @home Experiences
As a DMEXCO @home participant you profit from numerous exclusive deals & benefits: look forward to exclusive workouts, receive a free copy of your favourite digital magazine or secure a digital goodie bag – DMEXCO @home has so much more to offer!
Contact us
to find out more about DMEXCO @home or take a deeper look at our booklet in the download section of this page.